If you're a small business owner or manager who's suddenly working from home, you might be wondering what the heck to do with your time. In many industries it seems like there's only so much you can do remotely. But if you have a company website and social media, there are TONS of objectives you can accomplish to improve your digital presence:
go Marie Kondo on your content, strategy, business profiles, and more

pick up new digital skills to bring in more traffic and to drive leads

test platforms or strategies that you never had time to try
Are you excited? You should be. Here are our top recommendations for work-from-home digital marketing tasks you can do right now.
Digital housekeeping tasks you can do from home
If you've already cleaned every surface in your home today, why not clean up your digital profile? These are tasks you can do to improve your company website, social media channels, and customer experience.
1. Check your citations
Your NAP (name, address, and phone) matter a whole lot to Google. It uses this information when deciding how to rank your website for 'near me' searches – and for those done by someone in the vicinity looking for the type of product or service you offer.
Review your company's various listings to ensure the correct business name, address, phone number, hours, and contact email are used. This includes Google Business, LinkedIn, Facebook, Bing Places, Yahoo, Yelp, TripAdvisor, Yellow Pages, and the Better Business Bureau. Claim any unclaimed listings, so you can add branded images and respond to comments.
2. Run an SEO audit
Sign up for a free trial of an SEO tool like SEMRush or Moz, and conduct an audit of your website. It might be in great shape, or you might find that you have some work to do to improve your technical SEO health. These audits catch everything from broken URLs and redirect loops to missing meta descriptions, thin content, and more – all things that Google considers when ranking your site.
Keep in mind that some of the items these tools check are actually no longer SEO 'issues', and Google has confirmed they're NOT ranking factors. Study up on how to understand SEO audit terminology, create a spreadsheet to prioritize and track fixes, and get to work!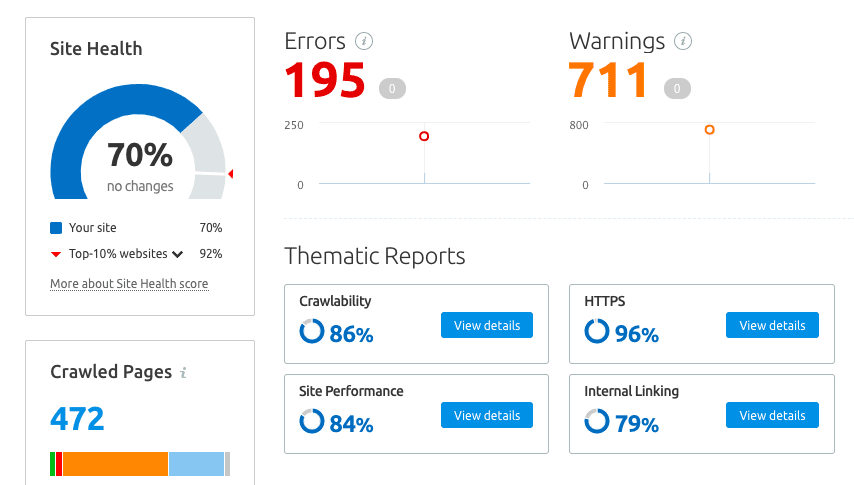 3. Do a content audit
If you don't already have a system for tracking your company's content, this is a great task to do while working from home. I use a spreadsheet to manage all of Forge and Smith's blog posts and case studies. Once every two years I go through all of our content using a content audit checklist, and review it to keep and update (improved optimization and internal links), to amalgamate with similar content, or to delete (with proper redirection).
4. Create new (or improved) meta descriptions for your pages and posts
Your meta description is your hook – your chance to make each page super click-worthy among hundreds of thousands of search results. Study up on how to write an awesome meta description, and create unique, enticing copy for every page and post.
5. Test your site speed
Site speed matters more and more each time Google updates its algorithm. This is because people expect fast-loading pages, and Google wants to deliver the best possible results. Lots of things can cause slow page loads, like server issues or giant images and video.
You can see information about slow-loading pages in Google Analytics and SEO audits, but if you use Hubspot Website Grader or Google's PageSpeed Insights you'll get suggestions to fix the problem.

6. Plan for a website redesign
Your SEO and content audits may have you feeling like your old website is doing your digital presence more harm than good. As a web design company, redesigns are a HUGE part of what we do. We've got lots of resources to help you prepare:
7. Turn a blog post into an infographic
People love infographics. If you work at a small business with limited resources, they might not have been a content option. But if you're working from home, this is the perfect time to learn how to repurpose content and get the most out of every post. You don't have to be a designer to create infographics using tools like Visme or Venngage, then add them into posts and share them on social media.
Social profiles are a big part of your digital presence – and might be the first place a customer finds you. They're also easier to clean up than a website, because you don't have to worry about hurting your SEO.
Maybe it's time for fresh graphics in your banners and other imagery. You can also archive old, off-brand posts on Instagram. And why not rewrite outdated business bios with language that better reflects your company?

9. Create a new (or improved) hashtag list
Hashtags aren't going away – in fact, they're used on more platforms than ever (hello, LinkedIn and TikTok!). Now Instagram lets people follow hashtags the same way you can follow a person. Whether you've got an outdated hashtag strategy or no strategy at all, working from home is a great time to spend a few hours on hashtag research and learn how to leverage hashtags for better reach.
Social listening is a type of customer research, using tools to monitor social media conversations around specific brands and topics. It's an important way to find out how and where customers are talking about you, and about your competitors. This can help you better engage with your customers, plan product or service improvements, and be more innovative. You can try out many social listening tools for free.
If you're revisiting your social media strategy don't miss this hot read: How to Pick the Best Social Media Platform for Your Business!
Learn new digital marketing skills online
I have a Shark vacuum, and the first five or so times I needed to empty it I had to watch a YouTube video. Why am I admitting to this? Because nowadays we learn all kinds of skills online, from car maintenance and baking to building a cat condo (that's up next, now that I've mastered the vacuum).
In the same way that you've watched videos to improve your life at home, take advantage of increased screen time to learn new skills that boost your company's digital presence.
11. Teach yourself analytics, digital ads, SEO, and more
Even if someone else at your company handles marketing, it benefits everyone to understand it! Digital marketing success means more site traffic and potentially more business. There are tons of free online digital marketing courses to choose from. Moz and SEMRush have SEO courses. Google has courses in all of its products, from analytics to ads. There are plenty of social media marketing and social advertising courses, too.

12. Read a book or listen to an audiobook
Forge and Smith founder Shawn Johnston highly recommends taking daily walks when you work from home, and listening to audiobooks while you're out there. Shawn's favourites are business and marketing books. Here are his top recommendations to get you started:
Profit First by Mike Michalowicz

Indispensable by Joe Calloway

Sell or Be Sold by Grant Cardone

The Subtle Art of Not Giving a F*** by Mark Manson

The Art of Social Media by Guy Kawasaki and Peg Fitzpatrick

Content Machine by Dan Norris

SEO for Growth by Phil Singleton and John Jantsch

Everybody Writes by Ann Handley

Tribal Leadership by Dave Logan and John King

Building a StoryBrand by Donald Miller

All Marketers Tell Stories by Seth Godin

Zero to One by Peter Thiel and Blake Masters

The Sales Accelerator Formula by Mark Roberge

The Lean Startup by Eric Ries
Try new tactics to improve your digital presence
We're a small business, and we totally get what it's like to have one team member handling all of our digital marketing on top of regular duties for clients. Sometimes there are things you'd love to try that might make a great impact on your traffic and conversions – but nobody's got time for them.
If your business has slowed down, or you just need more work-from-home-friendly tasks, this is your time to try all the things. Not all at once, of course – otherwise you'll have trouble knowing what worked. But do pick out a couple of new initiatives with potential to improve your company's digital presence.
13. Run a small Google Ads campaign
If you've never tried Google Ads (formerly known as AdWords, also referred to as Paid Search or Display ads), you could be missing out on highly targeted traffic. You can start by taking one of Google's intro classes to Google Ads, and take the time to get comfortable with the dashboard before you create your first ad.
14. Try Facebook Ads
If you've got a small budget, Facebook Ads (which include Instagram) are a great way to really extend your reach and grow your audience. Facebook offers tutorials to help you get started, but creating and managing ads is easier than you might expect.
15. Learn new reporting tools and methods
The default Google Analytics dashboards are awesome – you can get tons of useful information from them. But did you know that Google Analytics has a gallery of custom reporting templates for social media, SEO, content analysis, and more?
And if you need engaging data visualizations that any stakeholder can quickly understand, try out a reporting tool like DashThis. Our clients were all thrilled when we made the change to presenting kickoff research and monthly website and SEO health reports in visually appealing custom dashboards.

16. Test a new WordPress plugin
One of the best things about WordPress is the plugins. You can easily add new functionality to your website with plugins that improve user experience and SEO. If your business has a WordPress site, check with your developer about trying out a new plugin or two. They'll know if the plugin is safe for your site's build, and make sure everything is safely backed up.
We love Yoast SEO (which includes OpenGraph), Schema, AMP, Table of Contents, Reading Time, and SmushPro, among many others.
17. Boost local SEO with more reviews
Reviews factor into your ranking, so it's important to get reviews and to maintain them by addressing comments. Make it easy for satisfied customers or clients to leave you a review by sending out personalized messages that include links to the desired location: Google, Facebook, Yelp, or anywhere else that you're listed and want to bolster your digital presence.
18. Join Quora or HARO
A great way to establish your industry expertise is by helping people posting questions online. This can be a great source of referral traffic to your website. Quora and Help a Reporter Out (HARO) are two places you might find people asking questions about the type of product or service you offer.
19. Install heatmaps
If you want to know more about how customers really use your website, you can use a free heatmap tool like HotJar. Once the tracking code is added to your site, a heatmap tool generates images showing where customers click – and where they don't. This is helpful to find barriers to conversions and make adjustments. You can also track live session recordings.
Email marketing is TIME CONSUMING. It takes effort to set up a template, gather content, and build and manage your subscriber list. But if you have time while working from home, this task has a fantastic payoff. Email marketing has the highest ROI of any other digital marketing tactic, when done right. Learn how to jumpstart your email marketing without a big budget, and dive in!
21. Create an eBook for list building
If you want to build your subscriber list, one proven method is with gated content. Spend time creating a truly valuable piece of content that your audience would find helpful. Think white paper, case study, complete how-to guide, or template. Place that content behind a wall that asks for a name and email address, and you're set.
22. Create an FAQs page
FAQ content has two great purposes. It helps customers quickly find answers without emailing or calling you. It's also great for your website's SEO, because these kinds of questions are often popular searches! You can gather common questions from your sales team, IT department, manager, contact form submissions, reviews, and social media comments. We recommend accordion-style content for an FAQs page, to make it more scannable.
23. Add a new page for credibility content
In many industries, customers spend time researching their options before making contact. This is why it's important to have content on your website that builds trust and credibility. This includes reviews, testimonials, and case studies.
If you have a WordPress site, adding new content is easy and the results are awesome: more search traffic, longer dwell times, and more conversions.
I hope you found these ideas useful, and are ready to go forth and make your company more awesome online. Keep an eye out for digital marketing tools opening up their software or premium features for free during the COVID-19 crisis, because these are opportunities to test something new. We're all in this together.