YouTube is one of the most powerful free marketing tools that any business can use. With billions of hours of video consumed each day, the potential for finding and connecting with potential customers is high.
Just how effective is YouTube marketing?
YouTube is the second-most visited website in the world after Google (SEMRush)
Its 122 million daily active users consume 18+ minutes of video each day (Omnicore Agency)
81% of marketers say that video content has helped them increase sales (Wyzowl)
70% of viewers made a purchase after seeing a brand on YouTube (The Social Shepherd)
And because it's a Google product, YouTube videos appear above regular Google search results for matching queries
That is why there's no time like the present to learn how to use YouTube to market your business, promote your offering, and elevate your brand.
So let's get into the fundamental tools you need to master YouTube video marketing, so you can watch your channel grow and your exposure rise.
Why is YouTube Good for Marketing?
YouTube marketing involves creating videos, uploading them to the platform, and using YouTube SEO to promote and boost the awareness of a brand or product. Given the size and diverse reach of YouTube, it's the preferred video marketing platform for businesses around the world.
According to data collated by SEMRush, YouTube amassed a colossal 60,900,456,208 monthly visits in July 2022. With so much native traffic, it's clear to see that companies have billions of potential viewers at their disposal.
Smart businesses are already dedicating significant resources to YouTube marketing because this form of content improves SEO, and boosts conversions and sales. It allows for organic content, personalized advertising, and it appeals equally to audiences in both the B2B and B2C spaces.
But before you start counting the cash, it must be said that YouTube is a highly competitive marketing space. You need to know what you're doing to see results.
Here are seven steps to get started with YouTube marketing and grow your channel.
1. Planning Your YouTube Marketing
YouTube marketing isn't just about posting videos to the platform.
You must also strategize video topics based on market research, your audience's needs, and your business goals. And you need to create, optimize, and share all of that content – but we'll get to that.
Most importantly, a YouTube channel must be managed and maintained, something that takes time and planning. It may be worth hiring a specific person to handle your YouTube marketing, if your team doesn't currently have the capacity to stay on top of it.
The YouTube video marketing manager must keep a close eye on the following:
Strategy including how YouTube fits into the larger content marketing plan
Content creation, from scripts or outlines through production
Editing including captioning and transcripts
Uploading and optimization
Promotion across other marketing channels
2. How to Start a YouTube Channel: the Essentials
Create a YouTube Brand Account for your business video marketing.
A Brand Account is a more holistic management approach than using the account of a leader or other team member at the company, even if it's their corporate profile. According to YouTube, "If a channel is linked to a Brand Account, multiple people can manage it from their Google Accounts. You don't need a separate username or password to manage YouTube channels with a Brand Account."
It's also good to be upfront that this is a business account, this way viewers will know to expect promotional material.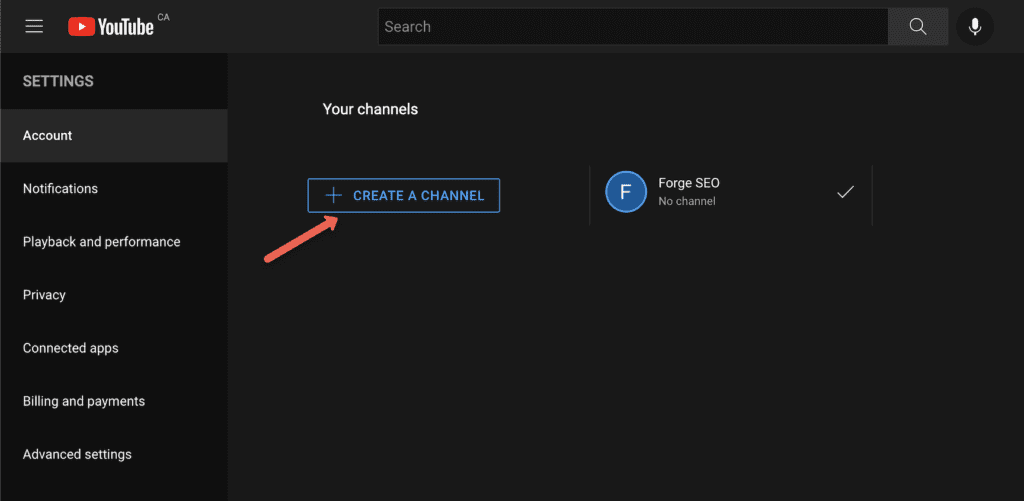 When creating your YouTube account, it's critical to use a common email account, rather than using a manager or team member's business email address. This ensures that if a third party comes on board and logins are shared, you don't increase the vulnerability of your company's cybersecurity.
Setting permissions for your account is another critical step to ensure the security of not only your YouTube account, but your wider business network.
There are three permission levels to consider:
Owner: Full editing power
Manager: Same as above, but cannot add or remove page roles or remove listings
Communications manager: Can respond to reviews and other minor actions but cannot use the manager tool, upload content, or view analytics.
3. Customize Your Channel
Generic-looking YouTube accounts make it feel like there is little effort going on behind the scenes, and that speaks to the quality of your work! So it's important to customize your channel for maximum impact.
From your channel name to the artwork, banners, and watermarks you use, it all adds to that personalized touch that makes your channel feel like it's part of your brand.
Not only should your YouTube channel be consistent with your brand strategy, it should also have a featured video or trailer.
This short introductory video is pinned to the top of your channel page, and lets people know in a nutshell what your channel is about and what to expect when watching your videos.
Don't neglect to add links to your website and contact information to your profile as well, to ensure that your calls to action hit the mark.
4. Create Great Video Content
Good quality visual content is the single-most vital feature of your YouTube channel. In fact, it is a core fundamental for SEO in general, and it's what will bring your YouTube viewers back for more.
Content that generates engagement, such as saves, comments, and shares, is important because it helps grow your audience and brand awareness.
What Type of Video Content is Best?
Videos of all styles and purposes can be engaging, which means you can tailor the type of visual content your company creates on YouTube to serve a particular purpose. This may be to encourage engagement on a particular how-to video, or to better explain how your product works to potential customers.
Here are the best types of video content for businesses to create:
Customer testimonials
Product demonstrations
Tutorials and how-tos
Expert interviews and insights
Live streams
Video blogs
Event videos
Influencer videos
Although many of us watch funny YouTube videos, entertainment doesn't have to be the main goal of your content. You can aim to inform, educate, or openly discuss relevant topics through interviews – whatever adds value to your target customer's day.
Email marketing platform Constant Contact uses YouTube to deliver helpful, informative videos on topics like how to use their platform, small business questions, and email marketing tips and tricks. They know that their audience is the small business owner or marketer, seeking help with business growth and email marketing in the form of video tutorials.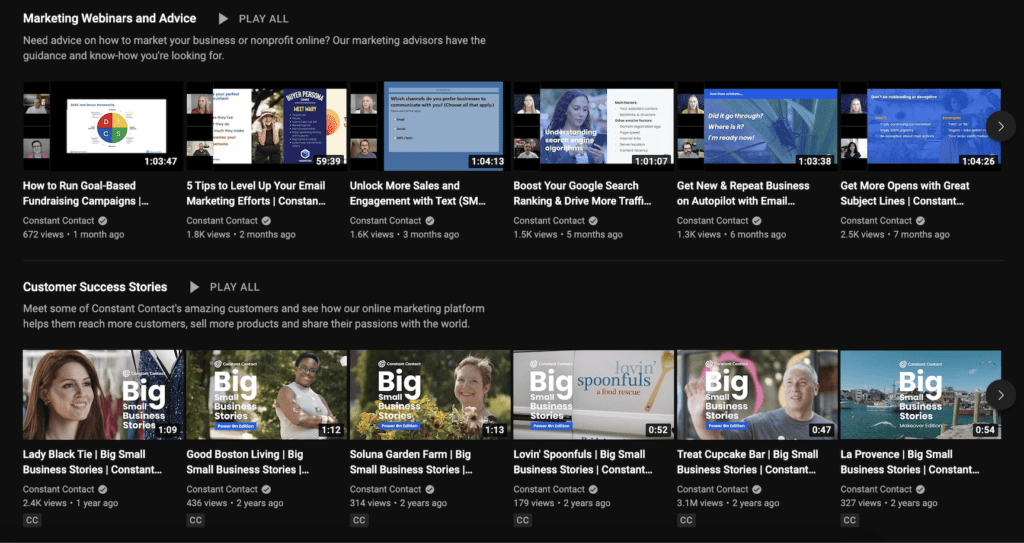 Meanwhile, IT leader Cisco shares video content on everything from customer successes and partnerships to industry news, tips, solutions, and training. Cisco even has YouTube Shorts among their content, which is YouTube's take on short, vertical videos.

A great example of how quality content can lead to better brand exposure for B2C companies is STORROR, a parkour clothing label and group. The high-quality video content provided by the parkour team on its YouTube channel brings in millions of viewers each month. Those views help bring people to the merchandise section of STORROR's website, by signposting it in the description of each video.
Another company that enjoys great success thanks to its YouTube content is online gift store Vat19. The company regularly stress tests its wacky products on its YouTube channel while also showcasing its weird gifts. This generates millions of views and helps build trust in the products the brand sells. 
Storyboarding and Script-Writing
Great video content doesn't happen by accident. Sometimes a marketing video can unexpectedly go viral, but for the most part, successful video marketing comes down to following an effective strategy.
When creating the initial concept for your video it's useful to utilize a storyboard to ensure that all of your desired themes and topics are included.
Also, consider writing a script for your content, even if it's only for a short video. You will be surprised at how much content is needed to fill the time when filming your first video. A script, even if it's just a loose guide, helps maintain direction and keep the content concise and relevant.
How Long Should Your Video Be?
Short videos of approximately two minutes have a greater chance of being watched in their entirety than longer business videos. These shorter videos encourage more engagement, and more likelihood of driving action by those viewers who watched the whole thing and connected with your point.
But, that doesn't mean all videos should be short. In fact, the average YouTube video length is 11.7 minutes. The most important consideration regarding length is relevancy.
If your video needs to be an hour long to do a topic justice, then it should be an hour long. But if you could cover the same information in 15 minutes, hour-long content is going to struggle to hold the average viewer's interest.
5. Best Video Creation Tools
It's important that you have the right tools at your disposal for compelling marketing content.
The first place to start is the camera, and you don't have to break the bank to find a cinema-quality device to make it happen. All that's needed is a camera that's capable of filming on 1080p (full HD), which means you can even start by using a phone.
Other essential pieces of hardware include a good microphone for quality audio, and a tripod or stabilizer to avoid the picture jumping around and making it difficult to watch.
Some video editing software will help you to tidy up your content, add graphics and captions, and perfect your transitions.
Once again, you don't have to buy high-end. There are free and paid video editing software options to choose from that can help you create enjoyable content. Free desktop video editing tools like OpenShot and DaVinci Resolve are great options when getting started, while paid heavyweight desktop editors from Adobe, Apple, or CyberLink deliver powerful results.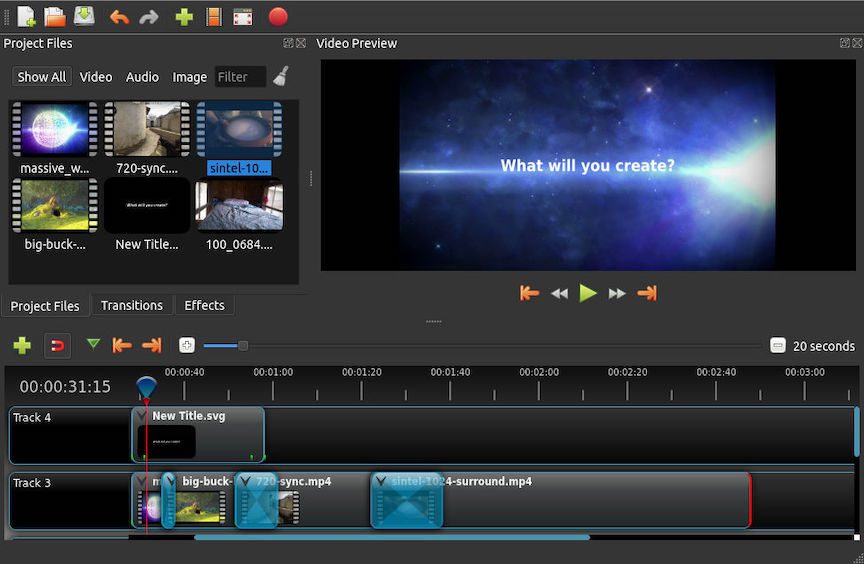 If you are starting with a phone as your camera, editing apps such as YouCut, LumaFusion, or KineMaster provide a wealth of options.
6. Optimize Your Channel and Videos
SEO techniques are essential for optimizing your content, including YouTube videos.
Keyword research will help determine the topics that your audience cares about. Create your video titles using the most popular and relevant search term from your data, and turn it into an attention-grabbing hook.
You can use additional high-ranking keywords in your video description, but it's important that your research includes actual YouTube searches as well as standard Google searches. YouTube Analytics now offers insight into which keywords lead visitors to your videos.
Google-friendly keywords should also appear in your video tags. Ensure that you categorize your video correctly, so that people and YouTube's algorithm understand what it's about.
Videos that feature a gripping thumbnail give potential viewers a way in through an engaging snapshot. However, only verified YouTube accounts can upload a thumbnail so it's important to establish this as quickly as possible.
And don't forget about hashtags! Hashtags help your videos get discovered just like keywords do, and can be used in multiple ways on YouTube content.
Make sure you fill out all details in your channel profile, claim a channel handle (new feature!), include links to your website, add an engaging feature video, and curate your videos into logical, browsable topics.
Don't Skip Calls to Action
A call to action in your YouTube videos is a great way to encourage people to subscribe to your channel, visit your website, and become customers.
Below is an example of how industry giant Social Media Examiner adds CTAs, timestamps, lead magnets, and hashtags to their video descriptions.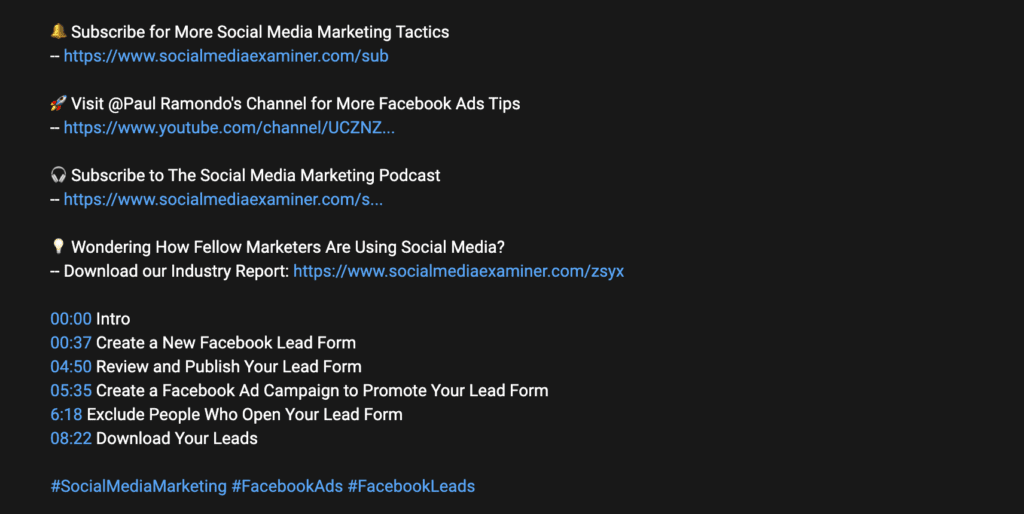 The more subscribers your channel has, the more people see your videos and the better you rank in landing page results and (hopefully) sales conversions. Traditional channels such as email marketing are also a great way to encourage your existing customers to follow your adventures on YouTube.
7. Master Analytics for Continued Success
Once you're comfortable with the basic tools for successful videos, it's time to put it into practice and see how the world feels about your YouTube videos.
Now it's time to analyze each video's data to find out what is working, what isn't, and how to improve for next time. Use the information you gain from your videos to help hone your marketing strategy as a whole.
The key metrics to glean from YouTube analytics data are:
Watch time and audience retention
Traffic sources
Demographics
Engagement reports
This helps you to better understand your audience, building trust and community as your brand becomes more recognizable. All through the power of YouTube videos!
Watch your YouTube Channel Blossom
Now that you have the essentials to use YouTube to market your business, it's time to put it all into action.
Create measurable KPIs to track how your videos perform, and then sit back and enjoy the results as viewers engage with your videos, share them, and convert into website leads.