A great business blog can raise brand awareness, increase targeted website traffic, drive conversions, and improve your ranking in the search results. It's THE prime piece of website real estate for anyone serious about business growth.
We recommend blogs to most of our clients, because we know how effective they can be.
But there's one tiny problem that always seems to come between businesses and this potential goldmine of opportunity: you have to actually write it.
As the primary content writer and editor of the Forge and Smith blog, provider of copy support for our clients, and a voracious writer in my personal time – I know a thing or two about how to write a business blog.
This is my favourite topic of all time! We'll get into why blogging is great for business, what makes a business blog worth reading, and how to write a business blog – including my secret formula for awesome blog posts.
If you're just here for the writing tips, feel free to skip ahead using the handy table of contents!
Why is blogging good for your business?
I kicked off this article by saying that business blogs are good for brand awareness, traffic, conversions, and ranking. Now let's back that up with facts:
Still on the fence? You're a tough nut to crack, I like it.
I wasn't always an avid pro-blogger, either. When I started at Forge and Smith, I thought blogs were just online diaries for the kind of people who believe everybody wants to read their opinions on mundane crap. As someone with a degree in journalism and countless published articles over the past two decades (#HumbleBrag), the word 'blog' sounded cheap.
I had a lot of questions about how a mere blog post could actually drive business growth. Here's what I learned that changed my mind.
How does blogging improve SEO?
Blogs are the best way for businesses to give Google what it wants, and get what you want in return: to appear in search results for your offering.
Let's say you sell a product. Lots of other companies sell similar products. You obviously want to be on page one for searches relating to that product. But people might search a lot of different phrases while researching that product:
Product name ("Nike running shoes")
Product category ("women's cushioned running shoes")
Problem ("what are the best running shoes for shin splints")
Social proof ("best women's running shoes of 2022")
Desired outcome ("where to buy Nike running shoes" or "which running shoes last the longest")
How the heck do you optimize a single page for all of that (without keyword stuffing)? You don't. That's what blog posts are for!
They support your sales pages by targeting various queries a person might try before making a purchase. And by doing that, they give potential customers the reassurance they need to move down the funnel.
Here's exactly what blog posts provide for your SEO:
Relevance: SEOs love to debate Google's potential ranking factors, but everyone agrees that a page's relevance to any given query is one of the biggest pieces. Blog posts give you a place to target the questions your customers would type into search engines, and create relevant content that answers those questions.
Helpfulness: Other than videos and FAQ pages (both awesome types of content), blog posts are the best way to totally satisfy a searcher's questions on a topic. If you look at the top three link results for informational searches, they are almost always complete guides from business blogs.
Freshness: People tend to trust (and click on) content with a recent publication date. Regularly adding new content has the added benefit of luring more people to your site, which can result in more frequent crawls by search engines – ie. more chances to improve your ranking. You can't just publish new pages or services all the time, but you can write a blog post any time you have a solid topic.
Quality: Google Search Essentials (formerly Webmaster Guidelines) devotes a lot of space to content quality, because it's Google's job to deliver quality results. That makes it your job to publish quality content, if you want to rank well. Blog posts are an excellent way to demonstrate your site's quality through strong copy and visuals, page speed, topical authority, and more.
Trustworthiness: When it comes to topics that impact a person's money or wellbeing, Google cares a LOT about the trustworthiness of your content (see its E-A-T evaluation system). While not a direct ranking factor, we all know Google ranks trustworthy sites higher. Blogs give you space to detail the credentials of your team members and company, through author bios.
Blog posts also help you show Google your qualifications for countless other ranking factors like proximity (local keywords and topics), popularity (links and social media shares), user engagement (time spent engaging with the content), plus keywords, content length, topical depth, and so much more.
Here's our own data as proof. This is our organic search traffic since 2018:

Forge and Smith hit a period where we were too busy with client work to write blog posts. We're a small business, it happens. But we know that consistency is key when it comes to SEO, and we dropped the ball. So in 2018 we got back to consistent, quality blogging.
Our daily traffic slowly picked up, and made great gains through 2019. Then we got hit by one of Google's algorithm updates in 2020 and traffic dropped off. But we didn't give up! And now our traffic is at an all-time high.
Yes, the rest of our site is fabulously fast and optimized, but the majority of our organic search traffic comes to blog posts:
All of those website visitors now know the name Forge and Smith. Hopefully they enjoyed the posts, and associate us with expert advice on UX design, digital marketing, and web design.
You might be thinking, well of course that works for a website with 10 years of established authority and SEO work. What about a newer site, or one that without an SEO writer on staff?
One of our clients started their company blog exactly one year ago, and only has ten blog posts to date. Here's the organic search traffic of just one of their blog posts since it was published in October:
NOW do you see the magical SEO powers of business blogging? Good!
How does blogging drive conversions?
What business blog posts do extremely well is build awareness of your company, and get people into the top of the funnel. Each of those people is a potential customer, if you can retain them.
Carefully researched keywords and search intent help draw the right visitors who are more likely to convert
B2C blog posts are more likely to directly drive sales, because a product comparison, feature, or roundup can provide enough information for a purchase decision
A potential B2B client may need to engage with multiple pieces of content over a long period of time before contacting you – that's why it's important to have lots of high-quality content that satisfies their in-depth research!
Whether a person actually converts from blog reader to customer depends on many variables, including the quality of your content, the strength of your UX design, and of course, the quality of your offering.
Regardless of your industry, product, or service, don't just hope and pray that your blog readers will eventually come back and convert. You can take steps to give each of your blog posts the power to move someone down the funnel.
One of our super-talented guest bloggers wrote an excellent in-depth article on this exact topic: optimizing blog posts to drive conversions.
What makes a good business blog?
First and foremost: a good business blog is written for your customers, NOT search engines.
You know, and I know, that you're writing that content so you can rank better and attract new potential customers. But it can't feel like that!
We've all had the experience of clicking a search result, only to find yourself reading a vapid piece of garbage. What do you do? You exit the site and try again.
That's called pogo-sticking, and while it's not a direct ranking factor Google definitely knows if your website didn't satisfy the query. The more often this happens, the lower you'll rank for that search.
The solution? Produce great content!
DO answer questions your customers or clients actually ask
DO be helpful, for free – nobody's going to buy the cow if the only way to try the milk requires handing over an email address
DO correctly optimize your content so it draws the right audience
DO write as much content as is needed to satisfy the topic and provide value; no more, no less
DO use the language your audience would expect – only use technical words, slang, or industry jargon if that's how your target customer talks, too
DO format your blog post to make it more scannable, readable, and engaging
DO look at the top results for your intended topic, and plan to write a better post than the competition!
DON'T just choose topics based on what interests you (or the writer, CEO, or other stakeholder)
DON'T buy into myths about the 'best' content length for SEO
DON'T just crank out a post for the sake of publishing content
How to Write a Business Blog
Now we get to the goods. This is all of my best advice on business blogging. No preamble, let's go.
My Secret All-Star Blog Formula That Works Every Time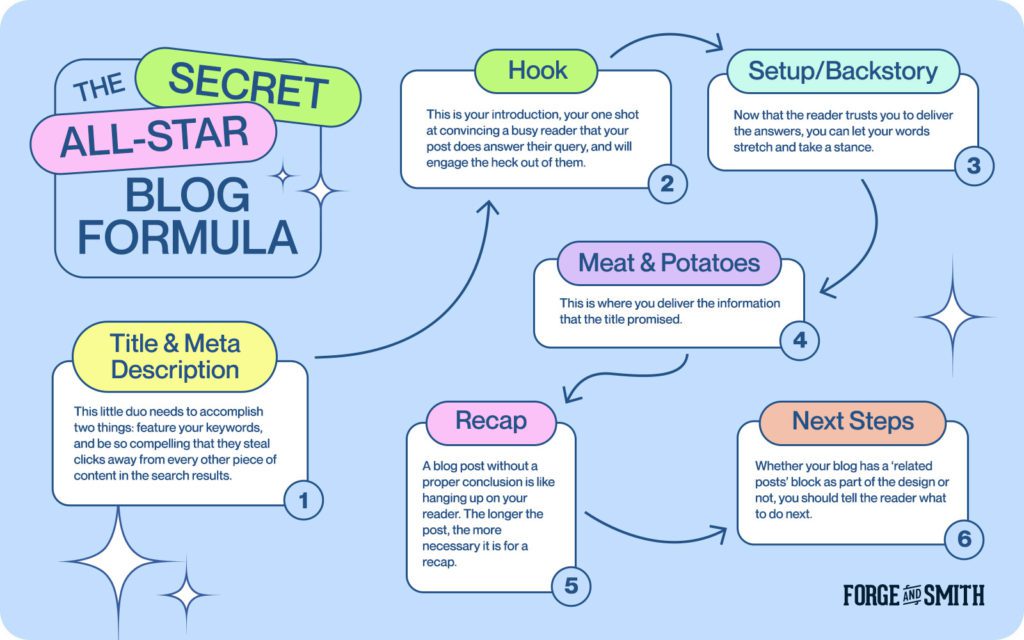 When I'm busy at work, which is ALWAYS, it's extremely helpful to have my go-to formula in mind. This formula (especially when combined with a topic spreadsheet and an outline) takes all the pressure off of a blank doc and a blinking cursor, because I know exactly how the post has to flow.
And here's an extra secret-secret: I start with step three, and do steps two and one last (in that order). I find that after writing the rest of the content, I can create a much stronger introduction and title.
1. Title & Meta Description
This little duo needs to accomplish two things: feature your keywords, and be so compelling that they steal clicks away from every other piece of content in the search results or social feed. That's a lot of pressure!
You want to make your content sound like it's everything a potential customer wants and needs in that moment – without lying, of course. If your content doesn't live up to the title, your blog post will have a high bounce rate and do nothing for your SEO or conversions.
You can find lots of tips from industry pros on how to write unique and irresistable titles, like this one from Copyblogger and this one from Wordstream.
Keep in mind that Google truncates titles, especially on mobile devices, so make sure that the first few words contain the goods.

2. Hook
This is your introduction, your one shot at convincing a busy reader that your post does answer their query, and will engage the heck out of them. You have to hook 'em fast, because there are literally thousands of other search results waiting for them to bounce back!
Get right to the point. Reiterate their problem, and explain how you're going to solve it through this blog post. It's a vote of confidence if the keywords they searched appear somewhere in those first paragraphs – which should be short.
Being concise does not mean boring! Your hook is also where you set the tone.
The best blog posts feel like a conversation with someone on your team
Don't fret about rigidly correct grammar (unless that's your audience's preference); use same language you'd use with customers on the phone or in person
Make sure that your tone is appropriate for the mood of someone reading the topic – are they anxious? Angry? Excited? Desperate?
Bolster your hook with supporting content like strong visuals and, if it's a meaty topic, a table of contents. I like to throw some sexy stats into the hook or at the top of the following section, because numbers validate your POV.
3. Setup or Backstory
Now that the reader trusts you to deliver the answers, you can let your words stretch and take a stance.
This is the place to get more colourful or personal (if that's the tone), and to provide any needed backstory to support the post.
It could be the reason you wrote the post, how you gained the insights, or explanations of the main topic to make sure everybody is on the same page. Your reader might have a totally different idea of the meaning, or a bias that you're about to challenge!
My setups almost always contain an optimized heading or two, paragraphs that clearly state the perspective on, or definition of, the topic, and answer supporting questions. I don't want readers to have to go back to Google to clarify anything I'm talking about!
4. Meat & Potatoes
This is where you deliver the information that the title promised.
Like I said earlier, the topic should dictate the length. Don't believe any articles that claim there's a magic word count that will make Google love you. If it's easy to answer, don't drag it out just to hit a word goal. And if it's complex, don't leave stones unturned just to save space.
Make sure to format your content for scannable, easy reading. Break up copy by using optimized headings (which are vital for SEO), short paragraphs of two to three sentences, bullet lists, and enticing visual content.
5. Recap
A blog post without a proper conclusion is like hanging up on your reader. The longer the post, the more necessary it is for a recap. It ties everything together by restating the main topic and what was learned, which proves that this post was indeed everything the reader needed.
Because I write a lot of 'complete guides' and how-to content, I like to close with reassurances that you CAN do things like write company blogs. Another tactic is to offer a final, juicy bit of advice that rewards the reader who actually read to the end.
6. Next Steps
Whether your blog has a 'related posts' block as part of the design or not, you should tell the reader what to do next.
You could leave it up to them, and 99.9% of the time they will exit your website. But a key aspect of improving both user engagement signals and conversion optimization is handing the reader an enticing next step – further down the funnel:
Read a related blog post
Check out a relevant case study or project
View a product mentioned in the post
Elaborate on this topic with your company/the writer via social media
Sign up for a newsletter full of tips like these
It's almost never a good idea to ask for a contact conversion or sale right from a blog post, especially in the B2B space. Instead, offer a natural-feeling lateral move like the ones above.
Everything Else to Know About Business Blogging
I said I'd give you all of my best advice, and it doesn't stop with content writing! Here's everything else that I think is critical for a successful business blog.
How often should I be blogging?
As with content length, there's no magic number for content frequency.
With that said, it's ideal to publish new content at least once per month. This keeps your website fresh, gives you monthly opportunities to improve your ranking (or to rank for new keywords), and it gives you something to share on social media.
A goal of one article per month is attainable for most businesses to start. It gives you lots of time to research a topic, write, edit, source images, and format your post before publishing.
I honestly strive to write a new post each week – I just rarely manage more than two per month. Like most people writing for a small business blog, this is only a fraction of my job. I'd need clones to be writing while I'm doing all my other work!
Tips to increase content quantity without sacrificing quality:
Keep lists of vetted topic ideas, so you can seize any opportunity when you feel creative or have time to write
Guest bloggers are a fantastic resource, if you have time to manage their communications and edit their work
Repurpose content by turning presentations, white papers, case studies, research, or videos into blog posts
Share the workload – your business is probably full of people with great ideas, personalities, and expertise, who could create content with your help
What should I blog about?
Coming up with blog topics is a huge challenge that can cause big delays in writing, and make your stomach fill with dread every time you hear the word 'blog'.
But good news! Blog topics are everywhere, including lots of free sources:
Check your keyword rankings in an SEO tool (we use SEMRush), identify the keywords for which you want to rank better (or gaps where you don't rank), and build content around that
Check your competitors' rankings and write on topics for which they outrank you
If your budget is tight, you can sign up for a free trial of any SEO tool and do as much keyword research as possible during the trial period!
Ditto tools that offer topic research, like Ahrefs and SEMRush
Find a FREE keyword research tool (I love Answer the Public)!
Type a topic idea into Google and look at the 'people also ask' questions – those are a goldmine, of either topics or headings within a larger topics
Type part of your idea into Google and see what the autocomplete suggests (popular searches)
Ask your sales and/or customer service teams for frequently asked questions
Look anywhere else your company gets questions, from website forms to social media comments
For the sake of space, I'll stop there and offer you my article on 20 blog content ideas for business – all of which you can use!
Outlines and Writing Tools are Your BFF
If you need more than my Secret All Star Blog Formula to get the creativity flowing, I highly recommend starting with an outline.
If I'm totally stuck or just procrastinating, I can at least wrap my head around writing an outline.
I always use a keyword research tool and Google's 'people also ask' for my topics, so I start by putting my chosen long-tail keywords from those sources into the outline as headings, in a logical order.
Then I start making bullet lists under each heading saying what I might want to talk about, including links to resources. I might even get a great idea for a few paragraphs under one of the later headings, and write that first.
Next thing you know, writing the blog post is more like connecting the dots.
There are also writing tools and resources you can use to make sure your copy is technically sound and a positive reflection of your brand:
Grammarly is a great tool to make sure your writing is grammatically strong
Hemingway Editor gives you insights into the quality and readability of the writing
Google Docs actually gives excellent edits and suggestions
You can find any number of articles on improving your copywriting; I highly recommend these writing tips because… I wrote them (wink)
10 Quick Tips to Optimize Blog Posts
Without learning everything about SEO, you can still take simple steps to optimize your blog posts. If you've picked an SEO-friendly topic and follow these steps, you'll give your post its best chance at ranking well.
Put keywords in your title and main headings IF appropriate – headings are to provide context for readers first, and search engines second
Put keywords in your URL, meta description, and image filenames
Give important images ALT tags – descriptions that would be read aloud by a screen reader to a person with a vision impairment
Add internal links (links to relevant pages or posts on your own website)
Add external links (links to secure, trustworthy outside sources to back up your facts)
Learn about the SEO of blog categories and tags, and use them correctly!
Share your blog post by email and on social media, to help it earn links (Google loves links)
Regularly update older blog posts to make sure the information is accurate for anyone discovering them on the interwebs
Include a bio of the author, especially if it's a topic that impacts money or health
Use a WordPress plugin that automatically submits new URLs for indexing by Google, or use Google Search Console's URL inspection tool to submit your newly published blog post and start ranking!
Learn more in our 20-point content optimization checklist!
What next? Promote your blog!
You're now officially an expert on how to write a business blog and all things blog-related. But don't forget to give your blog some love!
Blogs only have the keywords and code you've given them to attract search engines' attention. Especially for a newer business blog, it can take time and a LOT of patience to see results. A great way to speed things up is to share your blog posts far and wide!
Share links to blog posts on your company social media channels
Turn the best bits of your blog posts into shareable social graphics using simple apps
Include links in your company newsletter
Share blog posts with your clients! If you're doing it right, these posts should answer their questions and be on relevant topics
Republish your blog posts on LinkedIn, Medium, or other far-reaching content platforms (with links to your original content, of course)
Create social media ads to drive traffic to your blog posts
Sharing your blog posts helps them earn links, and links from trustworthy websites work with the rest of your SEO to tell Google that your website deserves to appear in the search results. And that's why we have business blogs in the first place: to earn more quality traffic to our websites, so we can drive those conversions.