Blogging for business is by no means a new concept. After all, the belief that having a blog is good for conversions has been ingrained in our collective business minds. 
However, having a blog is not enough. Perhaps it once was, but in today's competitive, overcrowded, overhyped digital landscape, you need to go several steps further.
We won't be going into the pivotal importance of content quality (although we will emphasize it, in case you need a friendly reminder). Instead, we'll be looking at blog post optimization and how to tailor it with conversions in mind.
6 tips to improve your blog conversion rate
Keyword Relevance Based on Customer Lifecycle
The fact that every blog post needs to target a specific keyword is a given. However, there is more to keyword relevance than merely hitting upon a query your target audience is likely to use, with a decent monthly search volume.
You want to create blog posts set around keywords that target each stage of your customer lifecycle: top-, middle- and bottom-of-the-funnel audiences.
You also want to create posts that target all of your various offers, products, or services. And you'll want to combine them with the lifecycle stage approach – more on that in a second.
Top-funnel posts will be more general, aiming to hook a wider audience. They are usually meant to generate leads and traffic.
Mid-funnel posts should provide more value. They need to go more in-depth on how your products or services solve problems, their different features, different ways to use them, and so on. You don't need to do brand-specific posts exclusively, though. You can still cover a wider topic, but go into more detail about your own solutions.
Bottom-funnel posts are the most sales-focused, aimed at visitors who are ready to convert and are looking for further information and practical advice.
A good example of this is the Transparent Labs featured posts section targeting all of the various funnel stages. Their guide on probiotics is a bottom-of-the-funnel post, ideal for customers ready to make a purchase. Their post on cheat days is a great top-of-the-funnel post, attracting visitors who are not necessarily looking to shop just yet.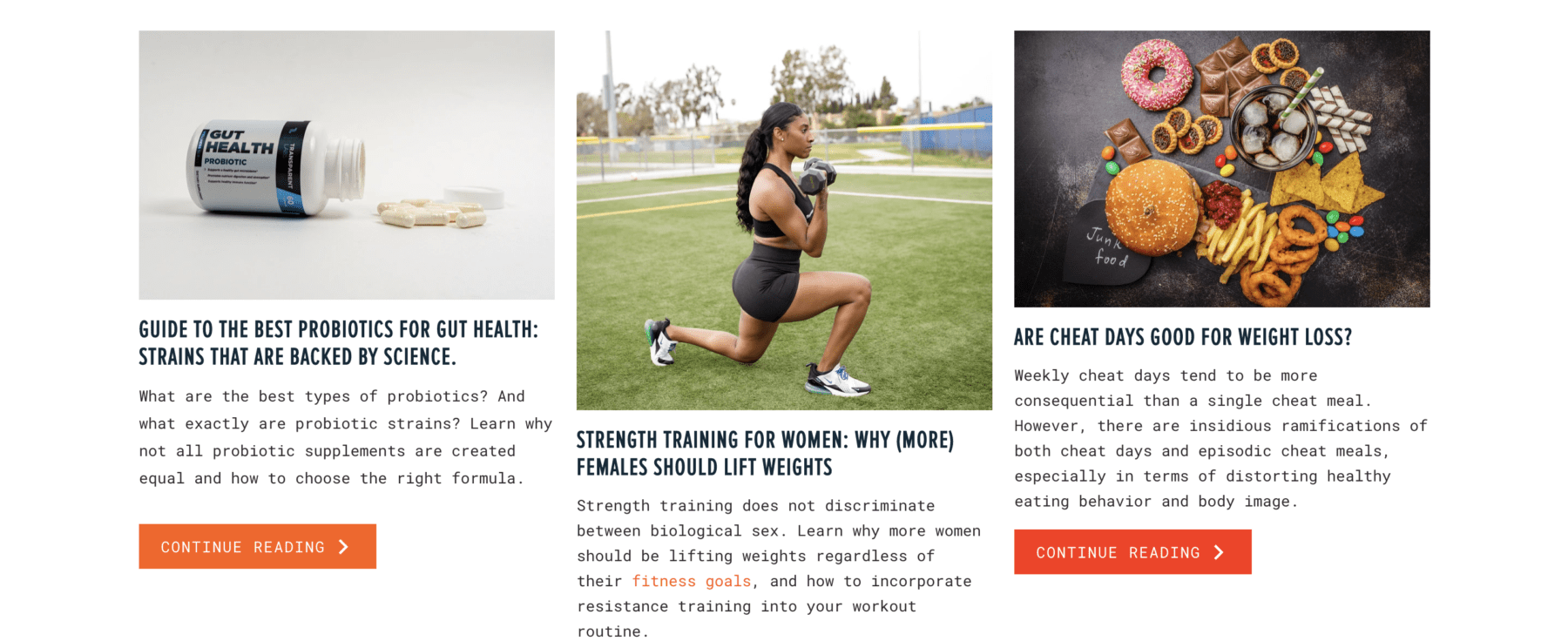 Funnel-Specific Offers and CTAs
Now that you have classified your blog posts into funnel stages, you need to identify the right product or service to promote through each post.
Top-of-the-funnel offers (and CTAs) should be geared towards lead generation, collecting information about your visitors, and ensconcing yourself on their radar.
Promote your newsletter in these posts, and use your CTAs to that effect. Once you gain access to a lead's inbox, you will be able to send more relevant content their way and slowly guide them further down the funnel.
Your mid-funnel posts can go either way. Ideally, they can offer both a conversion CTA and a lead-generating CTA, in case you haven't managed to capture someone's contact information previously.
Finally, your bottom-funnel CTAs should highlight your main offering. That might be a free trial, scheduling a call with your sales team, scheduling a demo, or making a purchase.
A great example of a company doing this well can be seen in this Bay Alarm Medical post. The page has a pop-up that prompts you to get a free quote, and they also have a CTA at the bottom of the article, offering the same 30-day free trial option.
This is an excellent way to capture a lead's attention, as more CTAs have a better chance of converting. Don't go overboard, though. Two or three will do just fine.
Introduce the CTA
While we're on the subject of CTAs, let's explore how best to add them to your blog posts to drive conversions.
There is no magic formula for CTA inclusion, and the best solution will always depend on the article itself. Some blog posts feature CTAs practically above the fold, while others feature them at the bottom. Some have CTA widgets that follow you down the page; others have no CTAs at all.
The key is to build up to the CTA in the body of the article. You want it to seem like the natural next step, as opposed to a blatant sales pitch that's coming out of nowhere.
Mention your product or service in the lead-up to the CTA. Hint to a fact or tip that you will share in your newsletter, and then allow visitors to sign up. Your aim is to get them interested and provide a hook. Don't expect them to do all the work for you.
A good example of this to look at comes from JOI. The company provides plenty of value in their posts by featuring interesting recipes, among other things. This allows them to plug their own product in a natural and seamless way, without it ever coming off as a sales pitch.
The final paragraph of this example post does an amazing job of addressing the concerns and goals of their audience. It logically transitions into the CTA itself.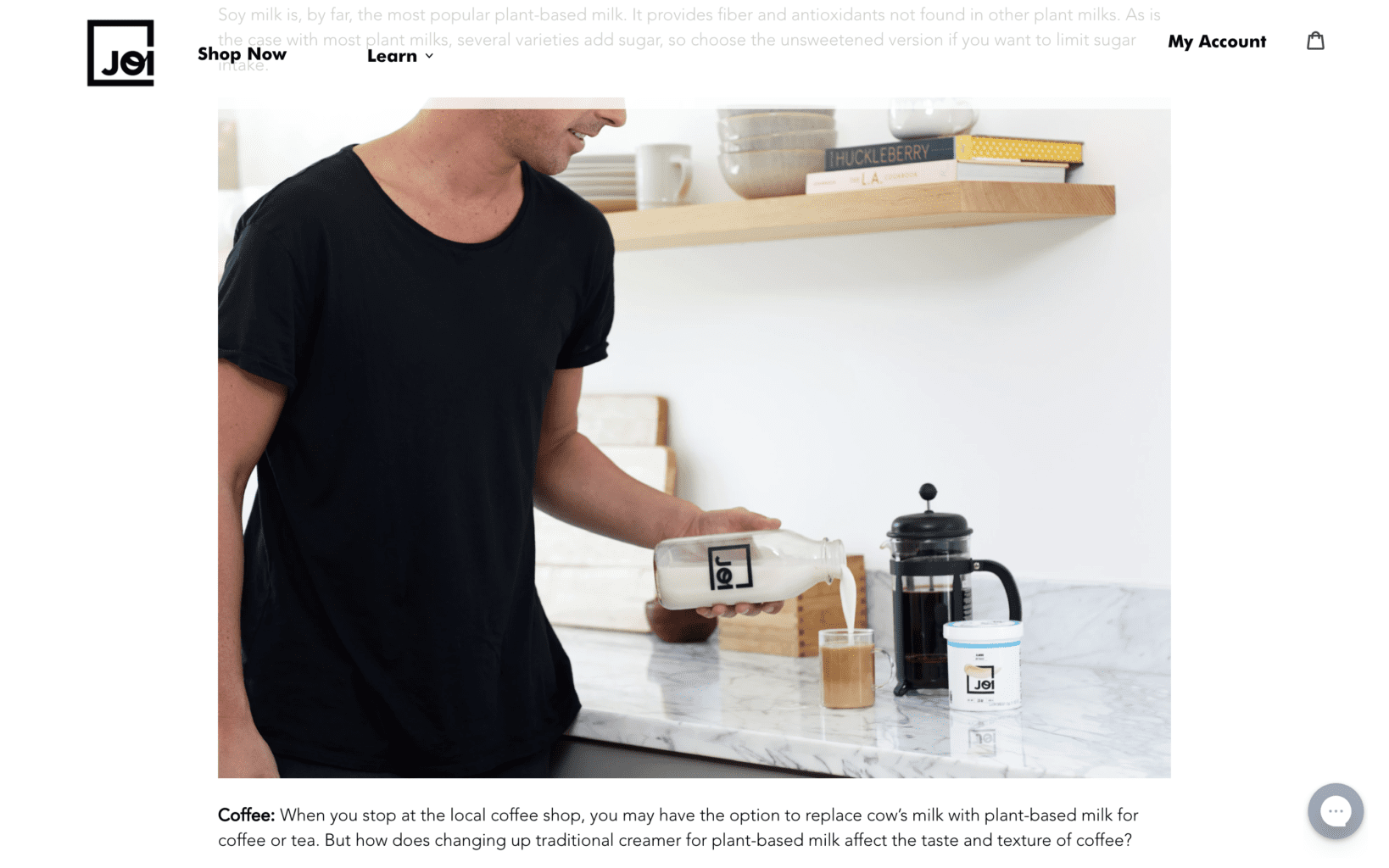 Rewrite Your Copy
To inspire conversions, your blog posts need to be engaging, provide value, and bring something new to the table.
What also needs to be top-notch are your copywriting skills when it comes to the offers you are promoting via these blog posts.
If you do a great job at content writing, crafting highly readable and popular blog posts, but fail on the copywriting end, you'll be bleeding valuable conversions.
The offer and the CTA need to match the tone of the blog. Both need to be a part of the same whole, seamlessly blending into each other.
Don't merely slap a CTA on the end of a post. Take time to consider which offer would work in that specific post and how best to insert it. The more work you put in, the more likely users are to convert.
Once you come up with your initial draft, always go back to it and rework it. The first iteration can usually be improved quite a lot. Write with your target audience in mind, targeting their specific pain points, questions, and struggles.
Make It Easy to Digest
There's a good chance you will add a CTA at the end of your blog post. You may feature one higher up as well, but you want your readers to get to the end of the page.
They won't get there if the post is difficult to swallow.
You are aiming for engaging and digestible nuggets of content from top to bottom.
Use web design elements to your advantage here. Offer plenty of white space on the sides of the frame to get that airy, spacious feeling. Break down your paragraphs into small, easy-to-skim chunks.
Use your headings to highlight the main points. Allow your users to get to the gist of the post by scanning them. Using a table of contents plugin that displays the headings at the top of the post is even better.
Don't bury the lede. Get to your point as soon as possible, and then provide more information further down the page.
A great example to check out is this Sleep Junkie post, which has a box right at the top of the page that lists a "30 Second Summary". They then provide further details below, add more context, and answer related relevant questions. The reader doesn't have to keep scrolling to get their main question answered.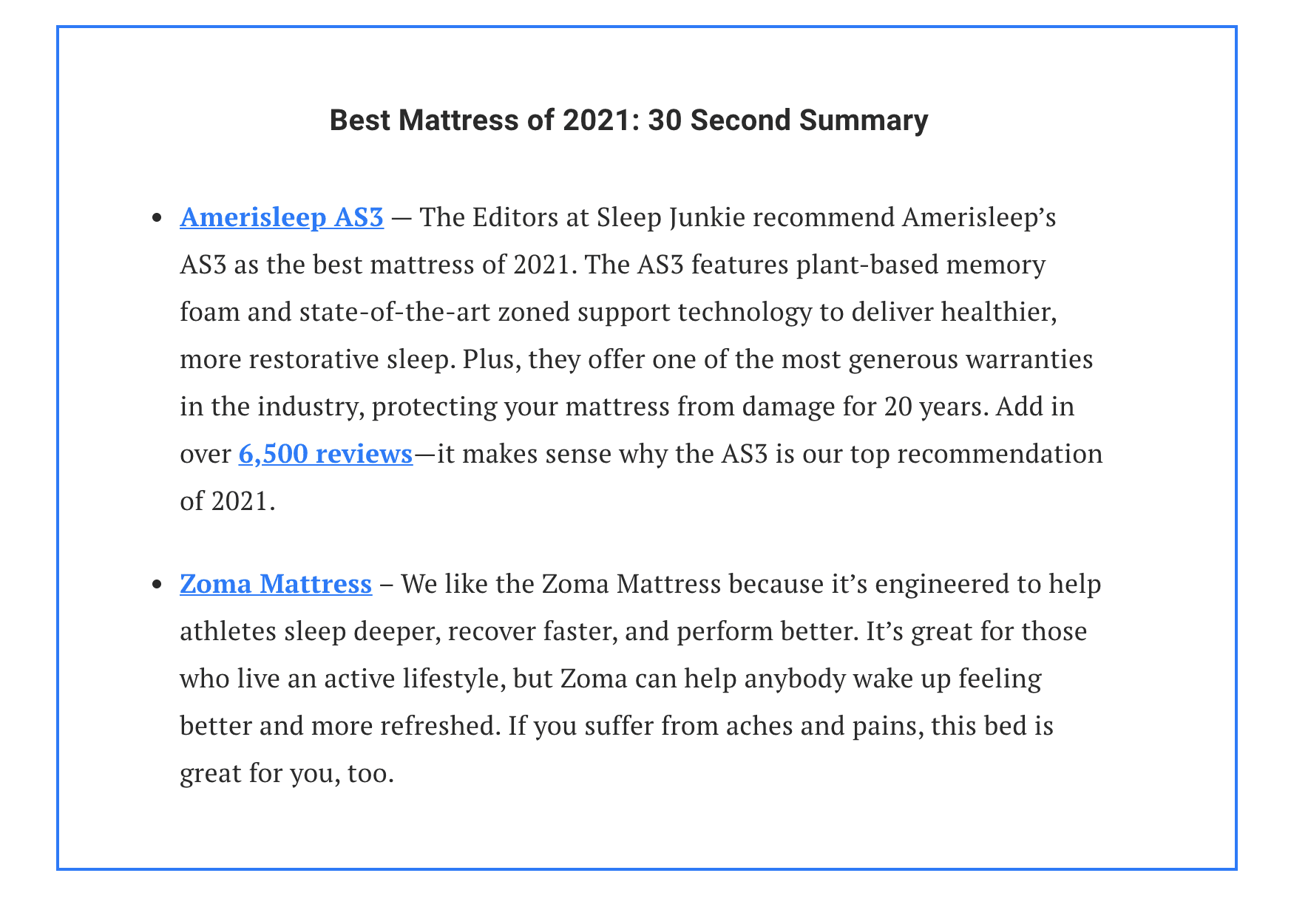 What's also useful is that they feature plenty of relevant links in their posts. You can easily skip to other pages of interest once you've gathered the information you were looking for.
Test and Test Again
Finally, make sure you test and retest your CTAs over time. The longer they are up and the more traffic they get, the better you will be able to improve them.
When you first publish a post, you are basing all of your decisions on previous experience, best practices, and sheer instinct. Only when people have seen it, read it, converted from it, or abandoned it can you rework a page so that it converts better.
You may want to change the wording of the CTA and highlight a different aspect of your offer. For instance, perhaps you've been focusing on the 30-day trial when you would be better off stressing the free delivery option.
Maybe you need to rethink your placement and bring the CTA higher up. Or you might need to rework the lower half of the page so that visitors don't click off when they get to a certain point.
Sometimes it's as simple as tinkering with the design of the CTA, making it more or less prominent and allowing it to draw the right amount of attention.
This is especially important for pages that receive the most traffic. Always make sure you perfect them first, and then move on to improving pages that are not performing as well. This gives you the best chance of increasing your conversions in a meaningful way.
Blog posts are still an under-utilized gateway to conversions. Most businesses fail to optimize them and to invest the proper amount of research beforehand.
Carefully consider the offers you want to promote through your blog posts. Consider why they would appeal to a specific segment of your audience. Once you have that down, you will be able to better match search intent, lead intent, and your copywriting talent.