So you're thinking of doing a digital rebrand? Congratulations!
Often, clients come to us with the dream of a new look for their business and website, but fear they'll lose traffic, ranking, or customers from the changes.
Like a website redesign, rebrands feel like you're starting your company from scratch. But you don't have to break up with everything to start over, especially your SEO.
No need to Google how to stay BFFs with your hard-earned optimizations through your business' split with its old self. We've got your biggest questions already answered, plus steps for rebranding your website with reduced impact on rankings and SEO.
What's the difference between a redesign and a rebrand?
A website redesign is like tearing down an old house and building a new one on the same property. You're keeping it in the same name, you just want that modern look and better use of space.
When we work with clients on redesigns, they often want the full package: competitor research, SEO and content auditing, strategic information architecture, UX and UI design, content support, and a new custom WordPress site that's been rigorously QA-tested. All of this happens under the (unchanged) brand name.
Meanwhile, there's a bit of a spectrum when it comes to defining a rebrand. Contrary to popular perception, not all rebrands completely wipe the old creative away.
A small rebrand can be as simple as a change of colours, a swap of the logo while leaving other elements the same, or a domain name change. This may simply be referred to as a refresh.
Meanwhile, a full rebrand is like an amicable divorce; it's not you, it's all of the items above and then some. New year, new you! Move properties (domains), paint everything over (website redesign, new logo, new name, new slogan), and start again (content refresh).
BUT – you still want people to be able to find you. This is why SEO remains an important, mandatory part of any website redesign or rebranding,
How does rebranding affect my SEO?
The simplest answer: it's not your rebrand itself that impacts SEO, it's how you do it. And the impacts could be positive or negative.
Rebrand elements and their potentially impacted SEO factors include, but aren't limited to:
Product and service changes – keyword rankings, impressions, clicks
Image changes – ranking of titles, alt text, page relevancy
Location changes – local ranking and visibility in search
Domain name change – restarting your domain age and authority trust factors
Site URLs – change or loss of ranking keywords in URLs
301 redirects – new pages may not match the ranking or SEO value of previous site versions
Does a company name change affect SEO?
Yes, but positively if researched properly!
Before you've even touched your digital presence with other rebrand-related changes, ensure you've chosen a new name that is pronounceable, sellable, memorable, and most of all, searchable.
By searchable, we mean not already in a battle with a 'name twin', or too-similar names, in the rankings. You don't want to even be an Ashley A in a classroom full of Ashley Bs, Ashley Ms, and Ashley Ps.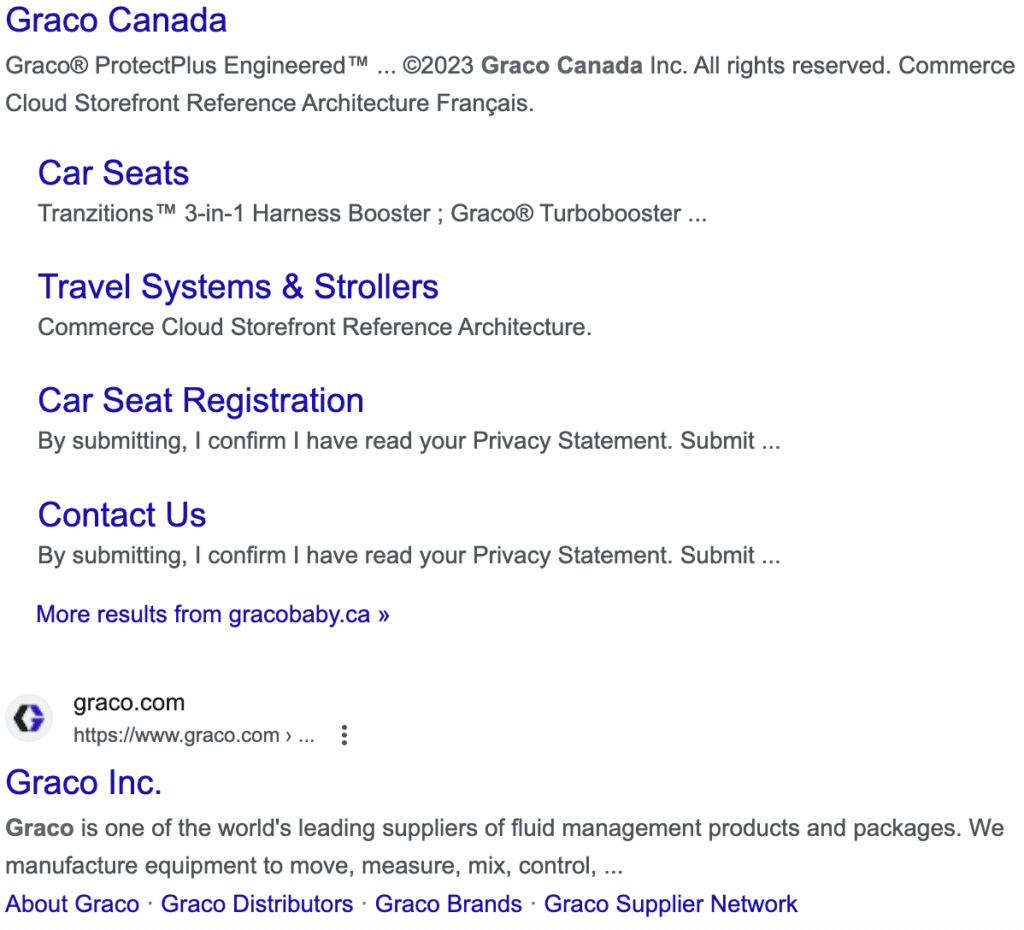 Example: Graco is the name of both a car seat/stroller company and a fluid management product supplier.
The easiest way to do this is to go into your browser's Incognito Mode and Google the new business name(s) you've been considering, and see what similarities you find to existing businesses, services, and brands.
Pay extra close attention to local results. It's probably okay to have the same name as a company on the other side of the world (there are only so many unique names), but not with one that's competing for searches that include your city name.
Does changing content affect SEO?
Yes, and the effect can be in the form of ranking and organic traffic impacts. This is dependent on your strategy, including which content is changed, the frequency of these changes, the scope of changes, and the end-result content itself.
Content changes during a rebrand allow for the possibility of higher rankings, or introductory rankings for new keywords, as the content becomes more helpful, up-to-date, relevant, or optimized in the revamp.
On the other hand, not updating content can see your posts becoming irrelevant, outdated, underperforming, and stale in the eyes of the Google crawler. Not all old content is "bad," however; old content can still rank high. Just keep an eye on it.
Now that we've covered some of the most common FAQs, let's get to the meat and potatoes of your rebrand research and to-dos.
8 Steps to Rebrand Your Website without Hurting Your SEO
We don't recommend doing all of these big changes at once unless you have to! With that said, your rebrand SEO to-do list should include the following.
1. Update Old Content
This can improve the freshness, an undermentioned Google ranking factor, and relevancy of content you already put so much time and work into. Rebrands are great timing for this because you have the opportunity to implement fresh industry, content, and search ranking know-how into existing content as you migrate it.
These content adjustments should mainly be centred around ensuring that the content reflects the changes to your business that are coming with the rebrand, plus implementation of any detected opportunities for SEO improvement. Further drastic or unnecessary changes may negatively impact ranking and traffic.
Once you've updated your old content, you don't even have to change the publishing date on the posts – Google will detect that content has been updated during its next crawl. You can also resubmit the updated content's URL(s) for indexing via Google Search Console if you don't want to wait for Google to decide when it wants to crawl the updated post(s).
2. Adjust On-Site Hyperlinks
To increase your overall content's E-E-A-T (experience, expertise, authoritativeness, and trustworthiness), don't forget to check old content and pages for outdated, mistyped, or "broken" links. You can even run your website through Broken Link Check or Dr. Link Check just to be sure.
3. Set Up 301 Redirects
If you're changing your URLs, you definitely want to set up proper redirects. A 301 redirect from the old URL forwards traffic to your new page, instead of users simply hitting a dead end.
Redirects can also pass along a portion of the old page's ranking to the new one, although it won't be as strong. Redirects help keep traffic flowing to your site to enjoy your new branding without interruption.
4. Change Information, or Request Information Changes, on Other Websites
Update your social accounts, internet business profiles (ex. Google Business, Yelp, Trip Advisor) and any other directories where your site is listed.
Referral traffic reports in your existing site's Google Analytics can be a great resource to see where your business is listed. This might also include media mentions, or links on other sites where you've been featured.
Finding and contacting these sites to request updated linking ensures that their visitors can become informed of your new name and online location.
5. Initiate a Change of Address on Google Search Console
Moving your website to your new, rebranded URL in Google Search Console can be commenced using the Change of Address tool. You'll likely also want to also resubmit your XML sitemap, to make sure Google knows about the new domain property and URLs.
XML sitemaps can be automatically updated by plugins like Yoast SEO, if you have a WordPress site. If you need to manually update your sitemap, this step is typically best done by your IT team or those responsible for the development of your new website (like our awesome developers!).
6. Update your Google Analytics
Implement Google Analytics 4 for your new site using the same embed code as before, but with your new name and URL updated in your GA4 admin settings.
Tip: GA4 Pathways reports are helpful after rebrands for understanding how customers are navigating your new online presence and platform.
7. Publish A Rebrand Announcement Blog Post
This post should contain both your former and new name in the title. Doing so not only informs audiences and search engines of the name change, but will also serve as proof of change/ownership as you rebrand other online profiles.
If users coming across your rebranded account are wondering if it's still the same company, you can share, pin, and link this rebrand announcement throughout your profiles and posts.
8. Start Planning New Content
There's no time like the present to think about content to support your SEO and strategic goals for the new brand. Jot down as the ideas come. What can you tell your audience about your business' post-rebrand life and offerings? What would support new keyword targets?
Stuck? We've got 20 awesome blog content ideas to get you started.
How do you test the impact of a rebrand on SEO or traffic?
One of the most measurable ways of uncovering the impact on traffic and SEO during, or following, the rebranding process is to compare your new site analytics to benchmarks from your old site's data.
Commonly used benchmark statistics include user and session count, keyword rankings, conversion numbers, and on-page activity such as time on page or scroll depth.
Recommended tools and practices include:
Google Analytics, which can be monitored over time for sudden or dramatic increases or decreases in traffic
Google Search Console, where you can continually review reporting for increases or decreases in impressions and clicks on searched terms and site content
SEMRush, Ahrefs or other SEO-specific tools, which will help locate additions, increases or decreases in keyword rankings.
Image Credit: Search Engine Land
It is also recommended that you, or a more expert member of your team, complete an SEO audit of your technical SEO after changes are made, to ensure a lack of errors or negative impact on your site. Broken/outdated links are the most common during or after a rebrand.
Tip: If you find a drop in organic traffic at any point, we have a list of 12 solutions you can bookmark for reference here.
What Not to Do During/After a Rebrand (For SEO's Sake)!
Before you go, it's important to take note of a few of our rebrand do-nots to ensure your new site experience is as seamless and error-free as possible. For expert guidance and collaboration on your next rebrand, or site redesign, contact our team.
1. Don't Rush to Make All Changes and Updates at Once
This can't be said enough at any stage.
Rushing a rebrand can make your site susceptible to errors, missed steps, and even search engines mistaking your content as stolen from another domain (even from your own site, with search engines using data from pre-rebrand optimization and search engine visits). Make like Google – don't run, crawl.
2. Don't Delete your Old Domain Name from Existence.
Hang onto that redirect path as long as you can, because you never know when someone will find or decide to visit the old URL. Make sure they're guided to the new you automatically!
3. Don't Skip or Eliminate Categories and Tags
Any time Google crawls your site and detects a change it can potentially rerank you, which can have a positive or negative outcome.
Keeping your categories and tags up to date informs and reminds Google of your site's topical relevance and context. This step should be considered necessary even if your industry, niche, or subject(s) of expertise did not change during the rebrand.
4. Don't Skip Keyword Optimization Reviews and Tweaks
Identify which keywords previously brought the most traffic to your website, plus which pages or posts they were associated with. Compare this list to topics and keywords that best relate to your updated old content, upcoming content, your rebrand, and any new or changed offerings. Tweak and prioritize as needed.