The days when social media was only used for getting in touch with friends and family are long gone. The popularity of social platforms has increasingly influenced consumer behavior.
Now, people discover and research purchases using their social platforms – both physical products and digital solutions. This means that not only B2C companies but also B2B businesses like SaaS companies can implement social media marketing to reach their target audience, boost brand awareness, increase loyalty, and increase sales.
This list breaks down seven major reasons to consider SaaS social media marketing.
Why You Should Consider SaaS Social Media Marketing
There are three main reasons for SaaS businesses to consider social media marketing:
B2B buyers are active social media users: B2B buyers are everyday people who actively use social media platforms. In fact, 92% of B2B buyers use social media to engage with niche industry leaders, as it's comfortable for them to receive information on the platforms they often use.
People discover and buy products/services on social media: Over 3.8 billion people are active on social media platforms, and almost half of them discover new products and services in-app.
Social media presence supports a long buyer journey: Modern consumers spend a considerable amount of time on social media. Having a strong social media presence helps to build brand awareness and therefore support the long buyer journey involved in a B2B buying decision.
In short, SaaS social media marketing is a must – but it's nearly impossible to use all social media platforms for business promotion, especially if you have a limited marketing budget. Thus, a logical question arises: what are the best social media platforms to use for SaaS businesses? Keep on reading to find out!
What are the Best Social Media Platforms for SaaS?
When it comes to choosing social media platforms to use for SaaS promotion, it's you who makes the decision.
But wouldn't it be great if you could select the best social media platforms for your SaaS business? To make the right decision, it's important to pay attention to the most popular social media networks, according to B2B marketers.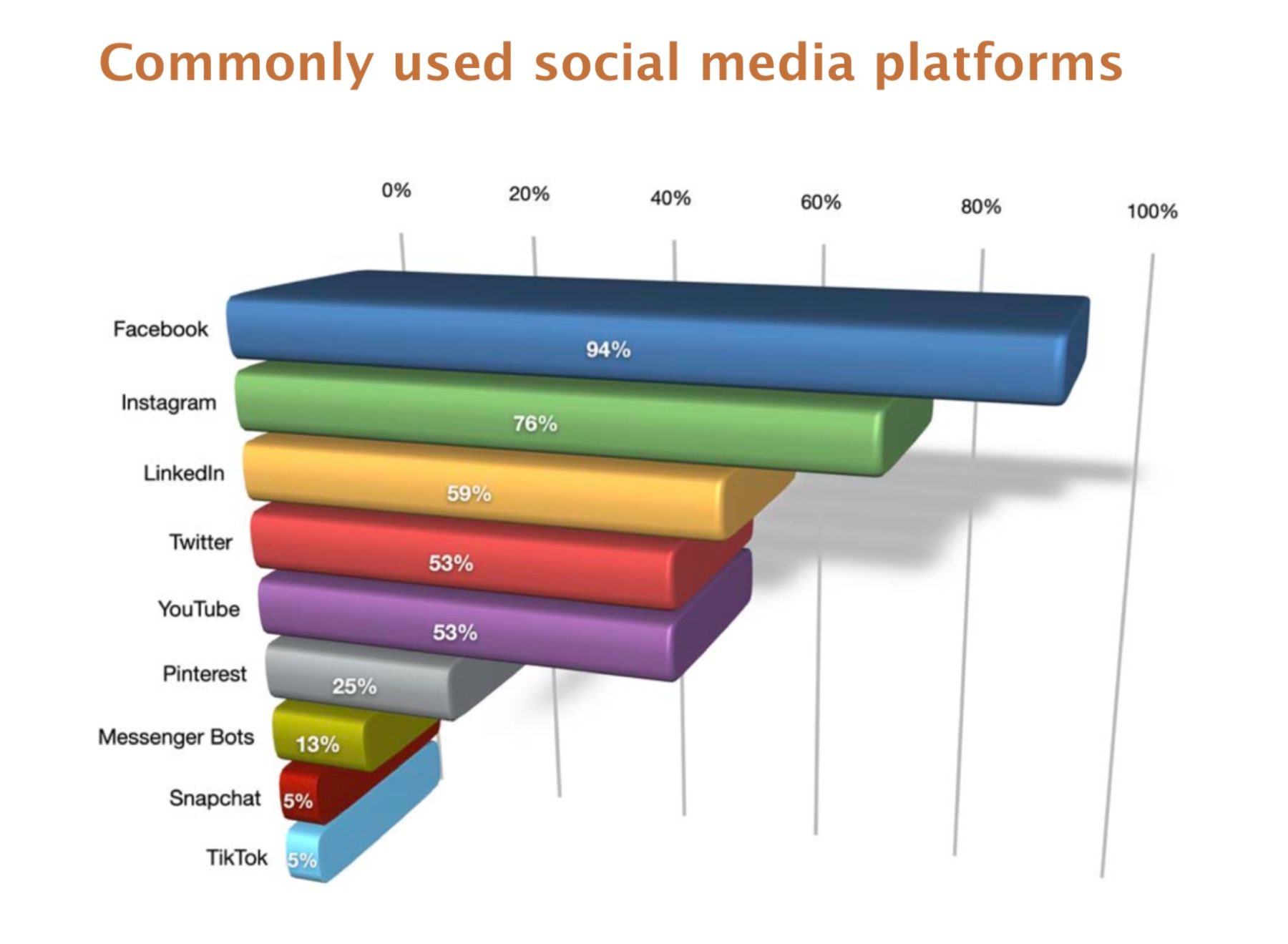 Here are the top three social media platforms for SaaS:
Facebook: This social media platform is a mix of business-specific and customer-centric features, which makes it easy for SaaS businesses to reach their potential customers and interact with them in-app. Plus, it has been the most used social media platform in the last decade.
LinkedIn: LinkedIn is the number-one social network for business professionals, with ad targeting so granular that you can display ads to people by job title or even at a specific company. So it's no wonder that SaaS businesses use LinkedIn to promote their software and offer both personal and business solutions.
Instagram: As a visual platform, Instagram marketing

isn't the most obvious choice for SaaS businesses. But it has great in-app features to help build an engaged niche audience that's interested in your product or service.
Now that you have an idea about which platforms to explore, let's dig into the best SaaS social media marketing tips!
1. Raise awareness about your SaaS product
The more people know about your SaaS business, the more potential customers you can acquire. An average person spends 3 hours a day on social media; having a presence where your target audience is already spending time will help you deliver your brand message during the awareness stage.
Most social media platforms allow marketers to add product information in the bio section that appears at the top of your business profile. It helps both visitors and followers read more about your business, values, and products or services without spending much time.
Here's how one business uses its LinkedIn company page to inform about its solution.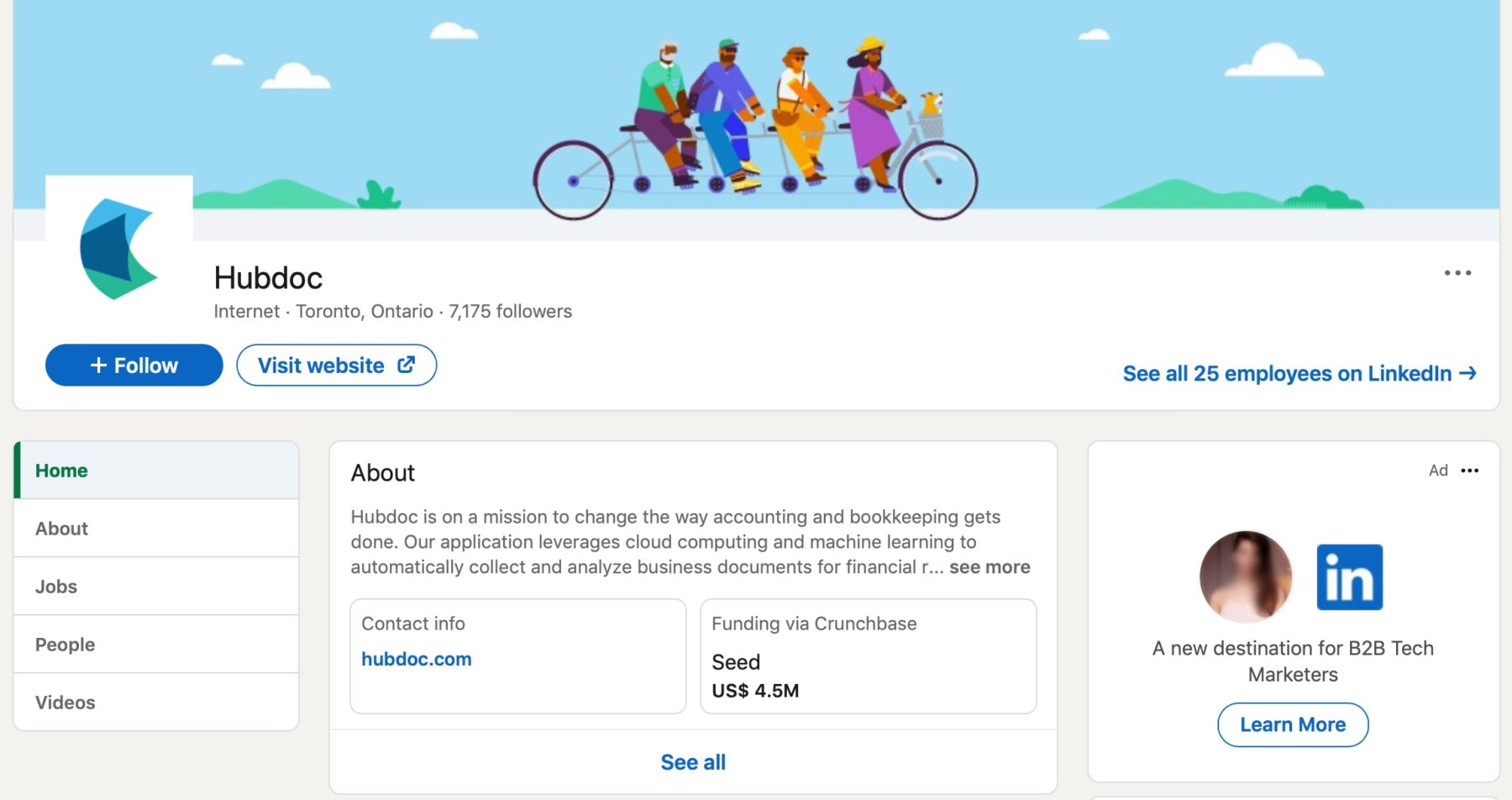 The company used the limited bio to write about its solution, and it also completed the 'About' section that includes all information about the software solution, mission, values, prices, and a website link.
If you use Facebook or Instagram, you can use those bios and About sections to talk about your SaaS product and spark interest in your company.
Since social media users discover new products and services on platforms, it's a great idea to improve the customer shopping experience and give social commerce a try.
When people can discover products and buy them in-app, it encourages them to make the purchase decision faster which promotes your business growth.
The solution is simple: use social media platforms as a storefront. From sharing product information to adding product stickers, there are many opportunities to turn social media followers into customers. Both Instagram and Facebook offer great eCommerce features like in-app checkout, product tags, and clickable links.
If social media shopping doesn't work for your product, you can still draw inspiration from Phonexa and learn how to use your company's social profile as a storefront. Phonexa uses its Instagram profile similarly to a website experience – they include product information, promote a product demo, and show interested visitors and followers how to make the most out of their solutions.
3. Explain how to use your product
When people choose products or services, they're expecting to find solutions to their problems. However, talking about your product isn't enough – people are oversaturated with content and ad noise.
Instead, use SaaS social media marketing to let them see for themselves how your product will solve their problem – by explaining how to use your product. Once people understand that your product can help them, they are more likely to buy it.
Whether you show your SaaS in action or share a step-by-step guide on its usage, there are many ways to explain how to use your product. For instance, TailWindApp invites its experts to tell more about its features and the importance of using them, like in the example below.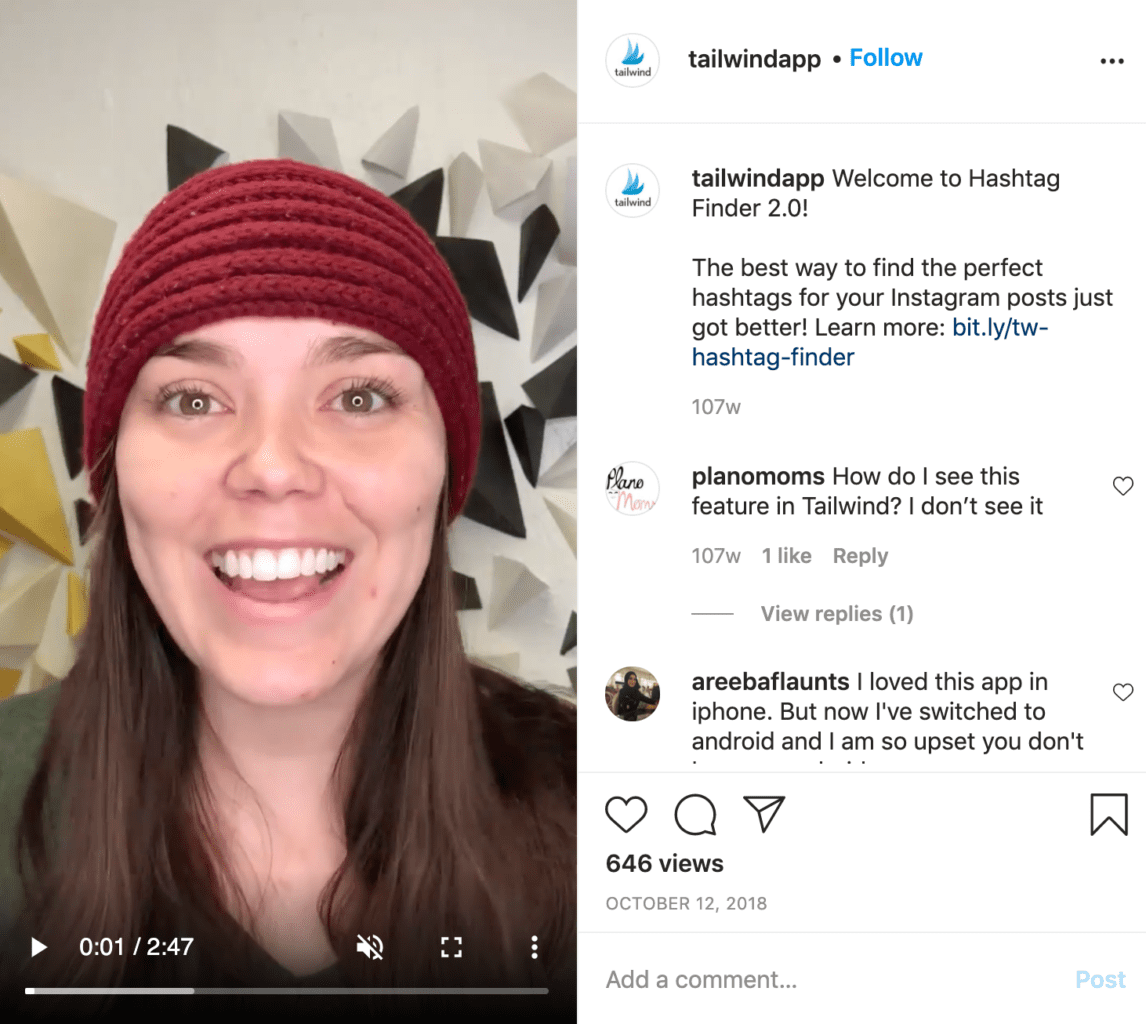 This is an example of an explainer video that can help to generate B2B leads. If you're doubting whether your SaaS business could benefit from a similar video, take a look at this handy infographic on the importance of explainer videos where answering simple questions will help you find the answer.
Hungry for more insights? Check out How to Generate B2B Leads with Instagram Marketing!
4. Organize a live Q&A session
The modern market offers a huge variety of products, so it can be difficult for customers to decide which products to choose. It's important to help your potential customers see how your product will make their lives better, and the best way to do that is to answer their questions.
To attract more potential customers, consider going live on social media and organizing a Q&A session. Live streaming creates a sense of urgency that encourages users to take action faster. Plus, you can share valuable information and raise interest in your product, just like Tailwind did.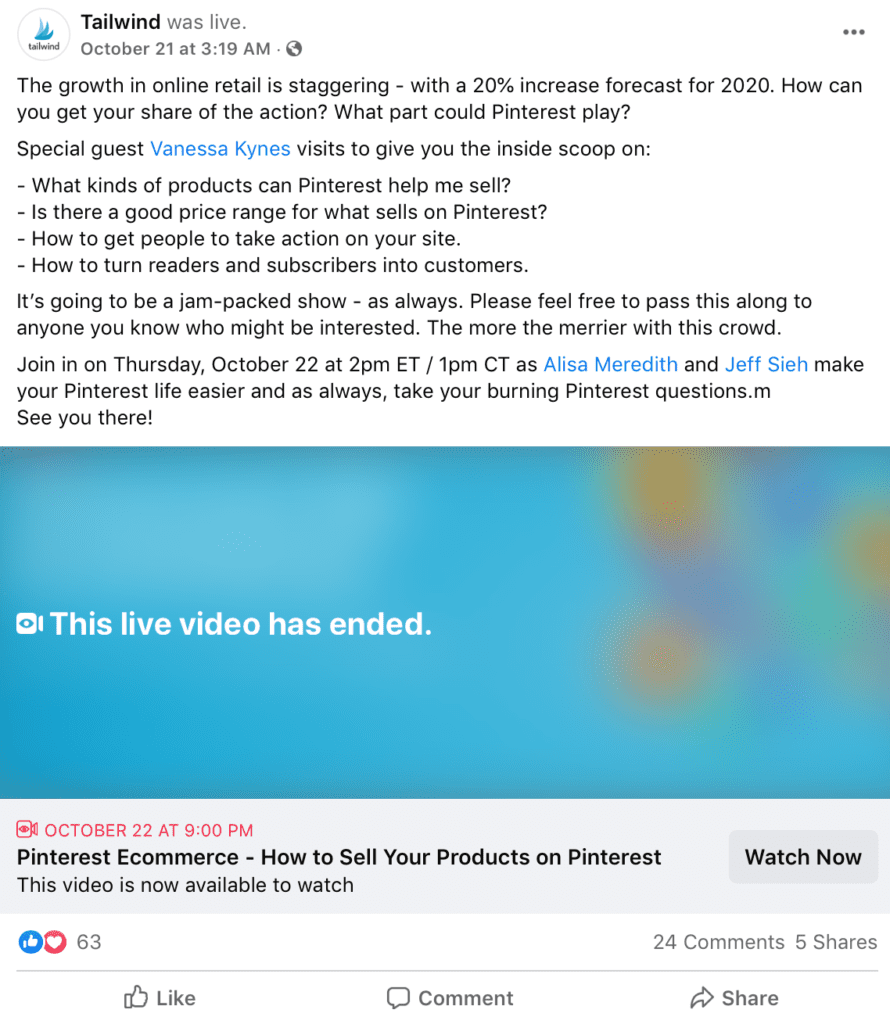 The company went live to speak about Pinterest marketing and share tips and tricks. However, Tailwindapp also positioned its product as a solution and encouraged viewers to ask questions about it.
Social media contests and giveaways are popular among users, as everybody wants to get something valuable for free. This content drives user engagement, which helps to attract more followers and turn them into users.
SaaS businesses can also run social media giveaways and achieve business goals. An example? In honour of Halloween, Invideo organized a contest that encouraged users to take a look at the list of holiday-related templates and turn them into stunning videos.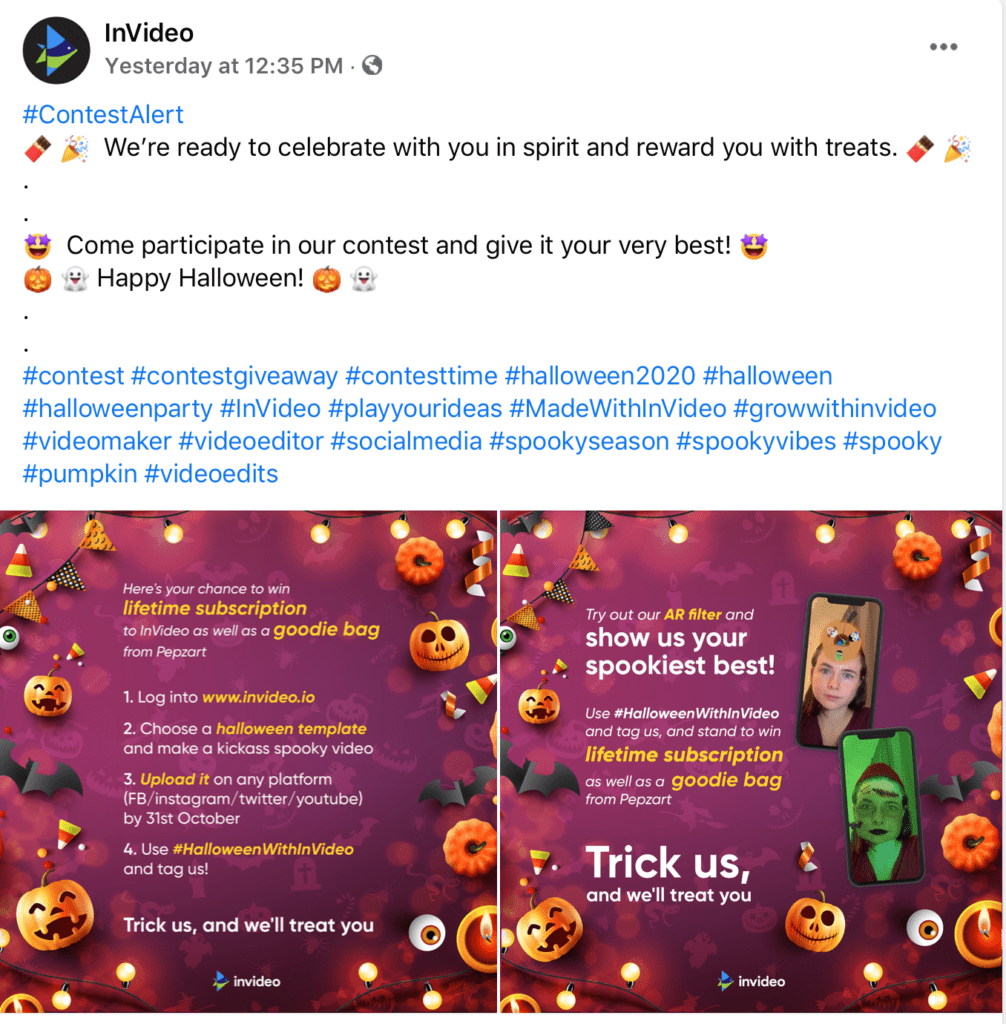 Then, participants had to share their videos on social media accounts with special hashtags for a chance to win lifetime subscription. This approach helps to encourage social media users to test your product, spark interest in it, and turn users into brand advocates by sharing your product with their own social networks.
To make the most out of your social media giveaway, analyze your target audience, choose a good prize, plan it in advance, and integrate it into your content marketing plan. A good giveaway contest strategy can raise awareness of your product and boost sales at the same time.
Even if your product is too expensive to offer it for free, you might still be able to find ways to use the giveaway method in your SaaS social media marketing. For example, you could create a unique piece of content to give away to only giveaway winners, such as an eBook or a gated video that shows advanced tips and tricks.
6. Team up with niche influencers
The era of influencers is here. Not only do people follow opinion leaders, but 70% of them also trust influencers' opinions and recommendations as much as their real-world friends.
Influencer marketing helps businesses reach their potential customers with ease. Since social media influencers come in all sizes, niches, and shapes, it's easy for SaaS businesses to find legitimate industry influencers who can spread the word about their products on social media. Here's an example of an influencer endorsement: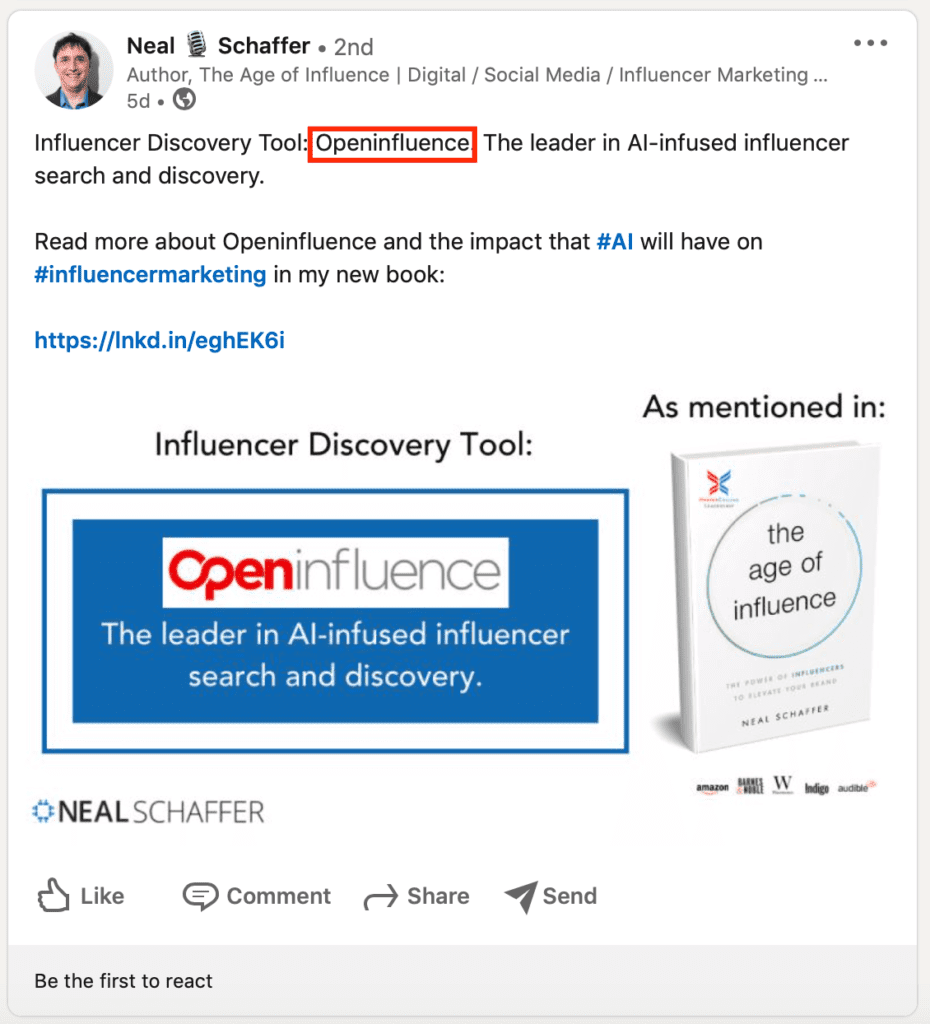 To team up with niche influencers and make the most out of word-of-mouth marketing, get ready to offer incentives that motivate your audience's favourite thought leaders to promote your product.
Here are several incentives SaaS businesses can use:
Gift cards
Discounts
Premium content access
Free subscription plans
Social media platforms have great potential for businesses of all sizes and niches, but as you know as a social media user, the newsfeeds can get cluttered. Brands seeking ways to cut through the noise have a simple solution – social media ads!
Social media ads are typically affordable even for small businesses, especially on Facebook and Instagram. You can set up highly granular targeting for your social media ad campaigns, and thus deliver your brand message only to the right audience without wasting budget on people who wouldn't need or buy your product.
Check out how Appsee ran ads in Instagram Stories to reach its audience: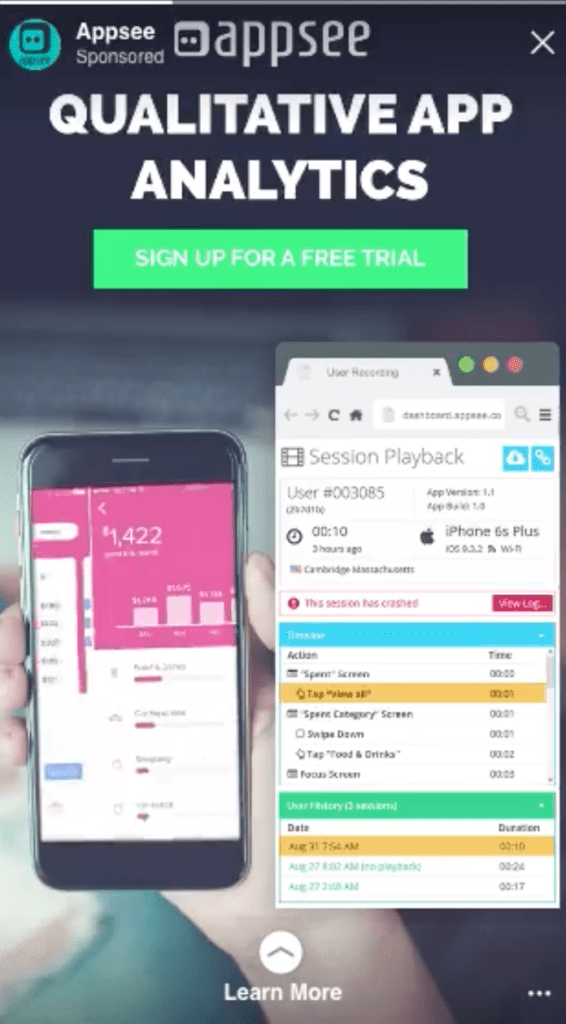 Appsee created a short video that told new potential customers about the SaaS product and encouraged interested ones to tap on a clickable link to sign up for a free trial. It resulted in a 3.4x higher click-through rate and a 25% lower cost per qualified lead.
When done right, social media ads help your SaaS business achieve your marketing goals with ease. Social media users are highly engaged, and they are ready to discover new interesting solutions like yours.
Social media platforms have evolved significantly over the last few years. Now, they help even 'dry' industries like SaaS achieve their business goals and turn social media followers into paying customers.
To bring your social media game to the next level, partner with a digital strategy company like Forge & Smith that can provide social media marketing services like coaching and campaign management. After all, having a social media presence can help your SaaS business get the edge on your competitors.