This epic guide to hashtags for business growth on social media is a beast, so I'm not going to waste time on preamble.
You came here to get insights into what hashtags are, how they work, why they matter, and how to use hashtags on each social platform.
Let's dive in.
What is a hashtag?
Few people have never encountered a hashtag. Not to be confused with "the pound sign" on a phone, these little '#' symbols followed by strung-together words can be found on nearly every social media platform in the world.
#HolyUncannyPhotographicMentalProcessBatman
Hashtags originated in prehistoric computing times (I can say that, I was there), on a tool called Internet Chat Relay (IRC). Back then it was called 'the hash symbol, and was used to label groups and subjects for members to navigate. If you think this sounds a lot like subreddits, you are correct. Same concept.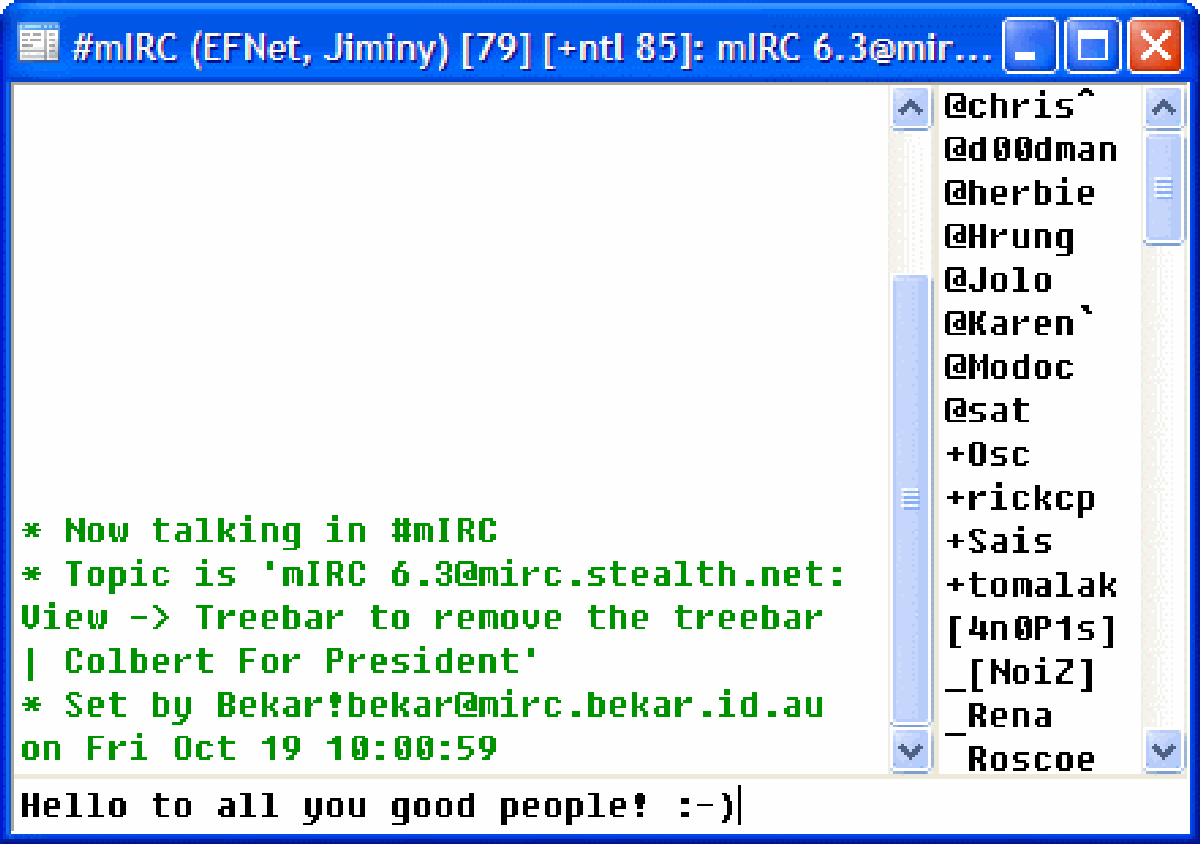 Right from the start, the hashtag was a means to categorize and catalogue information for both humans and machines to understand.
Hashtags were introduced on Twitter in 2007, and the social media marketing landscape was forever changed. In 2017, Instagram made it possible to follow hashtags in the same way you can follow profiles – which has massive benefits for businesses.
Not only are hashtags heavily used in current events, politics, sports, fashion, and entertainment, but they're also immensely popular ways to search and discover shareable, informative content about business categories, products, and services.
Most conferences or other large industry events have a hashtag that attendees, organizers, and presenters can use to communicate
Consumers and business professionals can use hashtags to follow information on a topic of interest
Branded hashtags can be used for customer service
They can also help curate user-generated content (UGC) to share with your audience
Hashtags are now used on most social media platforms, but they still do the same awesome thing: group content together into searchable, browsable categories.
A hashtag is meant to tell the social media algorithm that this piece of content relates to that topic. (I say "meant to" because that's actually how hashtags work – but like spelling and grammar, many people do whatever the heck they want with hashtags.)
Think of it this way: a social media app is a software application. Software is a set of instructions written in a computing language. This stuff lives inside my phone.
When I upload a photo, the social app doesn't have any way to understand that 20210622_150854.jpg is a photo of my horse. But I'm not a computer language speaker person. So how do I tell Instagram to show my photo to other horsey people who ride Western, live in my region, and love Appaloosas?
Hashtags.
And they're not just for fun – in the world of social media for business, hashtags give you a free opportunity to find new customers and leads, simply by tagging your content as relevant to a particular interest.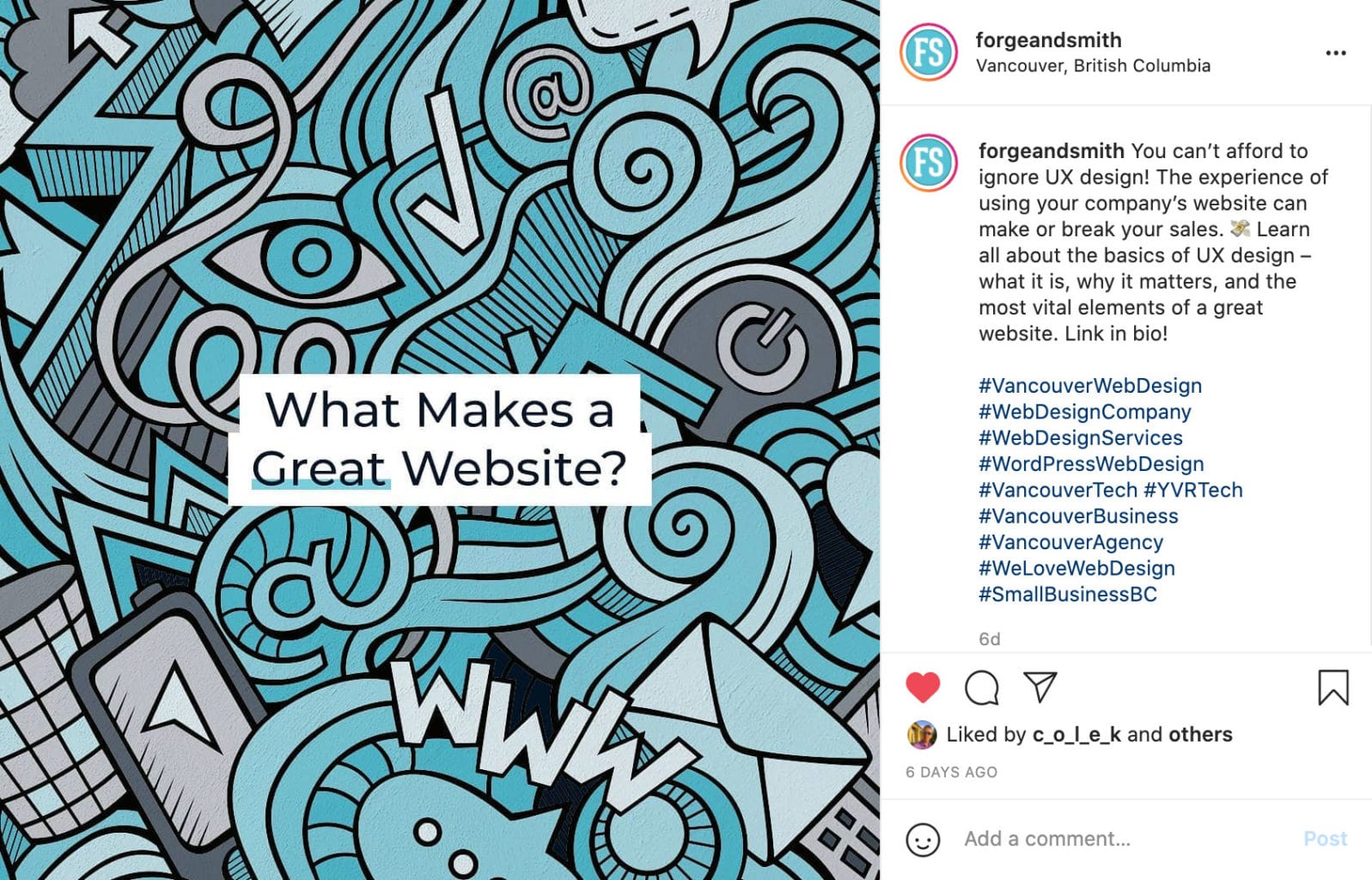 Do you need to do that? Yes. I can't stress this enough.
The harsh reality of organic social media posting is that fewer than 10 percent of your followers will see your posts on most platforms. That's assuming that you're posting at the most active time of day and on the best days for your followers.
If you're a small business just starting out, 10 percent of your following might be so few people that it's almost not worth the effort it took to create the content for that post.
Social media companies want you to buy ads, and if you can afford it, social ads are an excellent piece of the digital marketing puzzle. But you CAN build your audience, generate leads, and drive website traffic through organic social posting.
Hashtags can help.
You don't have to use capital letters in hashtags, but you should. This is about making social media more accessible, which is everyone's job on the Internet.
Capitalizing each word or independent letter in a hashtag makes it so that screen reader software (for those with visual impairments) can understand the words, and properly narrate them to the user.
For example: #MarketingTips or #SMMW21.
Learn more about social media accessibility in Canada and the United States.
Twitter (since 2007)
Instagram (since 2011)
Facebook (since 2013)
TikTok (since inception, 2016)
Pinterest (since 2017)
LinkedIn (since 2018)
YouTube (officially since 2021)
As of right now, Snapchat only uses hashtags for news stories. Clubhouse doesn't use hashtags.
Are you wasting time on the wrong channels? Don't miss How to Pick the Best Social Media Platform for Your Business!
Let's look at all of the major hashtag-friendly social media platforms, and how to best use hashtags in your social media strategy.
As a general best practice, keep an eye on trending hashtags. You never know when one might apply to your business or industry, and be the perfect way to give your content an extra push.
But always use caution and research your hashtags beforehand! Some trending tags can sound catchy, but actually be about sensitive issues or events that your brand shouldn't try to use to leverage your content.
If you're looking for tips on how to pick the right hashtags for each platform, skip on ahead to the 'how to choose the right hashtags' section of this article.
Twitter
With Twitter hashtags, it's always been about quality over quantity. Tweets with lots of hashtags look stupid.
#SorryNotSorry
More importantly though, most users will unconsciously skip over a heavily hashtagged tweet because it evokes the desperation of an inexperienced person or business – or a scam.
Twitter is a place for realtime updates on everything from news and sports to the random thoughts of celebrities.
A tweet is also the piece of social content that disappears the quickest due to the rapidly updated timeline. Your business might have 1000 followers, but each of them is following anywhere from hundreds to thousands of other profiles.
You need to give your content a fighting chance! Use a combination of optimized copy and hashtags to show your tweets to a smaller niche audience, and thus a less competitive timeline.
You can use hashtags in your Twitter bio for discoverability
Hashtags can go anywhere in a tweet; it's tidier to push them down after your main copy by using line breaks or symbols, but you can also hashtag words within your tweet to save space (for example, "Check out our latest #SEO insights")
There's no limit on Twitter hashtags, but they are included in the 280-character limit on tweets
A best practice is to use one or two hashtags
Twitter will suggest hashtags if you type '#' and a letter or two of the hashtag you're considering in the composer
From this same drop-down menu, Twitter will indicate popular/trending hashtags and how many recent tweets have used them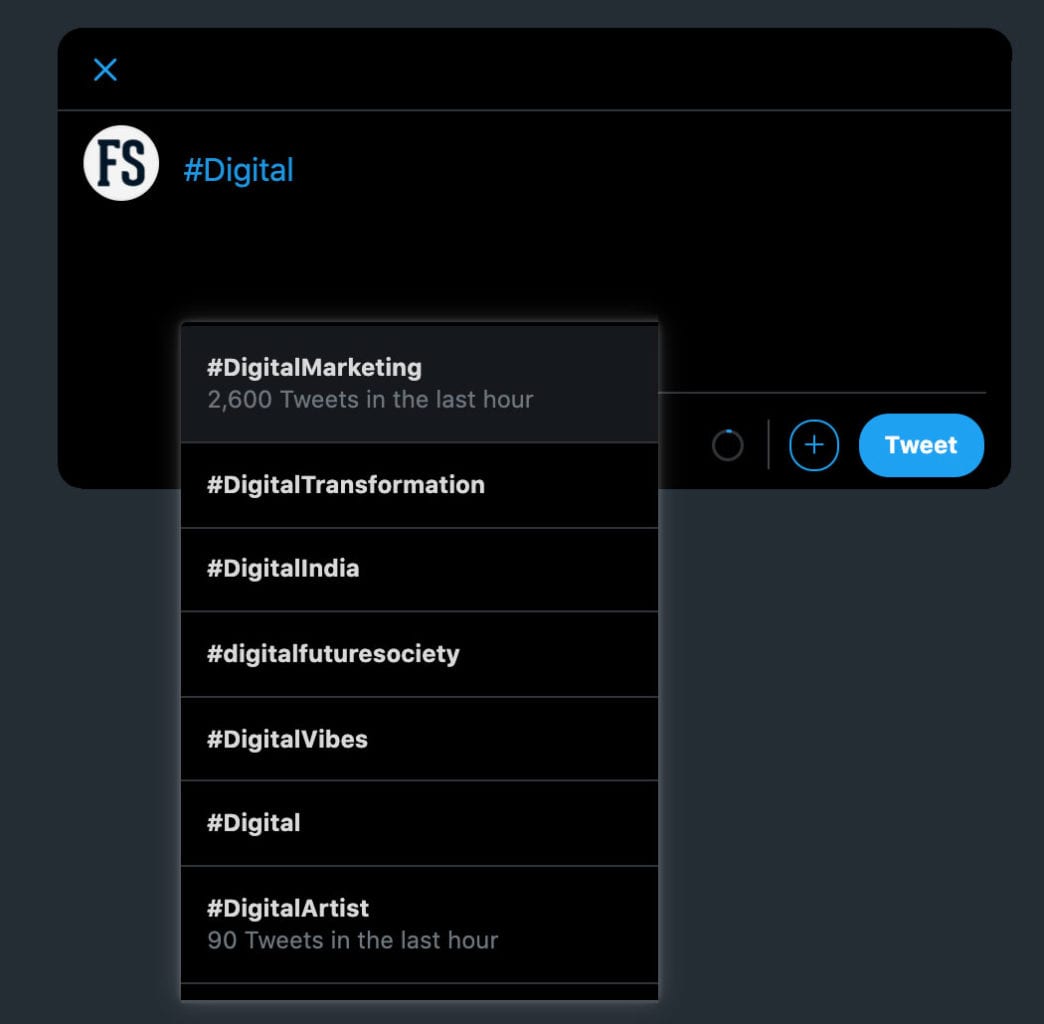 Twitter now allows users to follow topics, and your tweets can wind up in the 'top tweets about' if they include the words in the tweet itself and/or the hashtag
Don't be shy – Twitter is an excellent platform for conversations, so reply to tweets by others using the same hashtags as your business to get your name out there
Instagram
As I explained in the 'how do hashtags work' section, Instagram can't read what's going on in a photo, and won't know who should see it without being explicitly told. A photo without hashtags is like a library book without a spine label.
Instagram now allows its users to search by keyword (which crawls copy found in post captions or bios) – but right now the searchable keywords are limited, and you can't follow keywords.
You can follow hashtags, which will pull posts using those tags into your feed along with the content from any profiles you follow. This is a fantastic way to get in front of people who don't know your business, but are interested in your products or services.

You can use hashtags in your Instagram bio for discoverability
Instagram has a 2,200-character limit in captions including hashtags
There is also has a 30-hashtag limit on posts
A best practice is to use somewhere around 11 hashtags
Instagram will suggest hashtags if you type '#' and a letter or two of the hashtag you're considering into the search bar or while creating your post caption
In the same drop-down menus, Instagram will indicate how many posts in total on the platform have used that hashtag
You can keep your caption copy clean by pushing your hashtags down using line breaks or symbols
You can also add hashtags as the first comment – just be speedy about it, because Instagram's algorithm will instantly crawl your post to decide what it's about, so you want those hashtags present!
Instagram provides per-post insights for business profiles on how many impressions were earned due to hashtags (under Insights > Content You Shared > tap any post > tap 'View Insights'), but this number is for the entire set, not per hashtag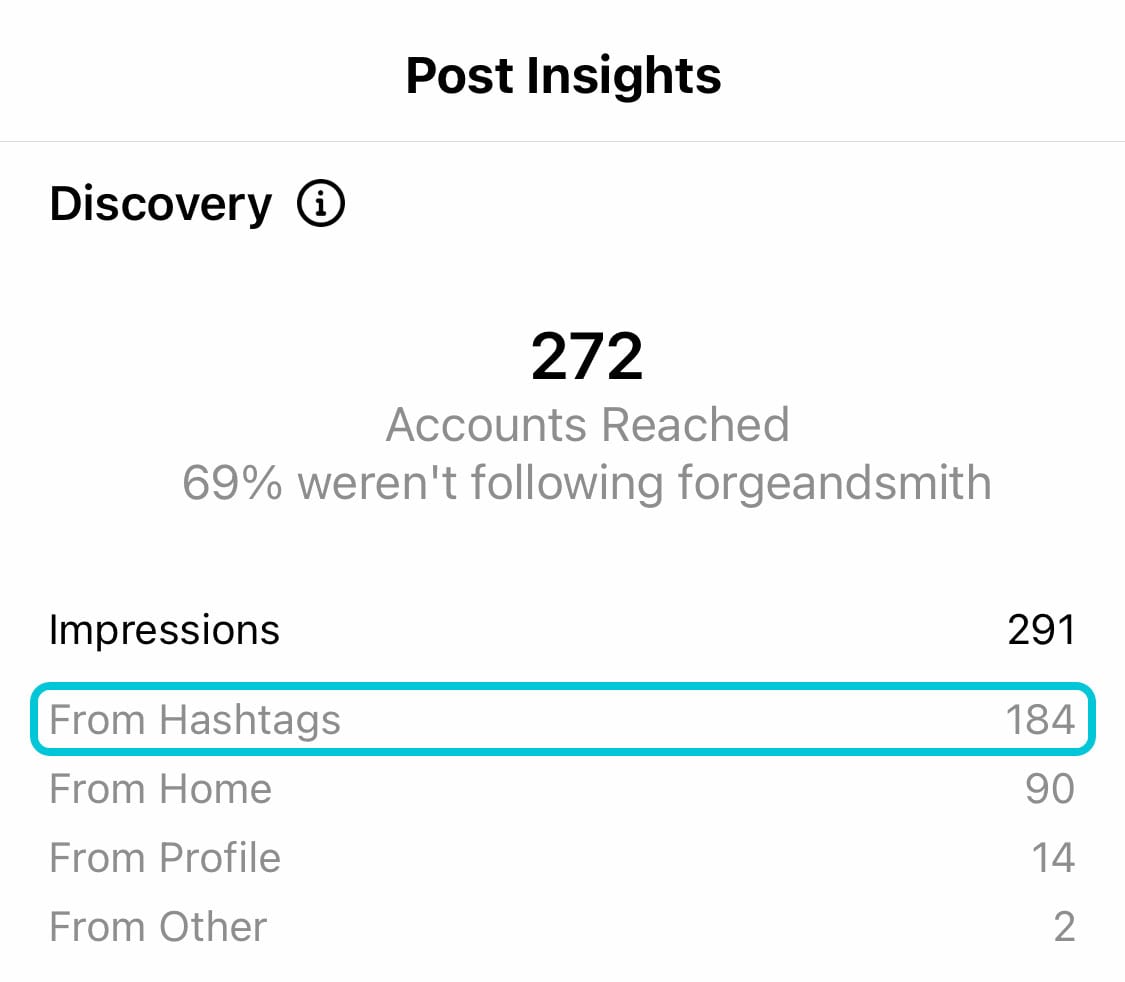 Hashtags can get your content featured on the enticing Explore page, which users see whenever they tap the 'search' icon
Adding hashtags to old posts or swapping hashtags can give that content a boost
Can You Hashtag Your IGTV Videos?
Yes. You can use hashtags on all Instagram content – regular posts, Stories, Reels, and IGTV.
Hashtags are for discoverability, and ads don't get shown to people on the organic Discovery page. That's just not how it works. Ads are only shown to the people you pay to show them to.
The only reasons to use hashtags in an Instagram Ad are if it's funny or otherwise shows off your personality, or if the purpose of the ad is to raise awareness about a branded hashtag that you want people to use.
When a popular hashtag gets flooded with inappropriate content, Instagram will hide any post using that tag.
This list is always changing, and can include seemingly innocent hashtags that got hit by a bot.
The last thing you want to do is hurt your social media strategy by accidentally using a banned hashtag on your business posts! Instagram itself doesn't share the details on these hashtags, but you can do a search for banned hashtags in the current year to find lists compiled by marketers.
Facebook
Although Facebook has been in the hashtag game for a long time, hashtags just aren't that popular on the platform.
The main reason is that a post has to be public for anyone else to discover it by hashtag. With rising concerns over privacy, especially Facebook data, few people make their posts public. So although business pages are public and can use hashtags, Facebook users aren't in the habit of seeking out hashtags.
Often when you see a Facebook post with hashtags, it's because the person or company chose to publish their Instagram content to Facebook during upload, and the hashtags were carried over – this is lazy, and makes it look like your business doesn't care about details.
Hashtags anywhere in your Facebook profile other than posts will do nothing
Facebook has an astounding 63,206-character limit on posts including hashtag copy, and no limit on hashtags
Facebook will suggest hashtags if you type '#' and a letter or two of the hashtag you're considering in the post composer or search bar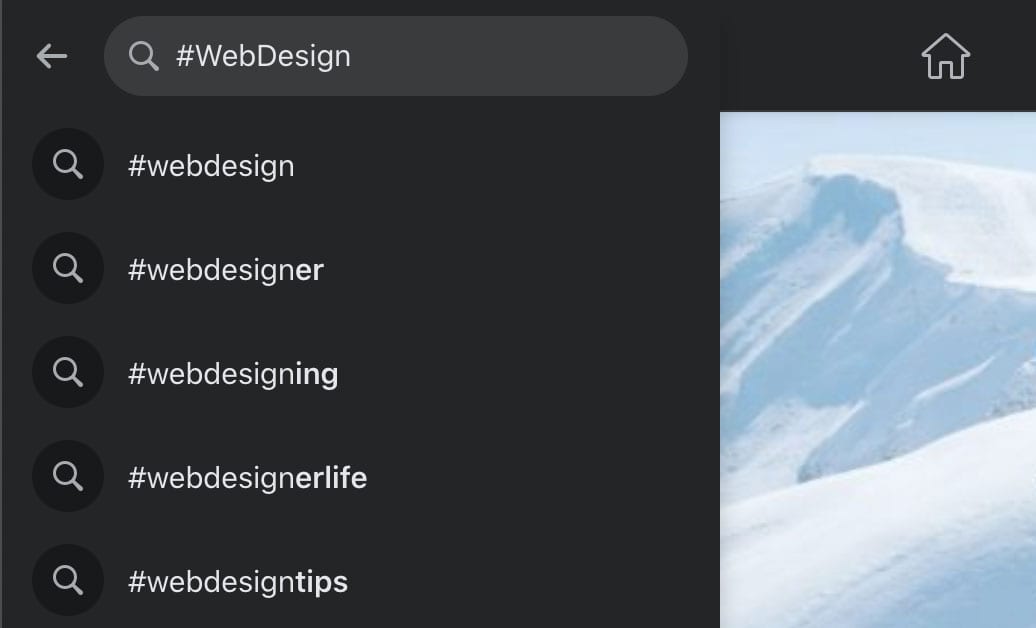 From the composer drop-down menu, Facebook will now indicate how many posts in total on the platform have used that hashtag
Users can search hashtags the same way they search people or businesses
They just don't often do it
With that said, there's no reason not to try out hashtags on Facebook – if someone does take the time to do that search, you'll be in front of them
Social media experts generally agree that one or two hashtags per post is appropriate
TikTok
As a shiny new social media platform, TikTok has allowed creators to use hashtags to boost public posts ever since it was first launched under the name Douyin.
TikTok limits captions to 100 characters including hashtags, so you have to be extra strategic
Keep in mind that hashtags and captions sit over the bottom of your videos, so more characters means more covered real estate
Users are accustomed to search for content by hashtags
There are tons of fresh, trending hashtags to help video-savvy brands join conversations and have fun with their customers
Hashtags are what gets your videos added to the Discovery pages, where you can reach an exponential number of people interested in your offering
There's no question that you should be using hashtags on TikTok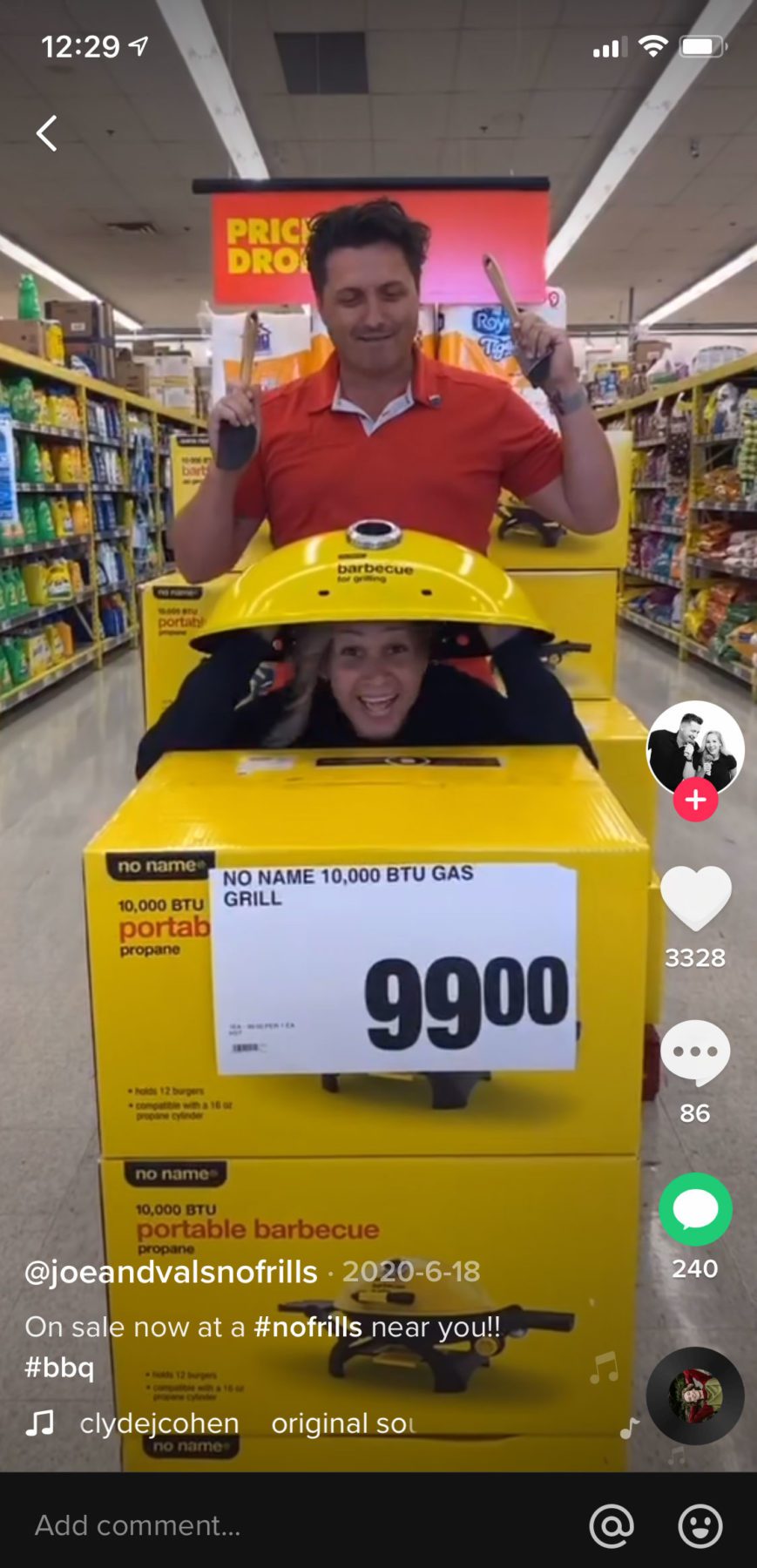 Unlike most other social media platforms except Twitter, you cannot edit your TikTok captions after uploading your video – which means you also can't edit your hashtags.
You can add more hashtags as a comment, but these are less effective than the hashtags used in the actual caption. This is why it's super important to do hashtag research before posting!
Pinterest
Pinterest has been quietly busy making major eCommerce advances (like its AI-powered virtual Volkswagen test drive), but it's not putting too much weight into hashtags.
Yes, you can use hashtags on Pinterest. They just have much less impact than on other social platforms. This is because in its present state, Pinterest hashtags aren't clickable.
The only way to view topics by hashtag is the same way you'd search for a keyword – #waffles yields the same results as 'waffles', so why would a Pinterest user bother adding the '#'? Hashtags do offer a brief visibility boost, while your pin is one of the most recent using that hashtag (which would come up under a normal keyword search for the same topic).
Hashtags should go into pin descriptions – they don't work anywhere else
Pin descriptions have a 500-character limit including hashtags
There's a limit of 20 hashtags per pin
Pinterest will suggest hashtags only on mobile devices, if you type '#' and a letter or two of the hashtag you're considering into the search bar
From the same drop-down menu, Pinterest will indicate how many posts in total on the platform have used that hashtag
Hashtag searches favour recent pins, so don't waste effort adding hashtags to old pins
LinkedIn
LinkedIn probably joined the hashtag game because their membership is now 60% Millennial professionals who expect to see hashtags in social media content.
#FactsAreFacts
Regardless of how they got here, we're glad to have LinkedIn on board. LinkedIn Ads are pricier than those on other social platforms, so any way to give organic posts a boost is much appreciated.
And like Instagram, LinkedIn allows members to follow hashtags so they can join conversations on their favourite topics. After all, this platform is all about the professional networking.
LinkedIn wants you to use hashtags so badly that they have a little "add a hashtag" prompt right where you compose your updates for either your personal profile or company page.
You can use hashtags in your LinkedIn updates (posts) or articles published to Pulse
LinkedIn posts have a 700-character limit, including hashtags
There is no hashtag limit on LinkedIn, but consider your audience – keep it professional with no more than two or three hashtags
LinkedIn will suggest hashtags if you type '#' and a letter or two of the hashtag you're considering into the search bar or while composing a post
LinkedIn will also suggest hashtags as you write your post copy, based on what you're saying; you can see them pop up as you type, beside where it says "add hashtag"
You can (and should) keep your copy clean by pushing your hashtags down using line breaks or symbols
Members can see the list of hashtags they follow right next to their feed, as well as an area to discover more topics
Businesses can see a list of our recently used hashtags, including their popularity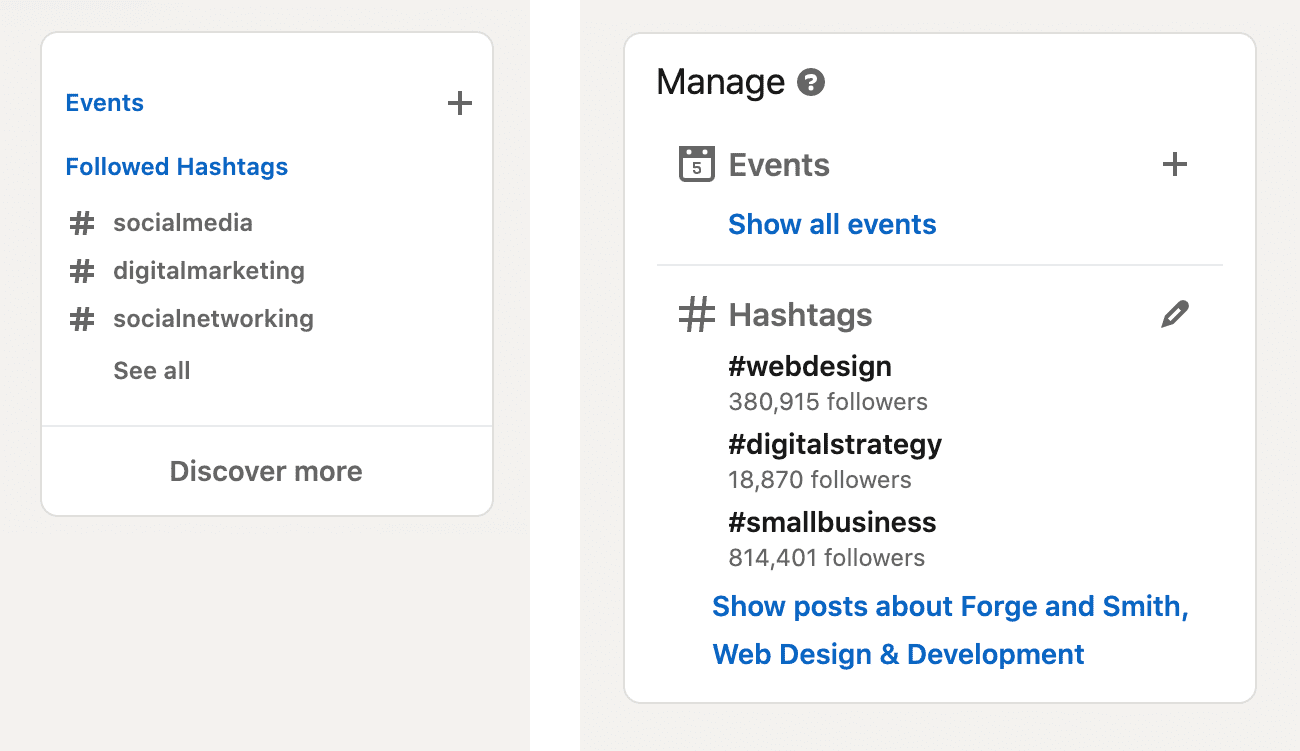 Hashtags do wonders for your reach on LinkedIn – since the platform works so hard to encourage following hashtags and getting members to view their favourite topics, you stand a good chance of growing your audience
YouTube
YouTube is the world's second- or third-largest search engine after Google, depending on the stats. (The most recent numbers I can find show Giphy with 12 billion searches per month and YouTube with three billion.)
Either way, it's pretty darned popular! And check out these staggering video stats: 64% of consumers make a purchase after watching a video, and social video gets 1200% more shares than text or photo content (WordStream)!
YouTube was the final hashtag holdout among the major social media platforms. Technically, you could add hashtags to video descriptions prior to this year. But the results for someone searching a hashtag were a mixed bag of content relating to that term – not just videos using the tag.
This year they officially launched hashtag landing pages.
You can use hashtags in YouTube video titles or descriptions
Both will be clickable
YouTube has a 100-character limit for titles and a 5,000-character limit for descriptions, both including hashtags
The hashtag limit is up to 15 in descriptions: "If a video has more than 15 hashtags, we'll ignore all hashtags on that video." (per YouTube guidelines)
If you don't put a hashtag in the title, the first three hashtags from your video description will now be shown under the title
YouTube will suggest hashtags if a searcher types '#' and a letter or two of the hashtag
Unlike other social platforms, YouTube's algorithm attempts to place the 'best' videos at the top of the page as opposed to the most recently published videos using the hashtag
YouTube analytics will provide data on which hashtags are giving you the most views
As with other channels, it's the popularity of hashtags as a search mechanism that makes them a valuable tool to include with your YouTube videos
You may have skipped right to this section, and rightly so! Picking the best hashtags for each platform is a huge deal.
Lucky for you, my email signature contains the words 'hashtag scientist', and I LOVE talking about hashtag research. It's one of my favourite things to teach our clients.
General Hashtag Selection Advice
Whatever social media platform you're on, I always recommend using a combination of broad hashtags (think popular or trending), niche tags, and local tags.
A broad and highly used tag like #DigitalMarketing is going to get lots of eyeballs on it. People can follow that topic on Twitter, Instagram, and LinkedIn. It's great for a quick burst of reach, and can earn some great engagement if you post at just the right moment.
The trouble is that with such a popular hashtag, your content is going to get buried in less than a minute.
Niche tags with fewer people using them are great for finding your true audience – the people most likely to want your product or service. They're less popular, so your posts will remain discoverable for a longer time.
Local hashtags help display your content in searches done by people living in or visiting your area.
Hashtag Research
How do you figure out which hashtags to use? Research.
Always do hashtag research before you start adding tags to your posts. You should also regularly do hashtag research to keep your social media strategy fresh – new hashtags emerge and find traction all the time, including industry-specific and business tags.
Plus, you don't want to use a banned hashtag! (See 'what are banned hashtags on Instagram' section, above.)
Here are the best ways to do hashtag research for your business:
Check out the hashtags your competitors are using on each platform
Study the hashtags used by your followers (those with public profiles)
Use a hashtag tool (see next section for a list)
Tap or click on any hashtag you're considering, and see what kind of content is shared under that tag
Check out the other hashtags used on the best posts under that tag you just tapped – sometimes there's hidden gold in there
Don't blindly copy a competitor's tags – just because they're using them, doesn't mean they did research!
Avoid tags that get used on a lot of low quality content, content outside your region, or anything you wouldn't want to appear beside
Keep a list in a spreadsheet or sticky note for quick reference
Regularly check the calendar for upcoming holidays, local events, 'fun' holidays (like national food days), or industry events or discussions that will use a hashtag you could join with your own content – for example, #SmallBusinessSaturday
With that said, never use a holiday hashtag or trending tag that your company doesn't actively support every single day of the year
Hashtag Tools
Hashtag research can be fun, but it can also feel like going back to school. And the good news is that there's a huge variety of tools, some paid and some free, that will recommend hashtags for you.
Honestly, you can just search 'free hashtag generator' for any social platform you want to use, and find lists of tools to try.
The same advice applies – check each hashtag before adding it into your rotation. Major companies have suffered PR fails from hopping onto trending hashtags that were about sensitive topics, which should never be used for promotion.
Here's a random selection of hashtag research tools:
As I've said earlier in this article, branded hashtags are a great way to offer customer support, and to collect user-generated content (UGC).
Creating a unique hashtag for your business, such as your business name or a customer-centric campaign, is an easy way to funnel every post on that topic into one place.
It's easy to check availability – all you have to do is type your intended tag into each platform's search bar or pretend to add it to a blank post, to see if it's been used before. If no results are shown in a drop-down menu, that tag has never been used and is yours for the taking.
If you're going to offer a promotional hashtag, be ready to constantly monitor it and respond to everyone who uses it.
UGC is awesome, because it lets potential customers see your product or service benefiting real people. But even if customers use your branded hashtag on their public posts mentioning your business, always ask first before sharing their post to your company profile.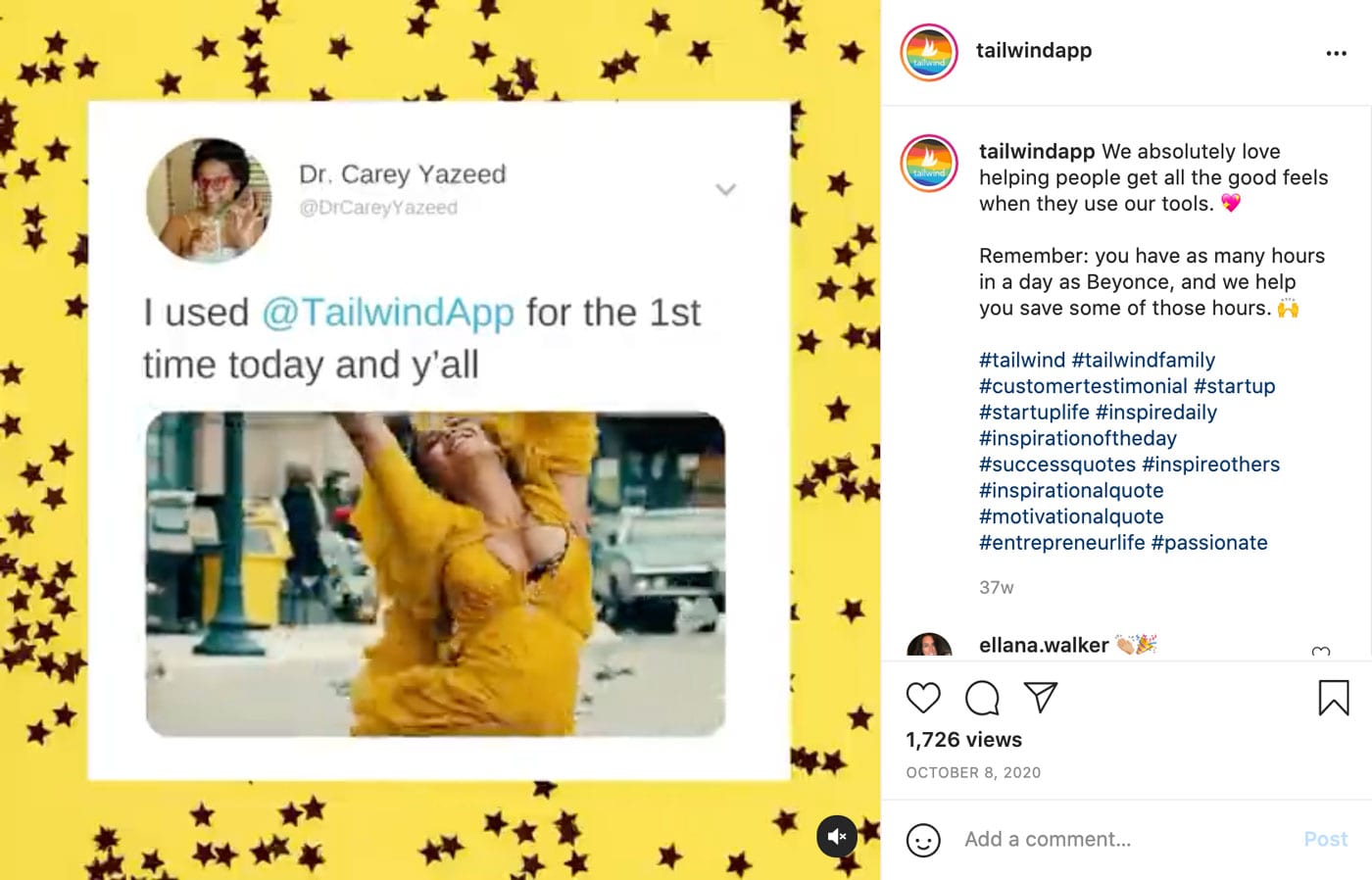 Think hard about hashtagging every post with your business name. Each hashtag should serve a purpose, since it's taking up caption space and visible to your audience. Unless you're a household name (or do something newsworthy), there's almost no reason a potential customer would be searching for that tag.
Now that you're an expert on hashtags for business growth, go forth and tag! Help your content find its desired audience, and build up that following. Don't forget to have fun with your hashtags – use them to share the human side of your business, and relate to your customers.