Instagram has over 1 billion users, 90% of whom follow at least one business on the platform – and 70% of them use the platform for product discovery. Obviously Instagram has awesome sales potential for B2C companies of all sizes and niches. But is Instagram great for B2B? Believe it or not, Instagram is a great way to drive B2B leads.
According to the latest report on the social media marketing state, the number of B2B marketers who use Instagram for business promotion has grown from 66% to 71% in one year, and 64% of these marketers plan to increase Instagram organic activities.
In this article, you will find reasons to use Instagram marketing for B2B leads – and seven ways to do it on the platform.
Why use Instagram for B2B leads?
It's nearly impossible to improve B2B ecommerce sales without generating new leads. Here are three great ways Instagram can help:
Your B2B buyers who use Instagram for product discovery. Modern B2B buyers are Millennials and 45% of them are 25-34 years olds, which means they're more likely to be on Instagram. Why? It's said that 35% of the global audience is aged between 25 and 34 years. Since Instagram has one billion users, you can reach a solid  in-app audience of potential buyers.
Instagram has business-specific features. Since 25 million companies and 2 million advertisers use Instagram for business promotion, the platform rolls out business-specific features to help all businesses achieve results. From product tags to swipe-up Instagram Stories links and business profiles, there are many ways to share more about your B2B business in a creative way.
It helps to use non-traditional ways for generating B2B leads. Despite its popularity, Instagram isn't the most popular marketing option for B2B companies to promote their services and products. If you start using Instagram for B2B, you'll stay ahead of your competitors.
The bottom line? Instagram can be a perfect place to generate B2B leads if you know how to do it the right way.
Not sure which platforms will be the most effective? Check out How to Pick the Best Social Media Platform for Your Business!
7 ways to generate B2B leads with Instagram
1. Make the Most of Your Instagram Bio Link
Did you know that 200 million Instagram users visit at least one business profile daily? That means they are interested in discovering companies. If you want to hook your Instagram visitors, your bio is a clickable business card that helps people learn more about your company without wasting any time.
To generate B2B leads, you can add a lead generation landing page as a bio link, just like HubSpot Academy did it:

When tapping on the link, users are taken to a custom landing page with a variety of marketing course options. One of them is social media strategy certification course:
If you have handy digital downloads like eBooks, online courses, or tutorials, you can use them as lead magnets that give your followers a solid reason to share their information.
2. Add Various Contact Options
If a potential B2B buyer has discovered your product, service, or SaaS software on Instagram, that's great. However, you need to make it easy for your visitors to contact you directly. Why? When it comes to making B2B buying decisions, multiple individuals are usually involved in the process which means it can take time.
Adding various contact options like directions, phone number, and email address helps your followers to choose their best way to contact you and discuss prices or collaboration opportunities.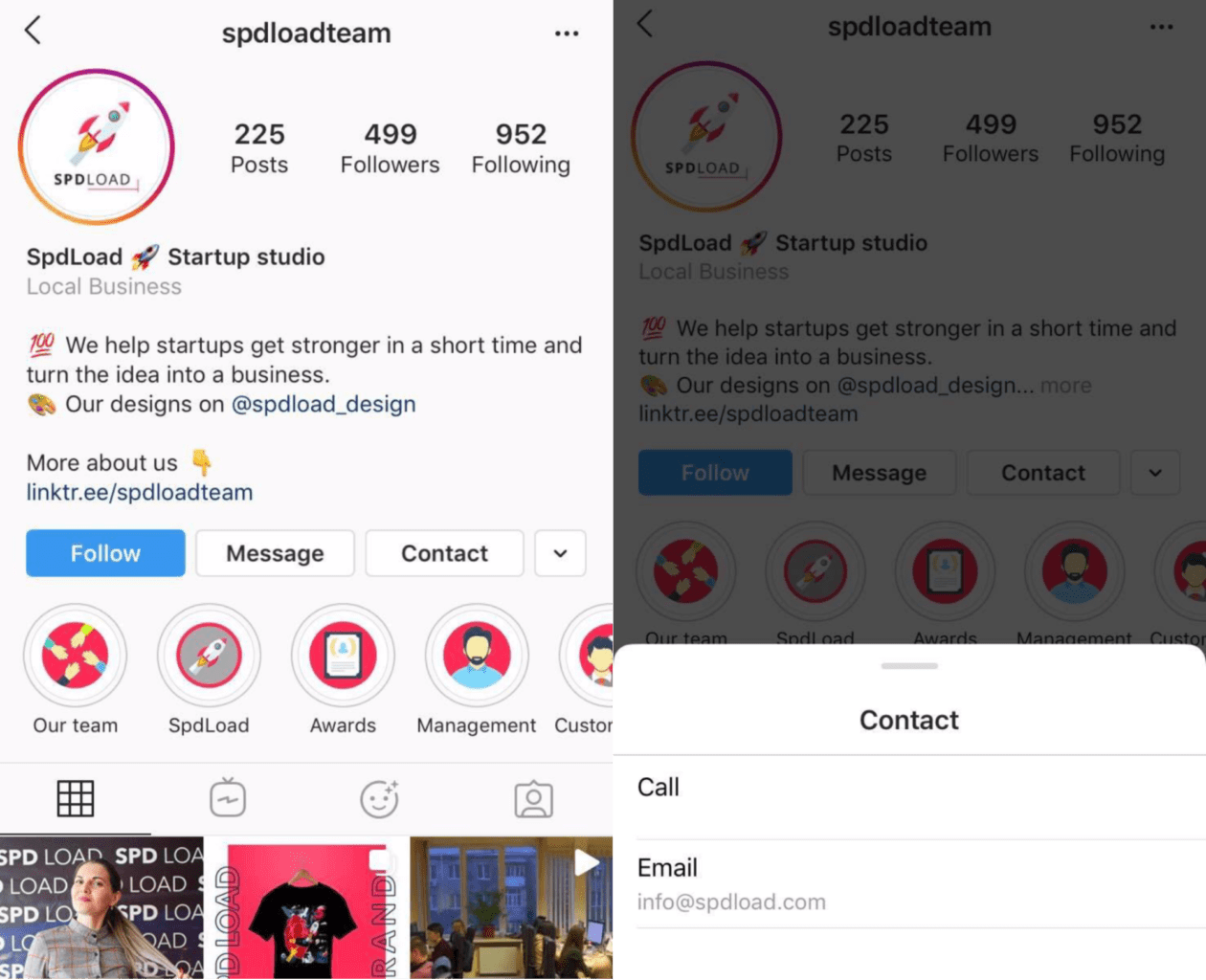 B2B buying decisions are often more expensive and thus difficult to make, so it's no wonder that your potential customers want to ask questions about your product or service. When you provide contact options, Instagrammers get a means to contact you directly and you have an opportunity to generate B2B leads.
3. Tell Followers About Your B2B Business
Once you grab the attention of your target audience you need to prove your followers that your product can help their businesses get to the next level. The easiest way to do it is to tell followers about your B2B business.
It doesn't matter which way you share information about your business on Instagram. You might plan to write posts about product benefits, or share explainer/tutorials videos. What's most important is that your followers get engaged and interested.
NapoleonCat uses the power of long-form video content, and creates a video to introduce its new feature. Not only does this video take viewers through the basics of their Social Media inbox feature, but it also shares the company story and the benefits of using their tool.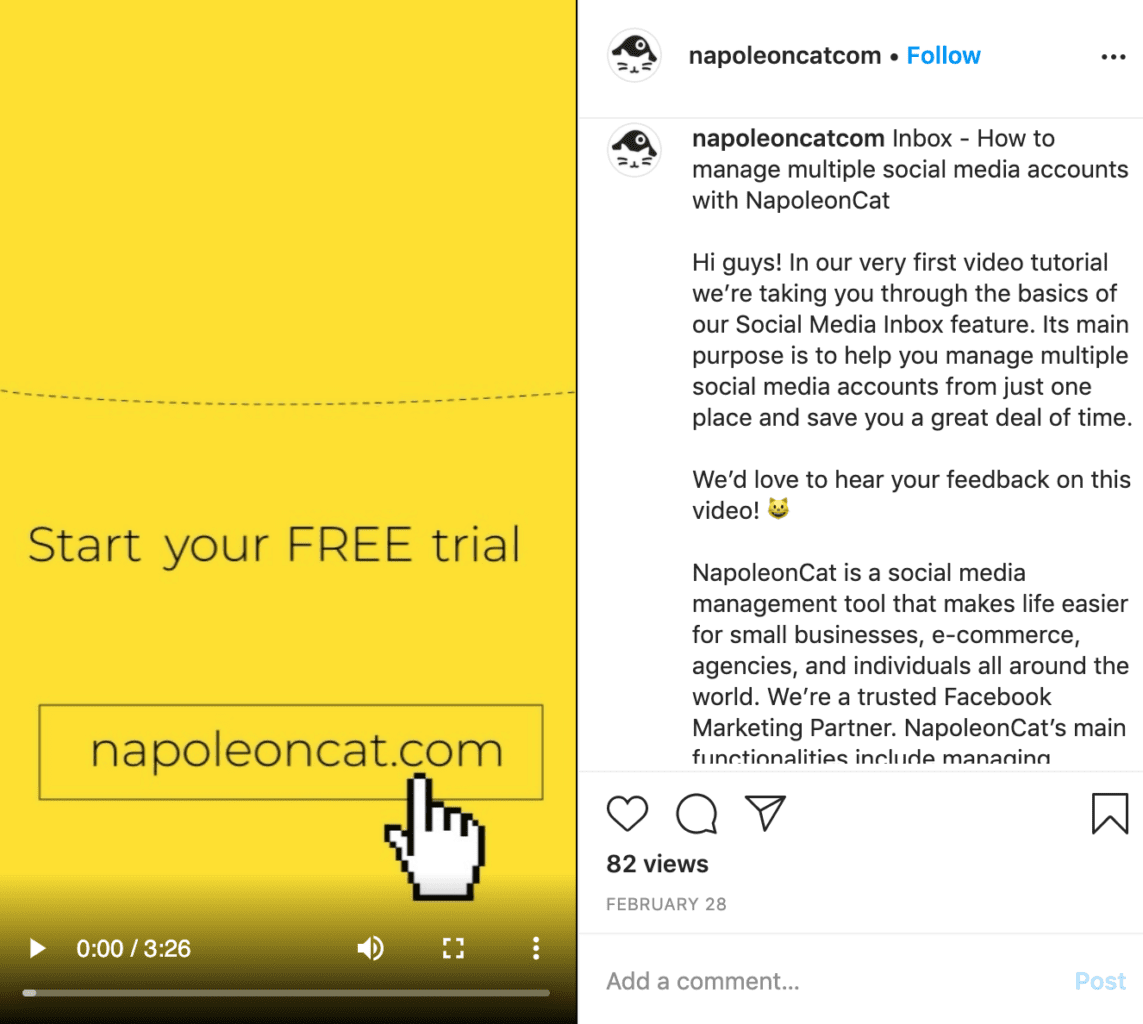 Although the above-mentioned post is handy, it got only 82 views. Why? Chances are that it hasn't been discovered by the target audience. It's important to get likes, comments, and shares that serve as a signal for Instagram's algorithm to rank your content higher on the feed.
4. Build Authentic Relationships with Followers
Here comes the truth: B2B buyers are just like everyone else on social media, seeking authenticity. If you want to gain more B2B leads, you need to build authentic relationships with followers.
Taking users behind the scenes is one of the best ways to put a human face on your company, and create that connection. Small B2B companies will agree that ideating content can be daunting, because they don't have the budget for high-quality videos. But there's no need for the polished gloss of a billion-dollar brand; people want to interact with companies that share their values.
For instance, Twilio shares photos of its employees and tells followers about company's plans: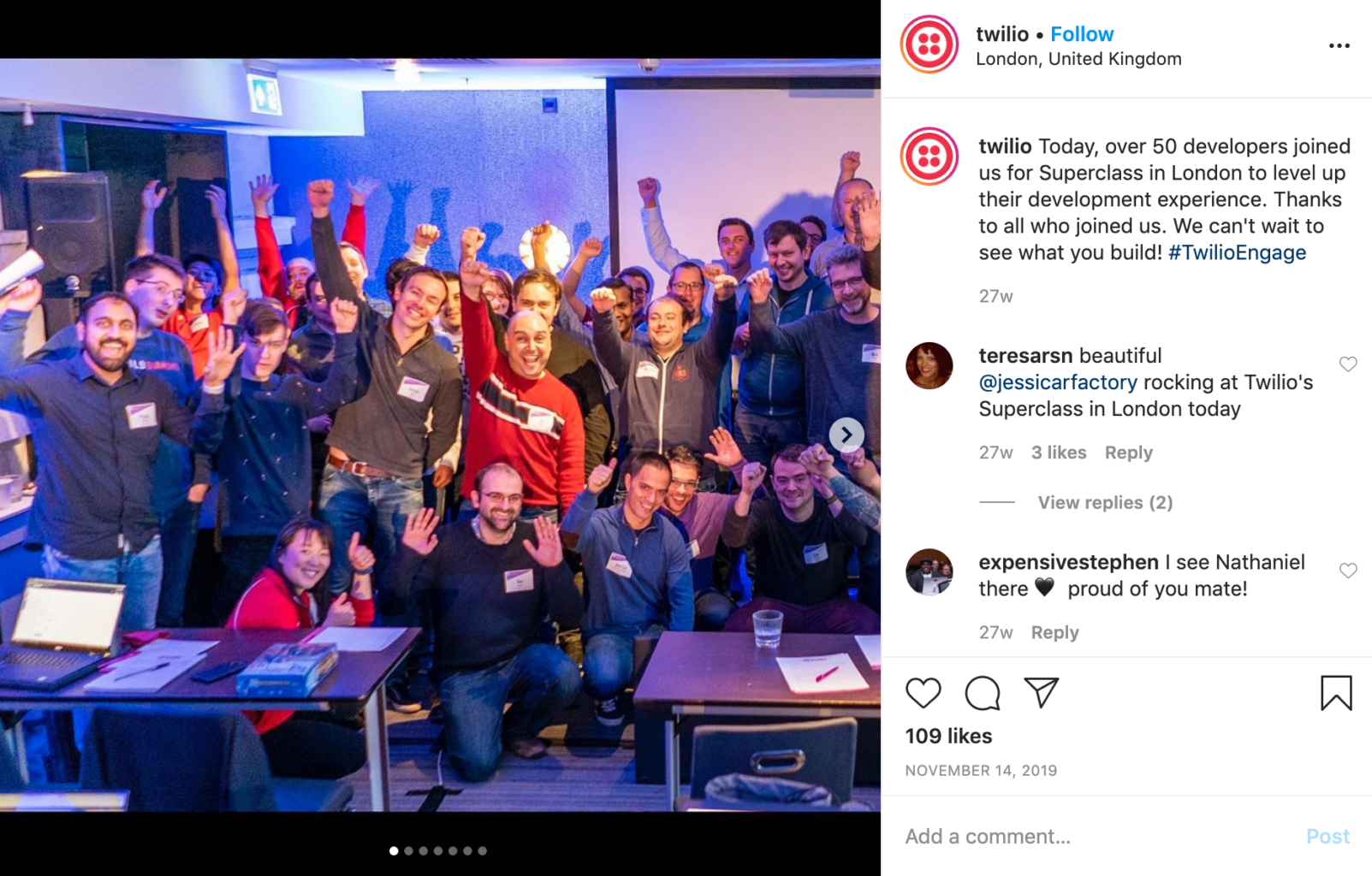 Another great way to build authentic relationships is to share more about your clients. Publishing success stories helps to provide social proof, which will help you sell on Instagram. Keap publishes short Instagram video posts featuring its happy customers: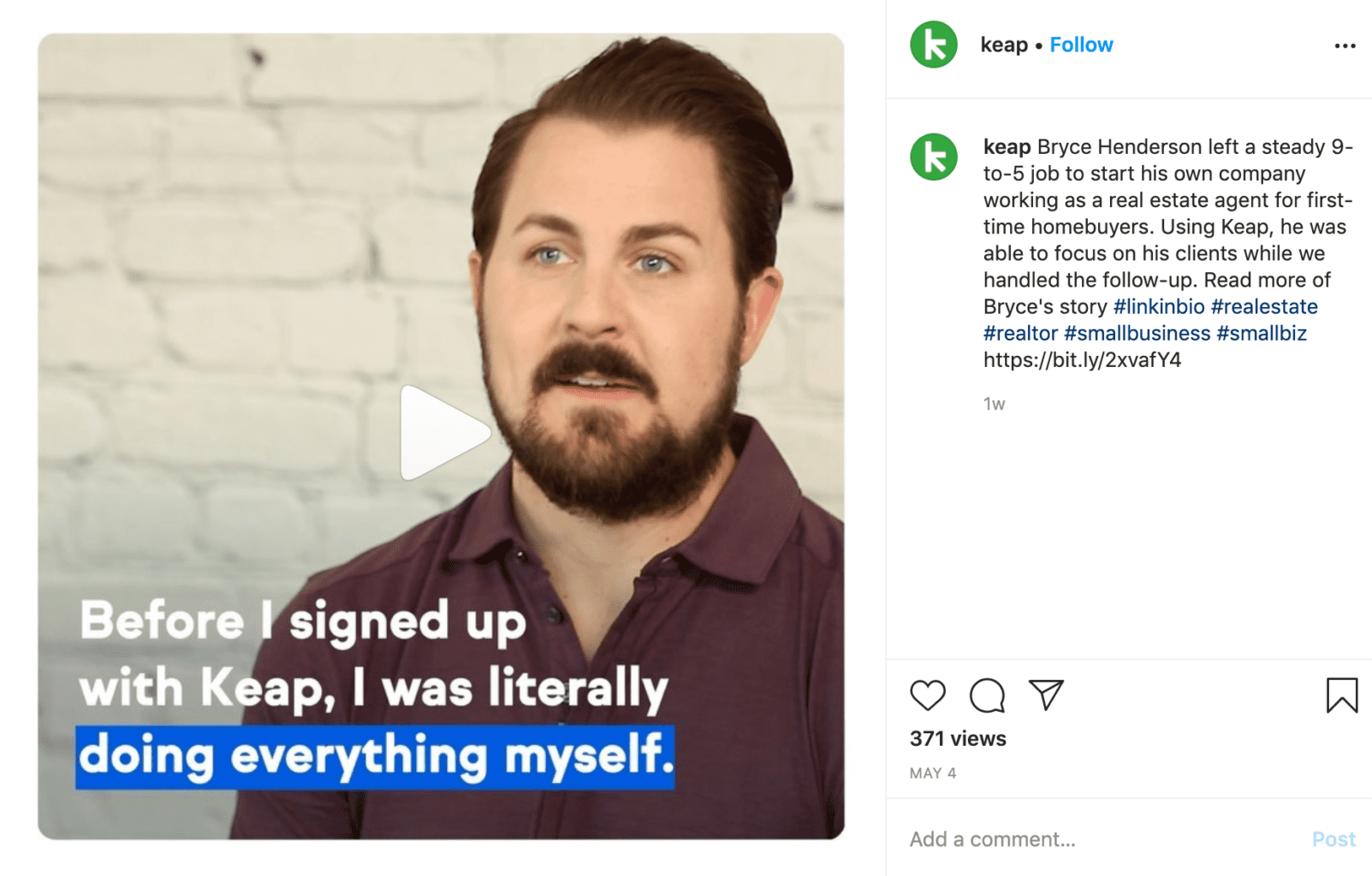 Authentic relationships are not limited to the content type you publish on Instagram. It's also important to take part in discussions, and to like and reply to comments. The more activity, the better. B2B buyers are real people who want to feel valued and heard.
5. Team Up with Brand Ambassadors
Word-of-mouth marketing is still one of the best ways to generate B2B leads. When companies share positive reviews, other B2B buyers are more likely to consider your business. The popularity of Instagram influencer marketing helps to speed up the process and spread the word about your company in a positive light.
Finding influencers can seem intimidating, but you can pair with brand ambassadors who can endorse and promote your company. Intel promotes its Asus laptops with Bricia Lopez, a niche influencer who is trusted by many businesses.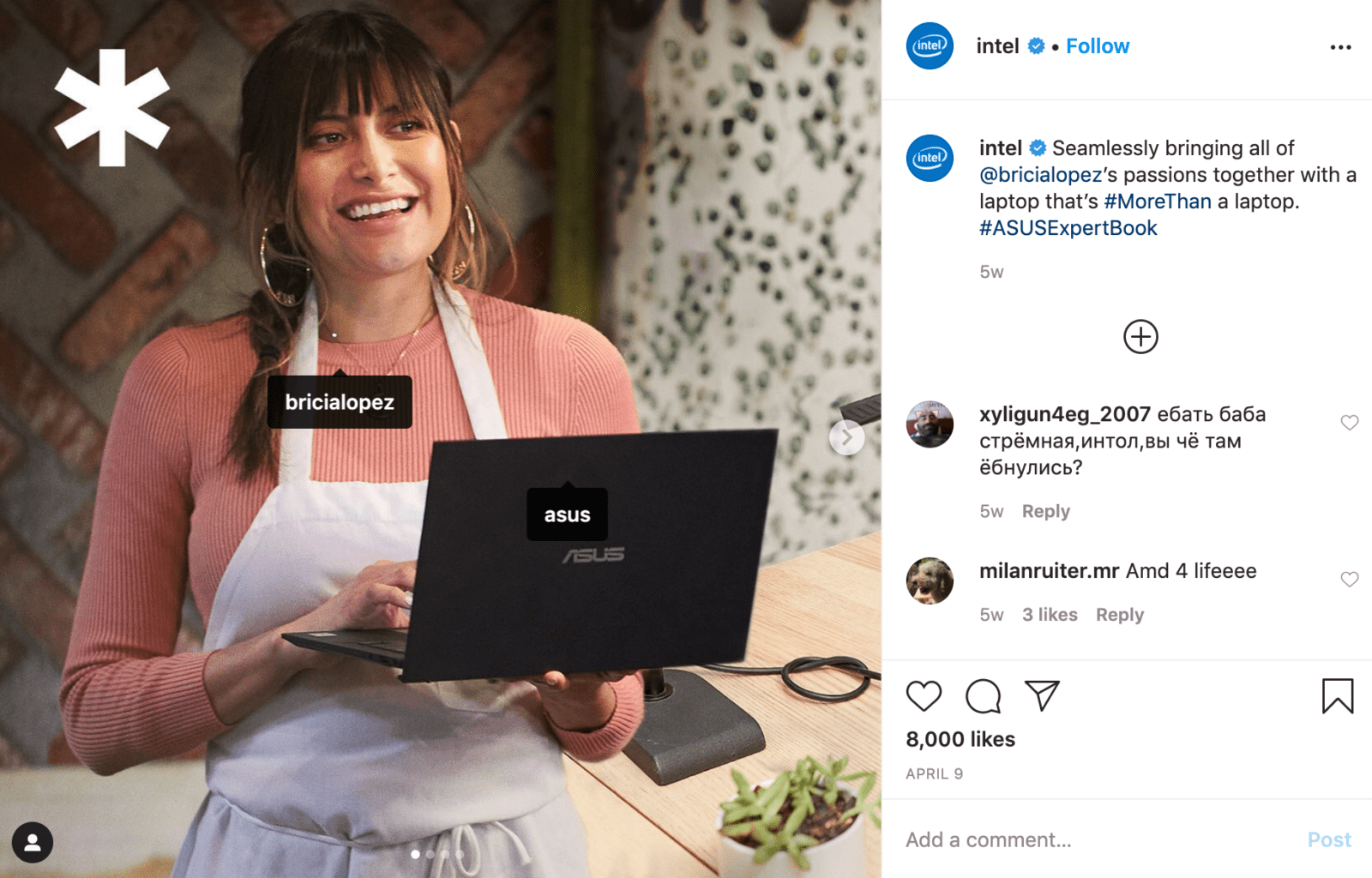 To find the perfect brand ambassador for your business, you can check their websites or use a handy contact information search engine like ContactOut to find details for authoritative and relevant businesses (and their employees). Then you can offer co-branding promotional collaboration.
For smaller businesses, you can also reach out to micro-influencers – people with a niche Instagram following that's under 100,000, but with tons of engagement on every post. Micro-influencers have an audience that's highly likely to trust their buying advice.
6. Use Instagram Stories
Instagram Stories are extremely popular among users: 500 million people create or watch Stories, and businesses create ⅓ of the most-viewed Instagram Stories. For B2B companies, this is a great opportunity to reach your target audience and achieve your business goals.
To generate more B2B leads, you can use Instagram Stories features like a swipe-up link that takes your interested viewers to a landing page. Plus, you can save important Stories to Highlights that appear right below your bio, which helps both followers and new visitors discover relevant content quickly.
TailwindApp uses Instagram Stories often to showcase its products and educate potential buyers:
7. Run Instagram Lead Generation Ads
Do you want to generate B2B leads fast? Plan and execute Instagram lead generation ads! This type of ad helps you reach your target audience and collect valuable information from them, all in-app. Whether you want to get their phone numbers or build your email list, Instagram lead generation ads can collect valuable information from your potential leads.
Check out how Web.com ran lead ads that took interested users to its product page, where they could leave their contact information.
The lead generation campaign got a 24% lower cost per click and a 39% higher click-through rate, compared to their ads running during the previous 48-day period.
In the last few years, Instagram has become a powerful marketing tool for B2B companies that want to promote their products and generate B2B leads. Now that you know how to gain B2B leads with Instagram marketing, you can save time by implementing these techniques in your marketing strategy.