Running a small business is tough, and so is managing your social media accounts. While bigger businesses are able to split up tasks like writing social media copy, designing images, video creation, and content strategy, it's often one or two people doing all those tasks for a small business.
Luckily, there are social media tools you can use to save countless hours, and make the process of handing multiple social accounts much easier.
Let's explore social media tools for scheduling posts, planning content, creating media, and conducting social listening.
1. Plan Content with Google Trends
What people search for on Google usually aligns with what they're searching for on social media. It's worth regularly checking Google Trends to stay on top of popular searches and the topics that are trending.
With over tens of thousands of Google queries every second, there's sure to be keyword data that can benefit your social campaigns and help build engagement.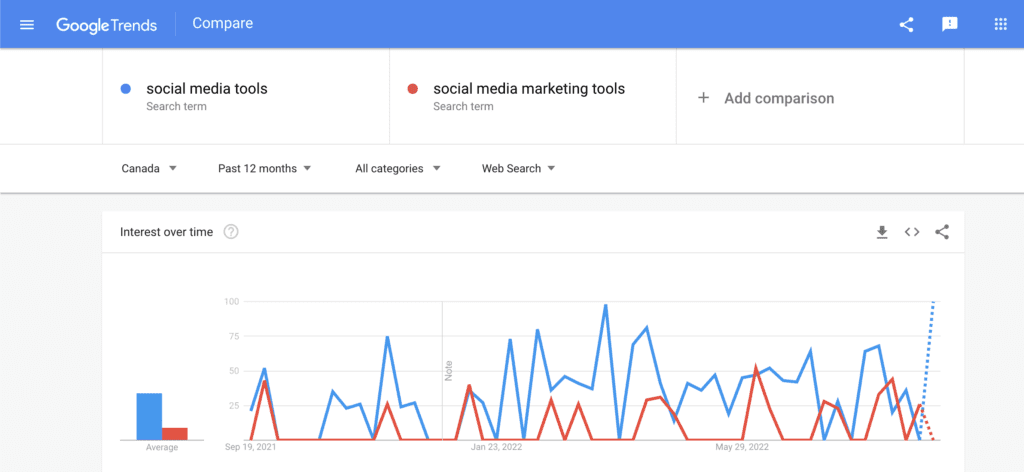 For example, luxury swimming pool builders Compass Pools timed their posts perfectly when the summer heatwave hit. They targeted posts around having fun in the pool during the sunnier weather, and provided discounts via Facebook for pool installations. This was perfectly planned around a period when people would be spending more time outdoors. 
Using Google Trends enabled them to find trending topics and amplify their marketing efforts by making them timely and relevant.
Google Trends is also great for coming up with more relevant hashtags for business. Hashtags may have been around for a while, but there are still so many marketers who don't know how to use them to their full potential. With Trends, you can find keywords that are popular in certain demographics and regions, and then align your hashtags around those queries.
2. Create Images with Stencil
A free social media image creation tool targeted towards marketers specifically, Stencil offers templates for business content marketing purposes.
You simply pick a template or background, add your own text and design elements to it, and upload. It makes for attention-grabbing images that can be produced in seconds without you needing any graphic design skills whatsoever.
Designed for speed, it has several useful features including over 140 popular presets, so you don't need to worry about all of the images in your grid looking the same. It has the option to schedule posts using Buffer, over 3 million icon options, and many more time-saving features.
3. Create Videos with Animoto
As the video production specialists at Eden explain, "84% of people say they've been convinced to buy a product or service by watching a brand's video, and 81% of people say they use Instagram to research big brands".
Sharing videos on social media is a highly effective way for brands to get their products and services in front of the right audiences and raise brand awareness. This is especially true right now, when every social platform is adding more video features and boosted reach to compete with TikTok.
Animoto is a social media tool that enables businesses to create professional videos without the need for editing experience, so that even a marketing team of one can enjoy excellent results.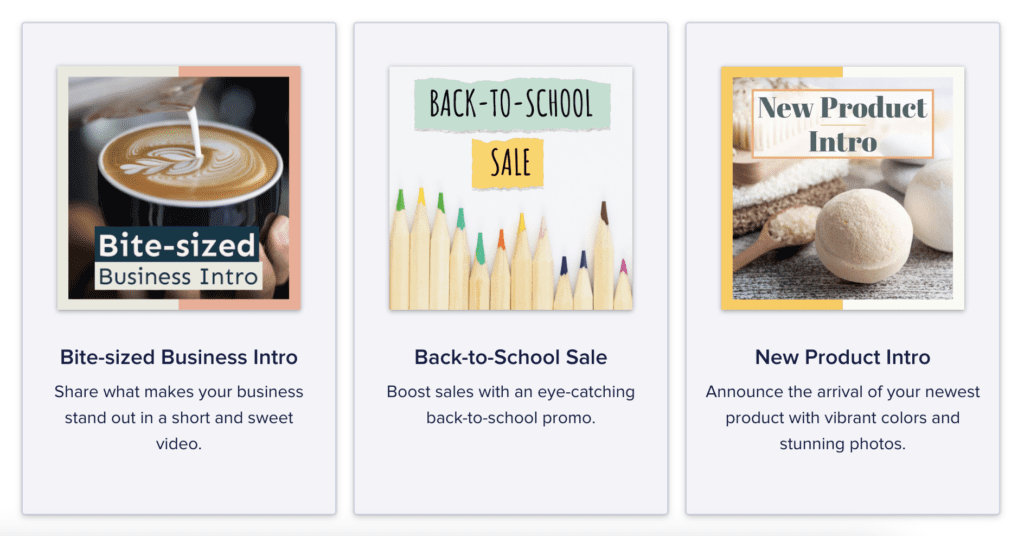 This user-friendly tool helps you create videos in any style or size, from short clips to long-form content, with a wealth of images, music options, fonts, and more to choose from. It's an easy way to create video content and tap into this popular medium.
4. Schedule Posts with Buffer
This list contains four social media tools for scheduling posts, for good reason! Most small business marketers don't have time to manually post to every platform each day. A good social media management tool is your best friend, because it allows you to plan out a week's content when you have time.
A Buffer account is currently compatible with Facebook, Twitter, LinkedIn, Instagram, Pinterest, TikTok, and Google Business profiles – but you can only connect three profiles total with the free plan, not one from each of these.
A free Buffer account allows you to set a content schedule, and queue up to 10 posts at a time on your chosen days and times. The paid plans give you more connected accounts, more scheduled posts, and post analytics.
Sharing online content like articles and YouTube videos is a breeze if you combine Buffer with its companion browser extension. When reading any article your audience would find relevant or watching a video, click on the Buffer extension. A new window will instantly open to let you add a caption and schedule the post to your queue.
The downside to the free plan is the limit of 10 posts per profile at a time, which means you have to fill it up more often than a paid plan.
5. Manage Posts & Mentions with Hootsuite
Like Buffer, Hootsuite is all about simple scheduling.
Hootsuite no longer has a free plan, just a free 30-day trial. But there's a pretty good chance you'll find it so helpful at the end, you'll sign up to stay.
Hootsuite lets you connect 10 social profiles on the most affordable paid plan. Like Buffer, Hootsuite is currently compatible with Facebook, Twitter, LinkedIn, Instagram, Pinterest, and TikTok profiles (not Google Business).
A free Hootsuite account includes recommended ideal post times based on your connected audiences, a 'social inbox' for messages, and next-level in-platform analytics reports that can be customized. The paid plans include even more features.
The Hootlet browser extension works the same way as Buffer's, with a pop-up that allows you to instantly schedule or publish content you're viewing online.
6. Elevate Your Post Planning with Later
Later is one of the most popular tools for social media management, due to its enhanced capabilities in photo and video scheduling. There is a free Later plan, it's just hidden on their pricing page. You can also do a free 14-day trial of a paid plan.
Scheduling and auto publishing with Later works for Instagram feed posts (images, videos including Reels, and carousels), plus TikTok, Facebook, Twitter, Pinterest, and LinkedIn posts. This is huge for marketers, because while other management tools connect to Instagram, you have to receive push notifications and complete a process when posts are set to go live.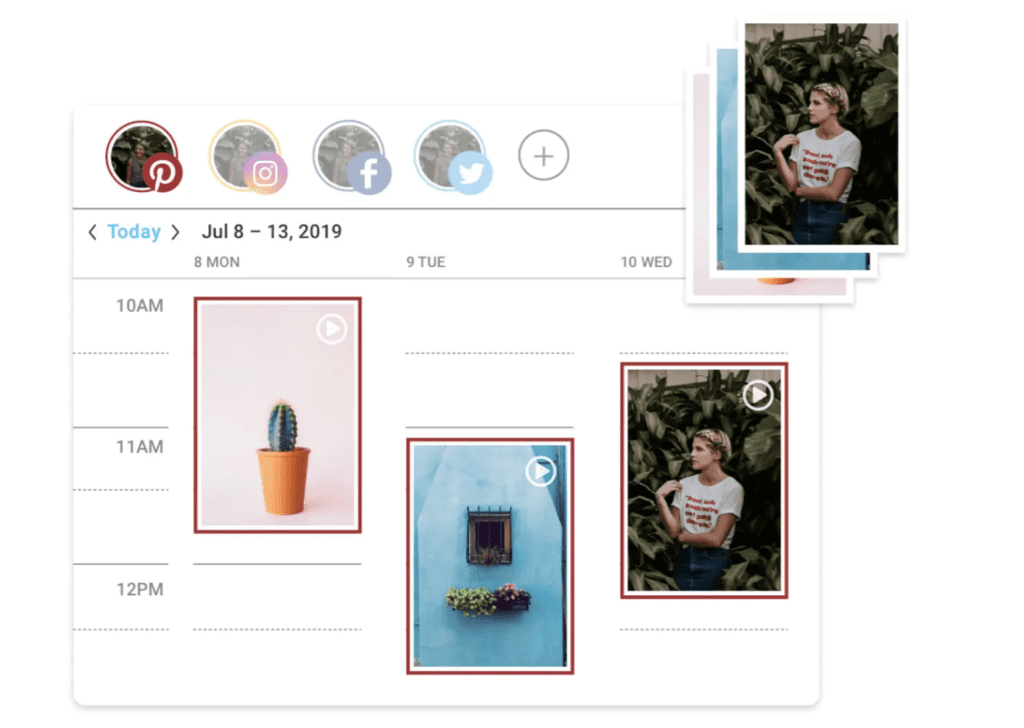 Later also allows you to schedule Facebook and Instagram Stories, but they require push notifications to publish.
The free plan allows you to connect one social set (ie. one account from each social platform), schedule 10 posts per month per social platform, use unlimited media storage, and it gives you "lite" analytics.
Paid plans give you access to location and user tags, suggested hashtags, and other useful features. There are several pricing tiers to choose from, with higher tiers including a conversations module so you can manage comments with ease and keep track of engagement from your desktop.
7. Create a Content Calendar with CoSchedule
CoSchedule is a marketing calendar and project management tool that supports several social platforms, including Facebook, Instagram, Pinterest, LinkedIn, and Twitter (you can pick two). It can also be integrated with Bitly, so you can track the number of clicks across social media channels.
It has a calendar-style editorial so you can visualize your schedule more easily, making managing your different channels far more efficient.
There are several features of CoSchedule that can help you use your time more efficiently, such as:
Scheduling messages and campaigns across multiple networks in advance
'Best Time' scheduling, which allows you to enable CoSchedule to choose when to publish posts based on the best visibility and engagement
Historical social messages imports, so you can measure or reschedule posts from the last 60 days
For example, UofSC Alumni Association's marketing team had to switch to remote working as a result of the pandemic, and feared it would impact their productivity. But by relying on CoSchedule, not only were they able to manage 12 times the workload than when they were working from home, but they also increased their total daily social engagements from 170 to 3.4k in a single month.
It's not just social media that CoSchedule can be used for. It can also help manage your overall marketing content, such as blogs, emails, and other content you publish. It's a multifaceted tool that can save you time in various aspects of running and marketing your business.
8. Conduct Social Listening with Keyhole
Keyhole is an analytical tool that focuses on Twitter and Instagram, but can also be synced with YouTube and Facebook. It enables you to track hashtags, usernames, mentions, and more. It also shows you heatmaps to illustrate global engagement with your brand, so you have a better understanding of your audience and how you can interact with them.
With Keyhole, you get unique insight into your tracked hashtags. You can make sure that your posts and mentions are relevant, and then publish post content and hashtags more likely to earn strong reach and impressions.
If you're looking for ways to build engagement more easily and effectively, Keyhole is a useful app to predict how well hashtags and posts will perform, based on relevant data and AI features. It's also handy if you work with influencers, as travel company Jet2 found, using the app to measure the ROI of influencer marketing and the contribution of these campaigns in terms of conversions, traffic and reach. 
All these social media tools are built to maximize traffic, boost engagement, and, ultimately, save you mass amounts of time and energy. If you're struggling to make the most of your social channels, these tools can help you build more successful campaigns in less time.