About the Company
The fertility specialists at PCRM have a proven track record as leading experts in the area of reproductive health. They offer a wide range of fertility treatments and services for both men and women.
Objectives
Increase brand equity and online reach through branded storytelling
Improve overall aesthetic and user experience to make the site more engaging
Implement a fully responsive solution backed by WordPress CMS
Connect the online experience to the in-house experience
Phase 1
Prototyping
Long-term client PCRM has expanded to several more locations across British Columbia since Forge and Smith first built their website. They needed new functionality that could filter location-based information and forms for patients, as well as house their extensive resource library for physicians.
The focus of their latest website redesign was to amalgamate a newly acquired location and the content on the Edmonton location's subdomain under one website. At the same time, we did a small content cleanup and restructure, while maintaining the SEO of their previous Forge and Smith site.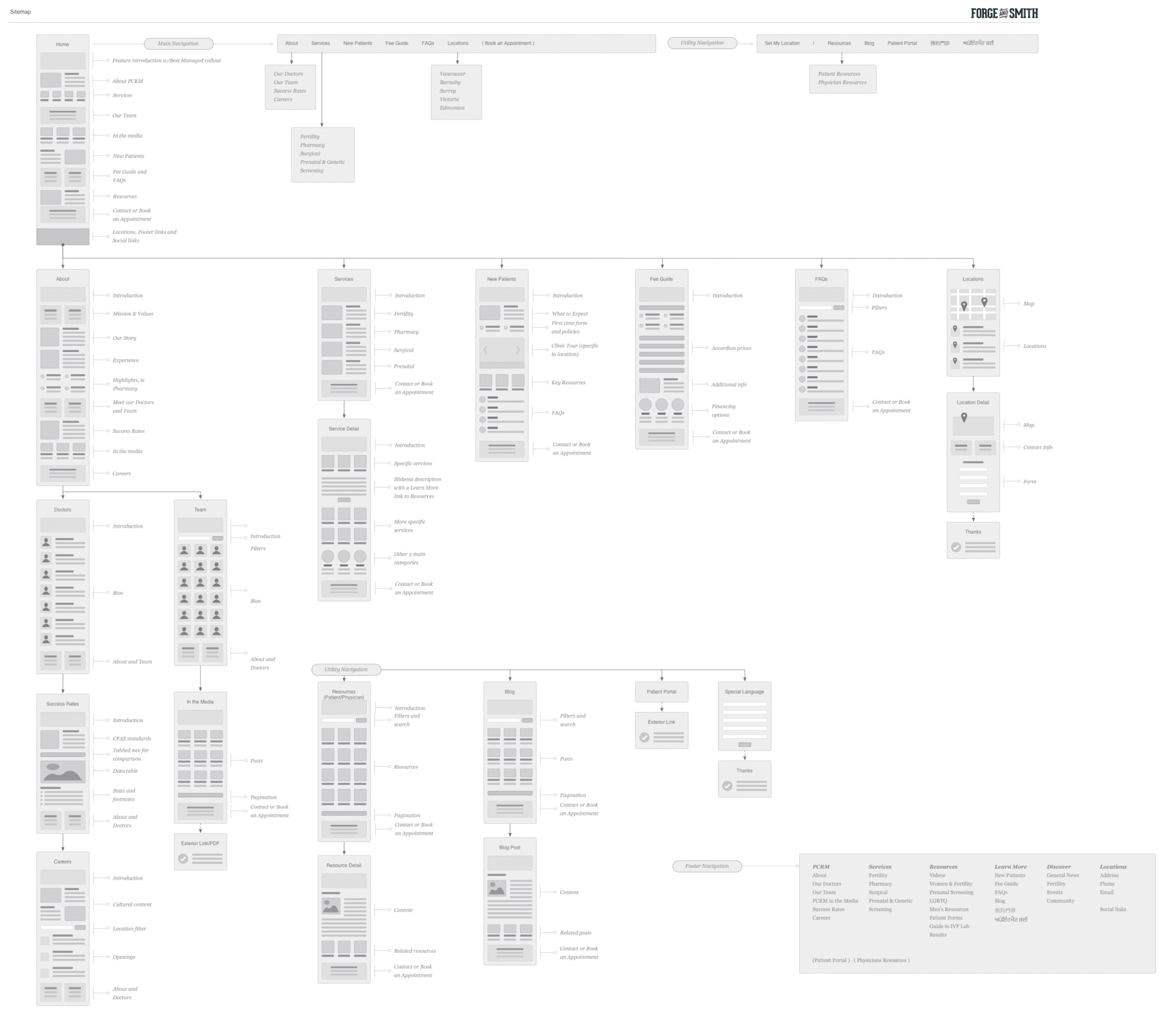 Phase 2
Style
Banner videos featuring staff members and location-specific photo galleries were used to illustrate the experience. A soft and inviting design supports the personal stories and emotional connection attributed to their brand. Calming colours and images specific to each clinic build a sense of trust prior to an in-person visit, and highlight PCRM's boutique, welcoming atmosphere.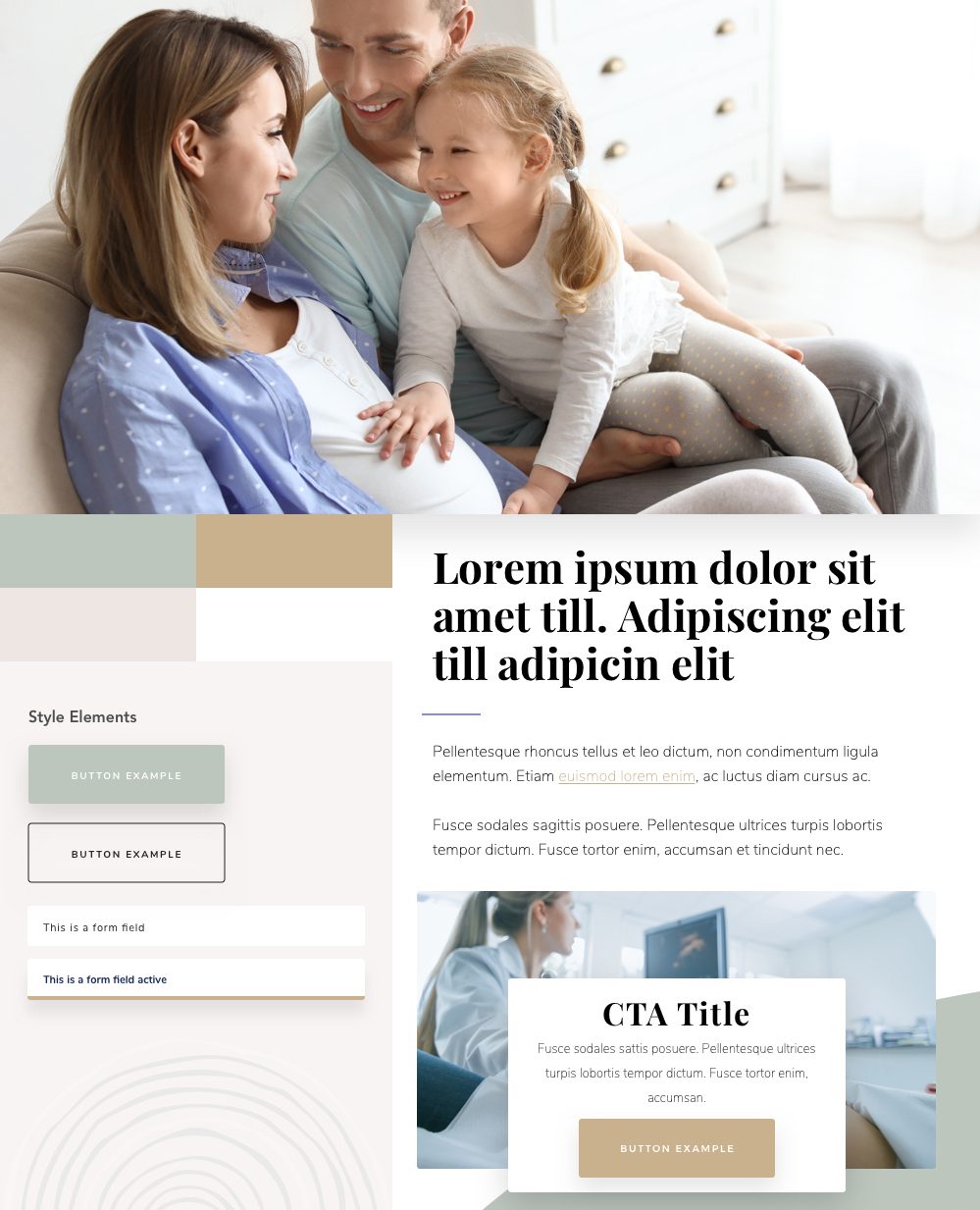 Phase 3
Bringing it All Together
Our designers placed a location-based filter on the front page, guiding patients to their nearest clinic and specific intake forms. Separate resource drop-down menus for Patients and Physicians, intuitive buttons, and a powerful location-based content navigation plan result in less clicking for website visitors. With a custom WordPress CMS at their disposal, PCRM are equipped to easily share their continued success stories and expertise with their growing community.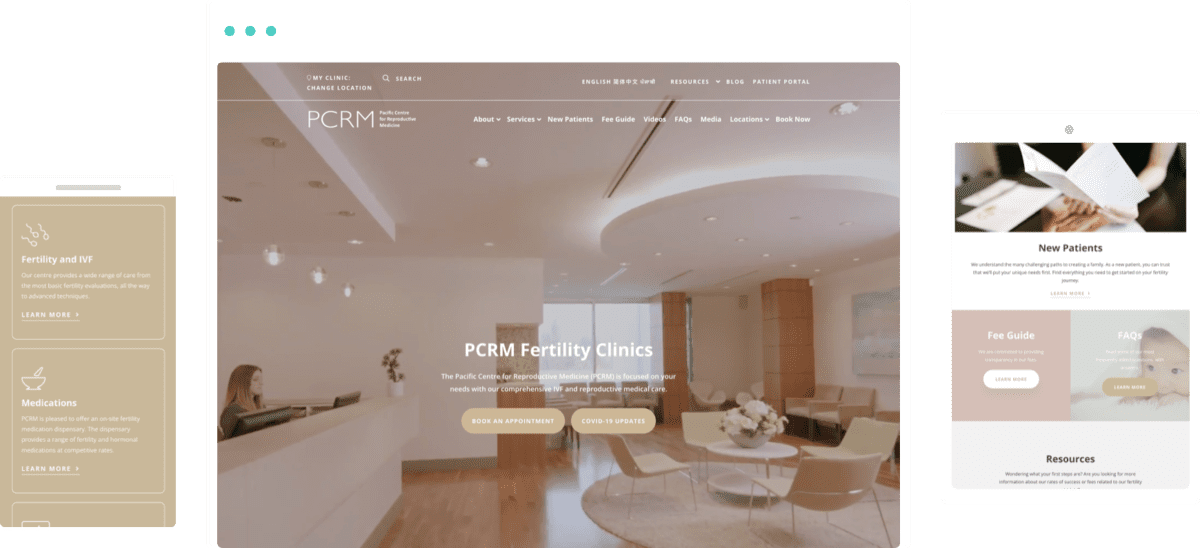 View Finished Site
"We're extremely happy with both the design of the website and their ongoing support. Their implementation timeline for the website – I've never seen anyone do it so quick."
Related Case Studies
Check out more of our web design case studies, to see the results we've helped our clients achieve.
We designed an all-new website for BRIA to launch their new virtual mental healthcare service for women and start building their patient list.
Keep Reading

We designed an all-new, strategic website to help Herstasis™hit the market running, raise awareness, attract investors, and build an audience ready to use their product.
Keep Reading