About the Company
Foresight is Western Canada's first clean technology accelerator. They aim to bring partners and innovators together to identify, commercialize, and adopt the clean technologies needed to support the global transition to a green economy.
Objectives
Improve overall aesthetic and user experience and to make the site more engaging
Improve site architecture and navigation to enable easier browsing and a more frictionless experience
Improve audience segmentation and targeting to boost engagement
Build on SEO foundations to increase search engine traffic and drive future growth
Implement a fully responsive solution backed by WordPress CMS
Phase 1
Prototyping
Foresight saw massive growth in the short time since their company launched. They came to us about to undergo a complete rebrand of their current website and online experience, including new photography, refreshed content, and stronger user experience strategies.
As a guided networking service between cleantech sectors, Foresight is uniquely complex in its audience segmentation. The need to serve them all well was at the forefront of the prototyping process. Our goal was to build out a strong content strategy that would maintain an uncluttered user experience, while creating clear paths for different audiences needing varied content.
Phase 2
Style
Foresight's colour scheme was refreshed with modern teals and vibrant, contrasting tangerine. We applied sketch-like arrows and underline elements that encourage site visitors to scroll, suggesting a human touch despite the technical content. A global circular design detail overlaid on human-focused images evokes a visual sense of shared focus, while mirroring the updated logo.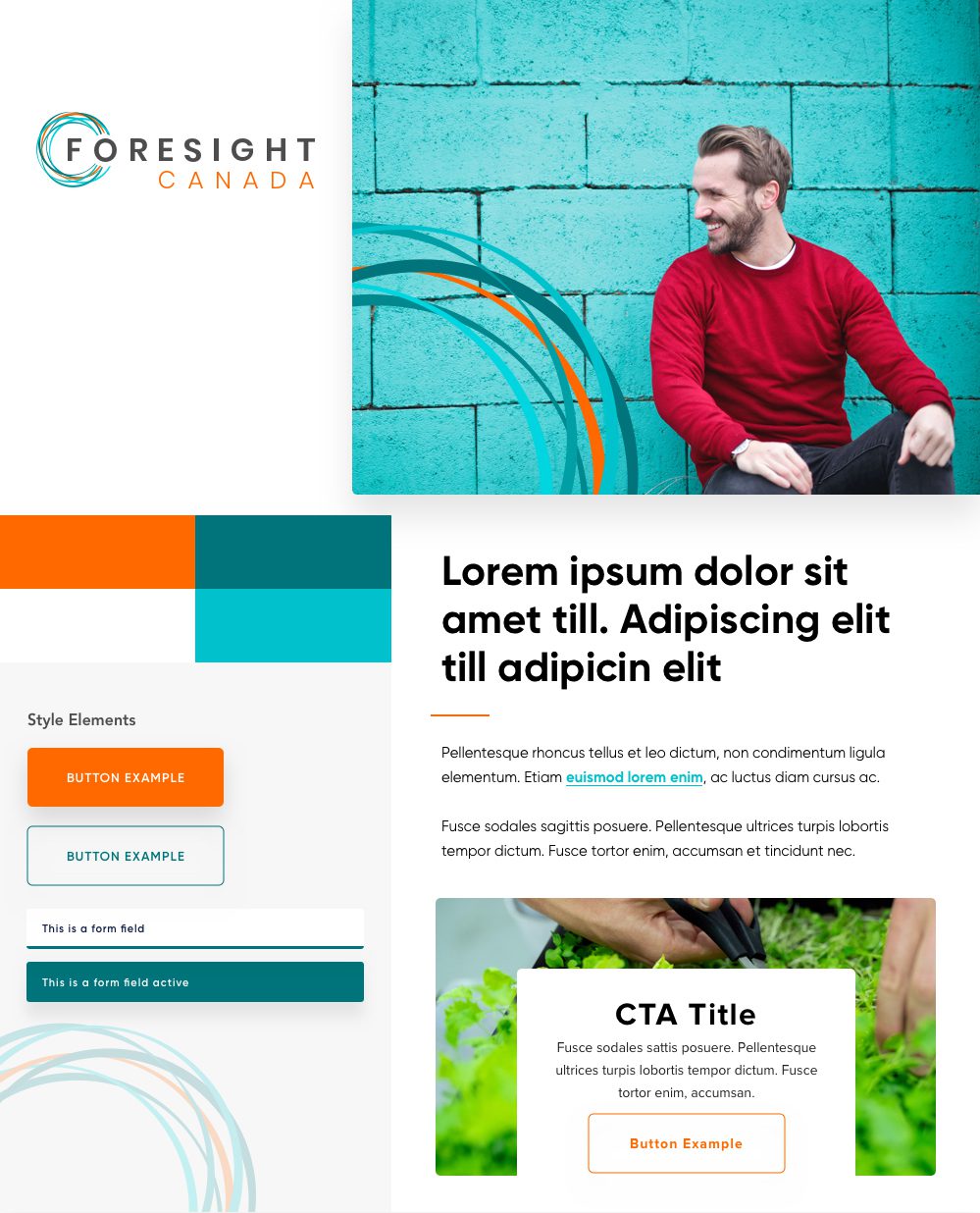 Phase 3
Bringing it All Together
The new Foresight web design has strategic content organization by sectors, industries, and programs for innovators, allowing users to easily navigate to relevant details. A potential client has clear and visually pleasing pathways to easy form submission and Stripe payment processing, to encourage course registration. Access to both free and gated content is called out directly on the homepage, boosting Foresight's industry acuity. Site-wide design elements provide an engaging meeting spot for the growing cleantech sector.
View Finished Site
Related Case Studies
Check out more of our web design case studies, to see the results we've helped our clients achieve.

We crafted a new web design for Delta-Q to help them showcase their innovative solutions and capabilities, and deepen their company storytelling, while drastically improving visitor engagement.
Keep Reading
The new website we crafted for Forestry Innovation Initiative helped them significantly improve their page speeds, engagement, and traffic – but most importantly, it made it easier for their team to manage their content.
Keep Reading