About the Organization
Circular Materials is an extended producer responsibility organization. They specialize in the design and implementation of recycling programs and systems on behalf of paper and packaging producers, and are a service provider to existing programs across multiple provinces.
Objectives:
Improve the overall aesthetic and user experience and make the site more engaging
Increase visitor understanding and awareness about recycling systems
Facilitate clear, effective communication to a variety of audiences in different regions, on different subjects
Implement geolocation and content filtering functions to better serve residential users in finding content relevant to their residential area
Integrate mobile friendly functionality and content bilingualism
Create a simple, easy to navigate, user friendly site backed by WordPress CMS and our patented site builder plugin, Foundry
PHASE 1
Prototyping
Circular Materials came to us with a fantastic challenge. They had a vast amount of website content for municipal, partner, and general public audiences. It needed to be reorganized in a way that's both easy to browse and tailored to a user's location. And they needed a full website redesign and build on a tight turnaround.
Strong information architecture and ample content discovery opportunities were the two critical areas of focus for this project. Residents needed to be able to find key information by their location or community, in English and French. Producers needed to quickly access resources. This was exactly the kind of puzzle we love to solve.
PHASE 2
Style
Circular Materials had strong branding in place, and a clear vision of how they wanted to apply it to their new website. Combining public needs and industry standards, styling the site involved creating page layouts and elements that would deliver a visually appealing experience while maintaining AODA Level AA compliancy. We wanted the overall look and feel to be slightly earthy and organic, while still evoking professionalism.
Phase 3
Bringing it All Together
Complete with automatic location detection and additional jurisdiction search capabilities, visitors in multiple provinces can utilize Circular Materials' website to find the how, what, when, and where of local recycling programs and services. And as their organization expands in the coming years, the flexibility and customization options of Foundry make it easy for their team to add new regional content.
Stakeholders also have access to a secure portal where they can download resources and industry templates, all with content specific to their provinces, improving the circulation of materials online and offline.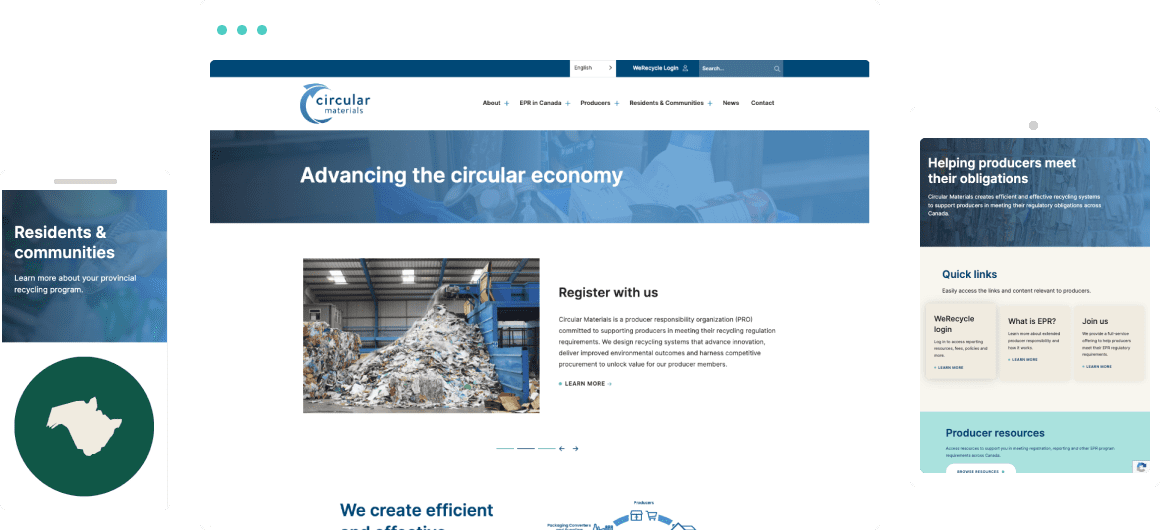 View Finished Site
Related Case Studies
Check out more of our web design case studies, to see the results we've helped our clients achieve.
A new web design with vastly improved structure and navigation help BC Dairy's different audiences discover their array of tasty content.
Keep Reading
This new website was focused on helping SHARE capture their rebrand, expand their offering, and make their content more conversational.
Keep Reading