About the Company
Blenz distinguishes itself from other Canadian coffee chains with handcrafted, innovative beverages that boast authentic ingredients, plus genuine interactions with customers and comfortable coffeehouse environments. They've been a market leader since 1992.
Objectives:
Improve the overall aesthetic and user experience and make the site more engaging
Drive conversion of site visitors into contacts and, ultimately, customers through the app
Implement a more user friendly and easy to manage Menu area, including new drinks and seasonal campaigns
Expand on the current franchisee area including a login for easy access to common files, updates and forms
Build on SEO foundations to increase search engine traffic and drive future growth
Implement a fully responsive solution backed by WordPress CMS for easy content management
PHASE 1
Prototyping
Blenz has been a Greater Vancouver coffeehouse staple for over 30 years, with locations expanding into Southwestern BC. Their old website needed a redesign to improve mobile navigation and their flows for perks and online orders. They also went through a rebrand that needed to be captured.
The key focus for the sitemap and UX designs was on usability and paths through the site. We wanted to make sure users could quickly explore the menu and place orders, but also do other vital tasks like find a location, check nutrition information, and get the Blenz app. The driving force was communicating their premium offering and rewards.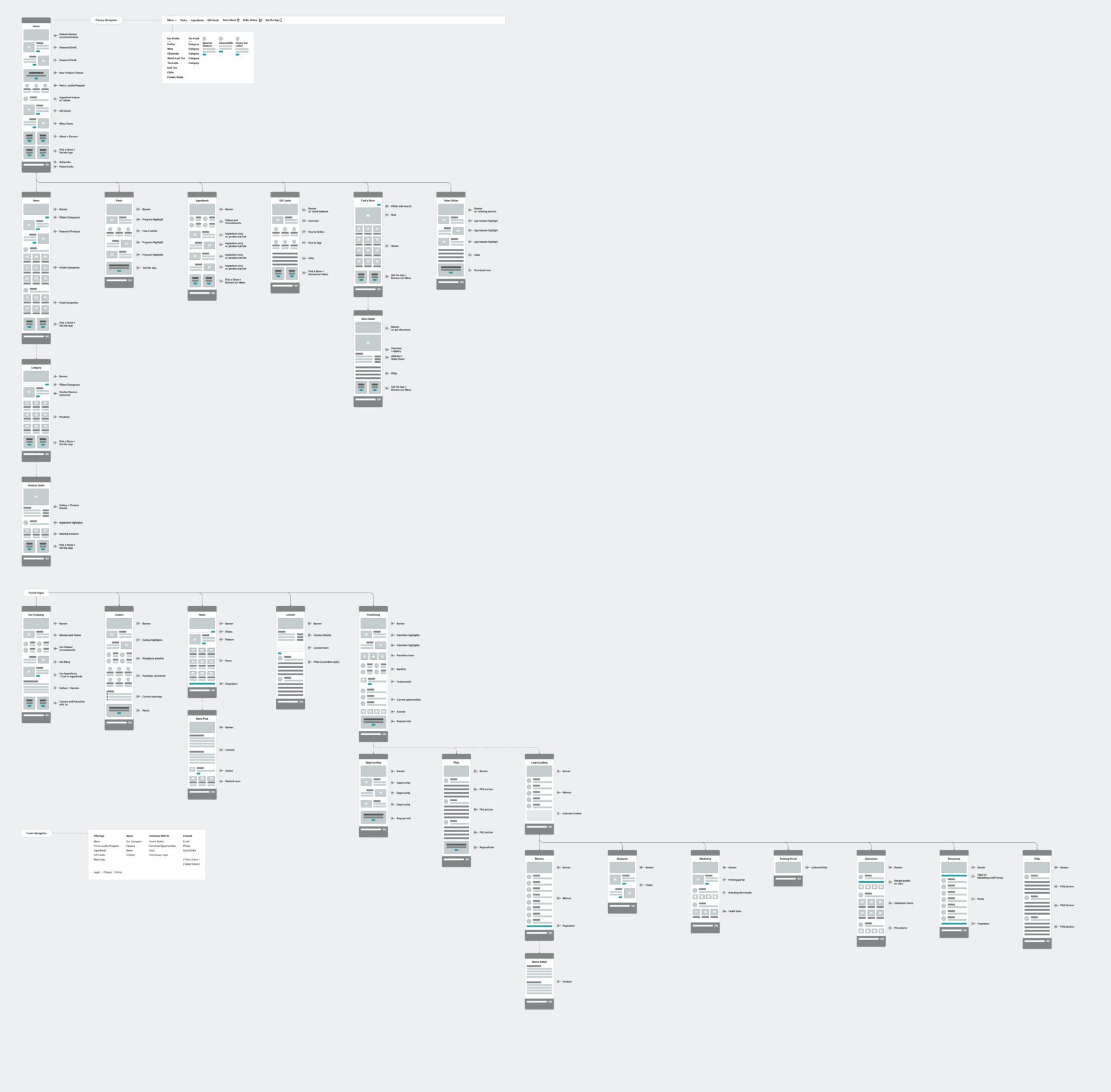 PHASE 2
Style
Blenz has a great palette of colours that make you think of a warm coffee shop and tasty beverages. Their old site leaned more heavily on the yellows and browns. We were able to add depth and texture to the pages by playing with more tints and shades, and playing up the fun blues and greens in the background illustrations that came with their rebrand.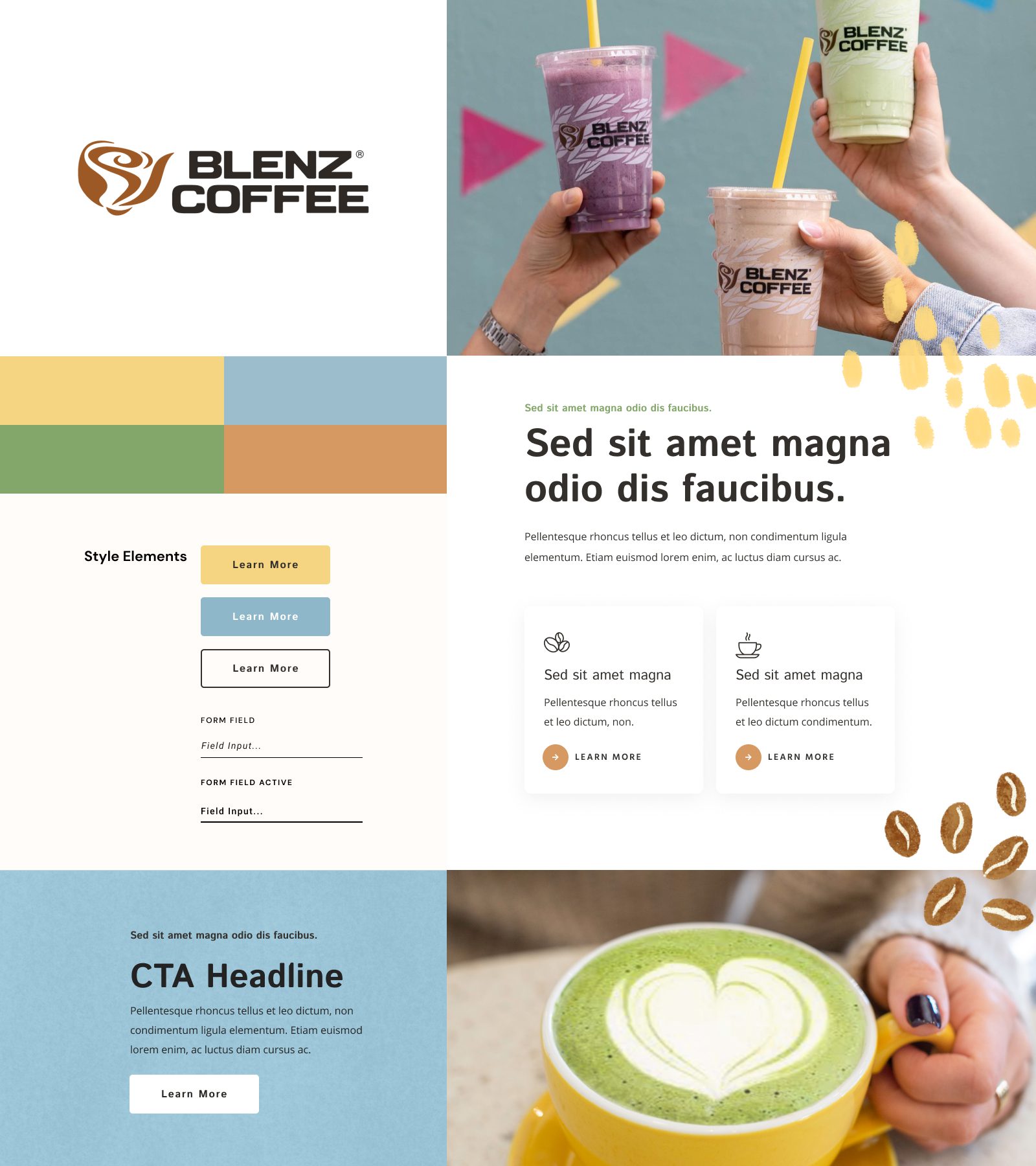 Phase 3
Bringing it All Together
The new Blenz website makes their rebranded content shine. It's spacious, extremely easy to browse, and has numerous enticing paths to get the app and place orders. There's fresh storytelling around their ingredients, which are their big differentiator. A mega-menu viewable on desktop devices allows promotional content. And we added a new store locator for them, to help people who are already on the site instead of having to exit to do a maps search. To top it all off, we redesigned and rebuilt their franchisee portal at the same time.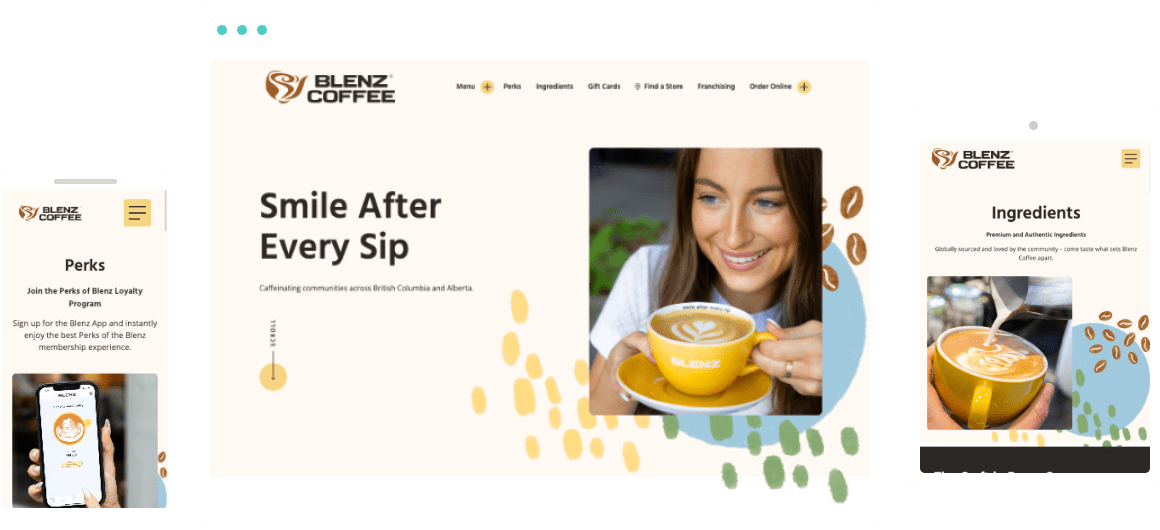 View Finished Site
Related Case Studies
Check out more of our web design case studies, to see the results we've helped our clients achieve.
Our website redesign helped SISU's visitors quickly and easily find where to buy their products, while showcasing their wellness blog as a resource.
Keep Reading
+

73

%
Organic Search Traffic
Our tantalizing website redesign helped CRAFT Beer Market achieve huge increases in their search traffic, impressions, and page speeds.
Keep Reading