About the Organization
The Canadian Home Builders' Association of British Columbia provides online and in-person courses for residential builders and renovation contractors, and is an advocate for the residential construction industry across the province.
Objectives:
Ensure site architecture and navigation enable easy browsing and accessibility of education options within the course catalogue
Drive conversion of site visitors into contacts and ultimately students
Develop an Events calendar to drive awareness and attendance for upcoming events
Establish SEO foundations to increase search engine traffic, drive future growth and minimize impact to the main website
PHASE 1
Prototyping
CHBA BC has long been established  as a leading provider of training and education for the residential construction industry. They had experienced enough growth that the lack of a solid online foundation for their courses, programs, and resources was making it difficult for visitors to find clear pathways to the content they needed.
This website project was about strategically moving the course content to a fresh site, to improve navigation without losing the main site's authority. Instead of hunting for courses within the main CHBA BC website, visitors could explore their programs, calendar, and resources through clearcut navigation, plus a powerful search function and filtering.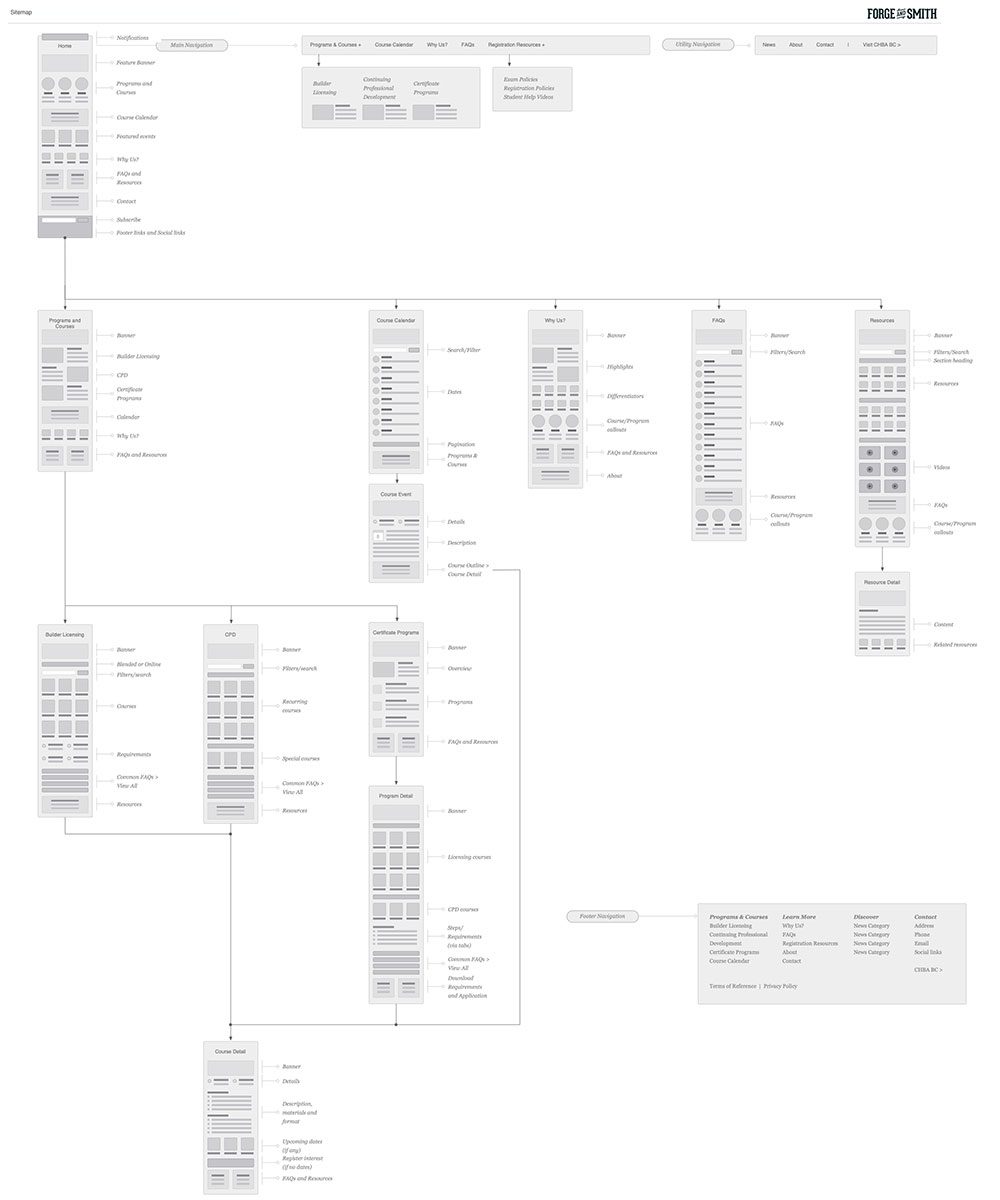 PHASE 2
Style
We wanted to work with CHBA BC's distinct branding, while creating a spacious and browsable new design. Page elements are housed in trustworthy, modern blues to evoke the possibilities of bright future, with fresh green icons directing site visitors to relevant areas. Images of houses against vibrant skies feature muted logo overlays while washed hues let the traditional yellow of construction helmets stand out in photos.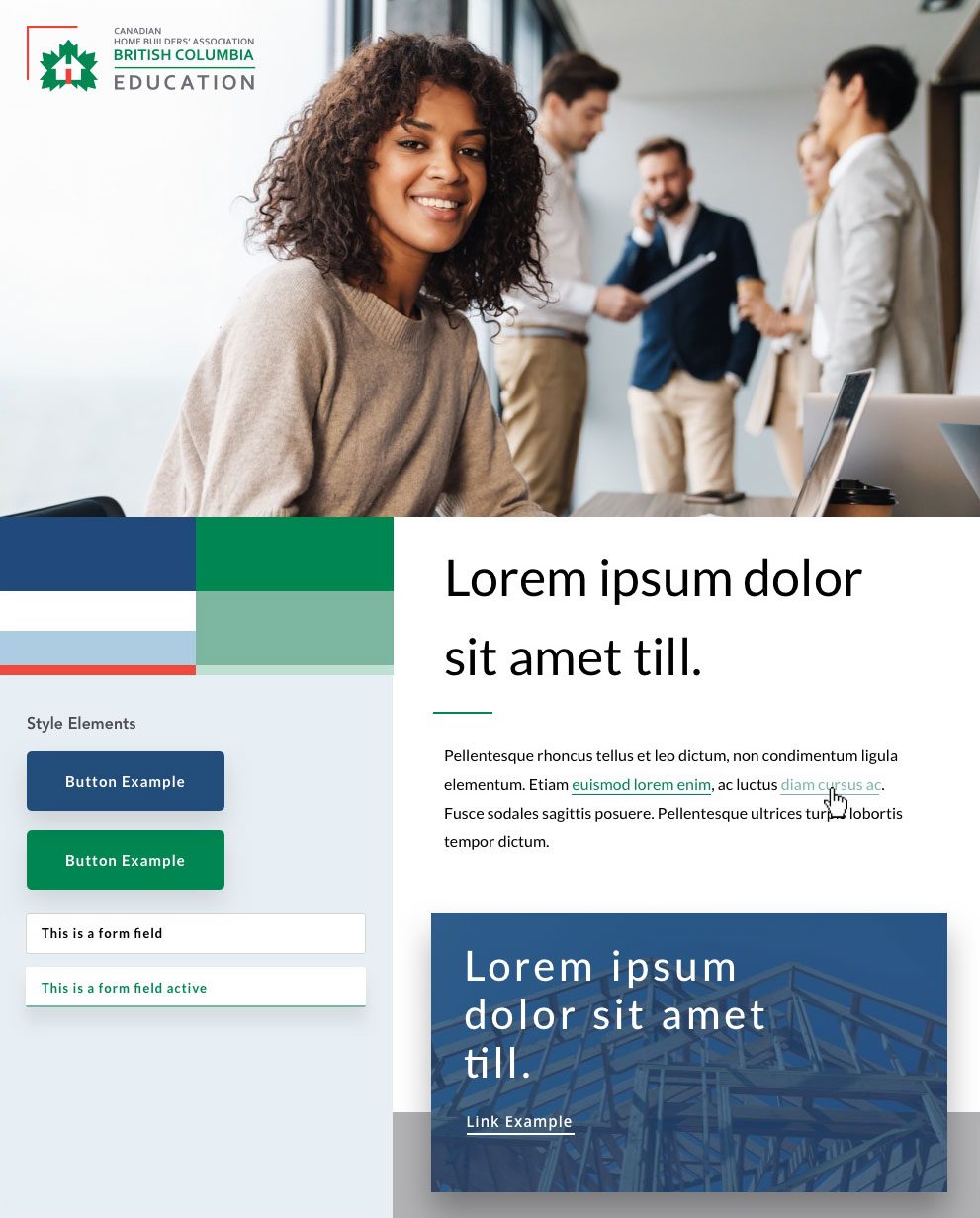 Phase 3
Bringing it All Together
The new CHBA BC Education site boasts a highly usable experience. Programs and courses are neatly housed in three categories with clean iconography in an expanding menu, accessible from anywhere on the site. The course calendar provides detailed program information, and includes a powerful search tool that helps site visitors find specific courses. A comprehensive Why Us page features testimonial videos and clear pathways for site visitors to register for classes, browse FAQs, and access helpful preparation materials.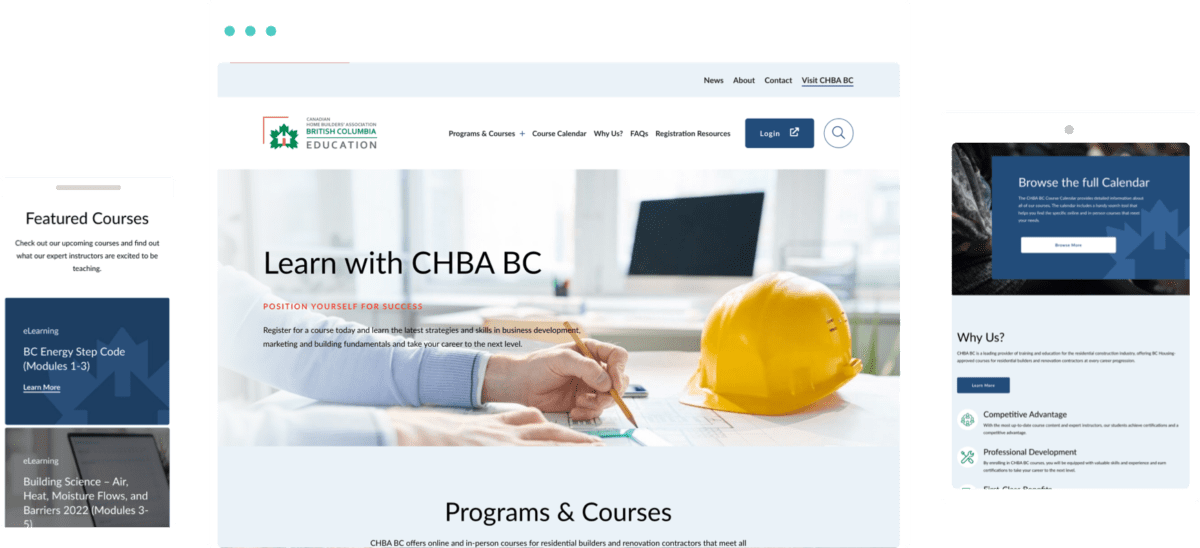 View Finished Site
Related Case Studies
Check out more of our web design case studies, to see the results we've helped our clients achieve.
We redesigned Braintrust Group's website to create a more welcoming, motivating user experience that would improve their conversion rate – and it worked.
Keep Reading
As part of our ongoing partnership with ISSofBC, we redesigned the website for their Language & Career College to create a welcoming experience with clear paths to their many language programs and services.
Keep Reading