About the Project
Since 2013, A Better Life Foundation has prepared and delivered daily scratch-made meals to residents of Vancouver's Downtown Eastside, and provided training and education to help guide healthier opportunities for at-risk individuals.
Objectives
Improve brand awareness and reach through branded storytelling
Drive conversion of site visitors into donors and volunteers
Help implement Shopify eCommerce to support donations and fundraising
Build on SEO foundations to increase search engine traffic and drive future growth
Implement a fully responsive solution backed by WordPress CMS
Phase 1
Prototyping
A Better Life's work in food security and education makes a direct, meaningful difference in so many lives. Unfortunately, their website was a slow and sometimes frustrating experience that wasn't helping their efforts. They needed a full website redesign to give them a solid, modern platform for their campaigns.
The full focus of this project was on improving the user experience. They needed content delivered in the right way, at the right time, to create emotional connections with website visitors – so they would keep moving toward getting involved.
Phase 2
Style
A Better Life had striking branding, but it was mostly buried by their limited old website. We had a great opportunity with the new web design to help them create more space to showcase their authentic photography and engaging videos. Big bold headings and vivid red accents draw the eye to key content, and further into their story.
Phase 3
Bringing it All Together
A Better Life's new website is a significantly more meaningful experience, both visually and through the deeper content that supports their impact. Visitors are immediately engaged by callouts to their campaigns and community services. With the custom Shopify integration, their organization can offer clear donation needs, auction items, and merchandise to raise money. And the custom WordPress CMS that we crafted for them can be repurposed as a template to quickly and easily build sites for their other initiatives.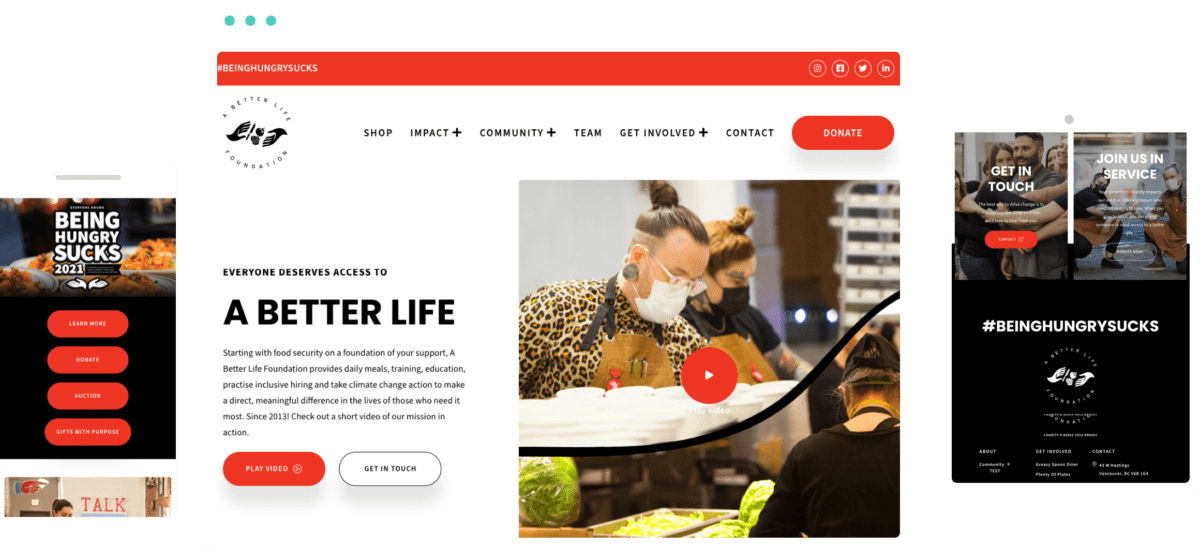 View Finished Site
Related Case Studies
Check out more of our web design case studies, to see the results we've helped our clients achieve.
BC Dairy is a not-for-profit association representing British Columbia's dairy farmers.
Keep Reading
SHARE is a Canadian leader in responsible investment services, research, and education.
Keep Reading