If you aren't using GIFs in your marketing content, you're missing a massive opportunity that goes way beyond mere reactions and jokes.
We all know that our audiences crave better, more invigorating visual content – look at the meteoric rise of TikTok. But creating and editing videos takes time and resources that many SMBs just don't have.
How can you do better than static images without increasing your marketing budget? Enter the GIF.
GIFs aren't just for personal messages and trendy B2C brands. There are completely serious business use cases that can be helpful, and add new depth to your website, emails, or social media.
Without further ado, let's get to the goods: the benefits of GIFs to your business audience, how to use GIFs in your marketing, and how to make your own GIFs.
What are GIFs?
A GIF (or Graphics Interchange Format file) is a bitmap-type file that supports animation.
The format was invented by computer scientist Stephen Wilhite in 1987 – yes, GIFs are basically Millennials, and the same age as Dirty Dancing, The Princess Bride, Predator, Guns n' Roses' Appetite for Destruction, and Michael Jackson's Bad. 
GIFs have such widespread popularity that many major GIF apps have been bought by the biggest tech companies: Google owns Tenor, Automattic owns Tumblr (they also own WordPress), and Meta acquired Giphy in 2020 but has now lost a legal battle in the UK and has to sell it.
Is it pronounced GIF or JIF?
I only just discovered that the inventor of the GIF himself said it's a soft 'G'. However, I stubbornly maintain my stance that it's a hard 'G'; the letters stand for 'graphics interchange format', not 'jraffics interchange format'.
If you want to further go down the rabbit hole, Giphy and Jif once made an entertaining marketing campaign around the debate.
But come on. Look at how we collectively pronounce other popular file extensions, like .jpg ("jay-peg"), .png ("ping"), and .pdf ("pee-dee-eff"). We're clearly all over the place. Let's just be friends, and make great marketing content!
Why use GIFs?
The beauty of GIFs for marketing is that they can instantly convey more complex or complete messages than either stand-alone visuals or copy. They're perfect for short attention spans, and make impactful first impressions.
GIFs can establish tone, foster a sense of community, convey your brand's POV, and enhance your storytelling. The GIFs you make or choose say a lot about who you are as a business. They can be entertaining or helpful, product-focused or audience-driven.
Plus, animation naturally draws the eye. This is HUGE if you're trying to stop someone scrolling through products or a busy social media feed.
GIFs are also typically short loops, and the .gif format is intended to output a smaller file size than video (depending on the quality and framerate). This makes GIFs ideal for websites, because they take less time to load.
But the best part about GIFs is that there are already a gazillion out there, and you don't need any kind of design skills to make your own. I should know, because I have absolutely zero design skills and I've made GIFs.
We'll dive into how to make them later – or you can use the Table of Contents at the top left to skip right on ahead.
Where can I add GIFs in my marketing?
Other than our DMs, GIFs are most often seen on social media and in blog posts. But they can do so much more!
You can use them in a number of other marketing assets: emails, blog posts, case studies, product pages, custom landing pages, search and social ads, downloadable content, customer support areas, chatbots, reports… the list goes on.
Now, let's get specific!
20 Ideas for How to Use GIFs in Marketing
Break down troubleshooting steps
Demonstrate how to do something
Animate word-based graphics like stats, facts, or tips
Showcase a product's ease of use
Draw attention to CTAs on your website
Create 360° animations of products
Add a human touch to customer support messaging
Break up lengthy blog posts
Liven up charts by animating elements
Present unique product use cases
Showcase user-generated content like photos or reviews
Animate staff photos for a playful touch
Announce a launch with a festively animated image
Share reactions to news or events
Make eye-catching display ads
Build excitement leading up to a big day
Give your 404 page personality
Show off before-and-after photos
Celebrate holidays
Layer humour or niche references into messaging
How do I find the perfect GIF?
Picking the right GIF really comes down to knowing your audience, knowing your brand, and using a good quality file.
Let's start with where to find GIFs.
If you're natively posting to Facebook, Instagram, Twitter, or TikTok, you can use GIFs from built-in libraries. These all come from Giphy – hence its domination of the GIF market.
If it's downloadable files you're after, these are the easiest and most popular sources for awesome GIFs:
Reddit – there are subreddits devoted to general and niche GIFs
Google image search, filtered to GIFs
Now you need to make sure you pick the right GIF for your content's purpose. This is a bigger deal than it sounds!
In personal messaging and posting, we can pretty much use any GIF we want to respond or convey our moods. But when choosing a GIF for marketing content, we're representing our business.
A small misstep will get, at worst, poor engagement and some eye-rolling. But publicly sharing an insensitive or inappropriate GIF, even by accident, can hurt your company's reputation.
How can you make sure you get it right? Follow our…
10 Steps to Pick the Perfect GIF for Your Marketing
Put your audience first – match GIFs to their mood, goals, sense of humour, age, trending interests, favourite nostalgia, or even what they might be doing when they find your content.
Keep it on-brand – refer to your brand strategy, and align GIFs with your company's personality and how you want to be perceived, especially when it comes to humour or anything to do with civil or political issues.
Search by mood – shake things up by searching for the emotion you want to evoke, rather than the words you want to say.
Embrace pop culture – referencing a scene, a line, or an iconic moment that resonates deeply with your audience will create a connection with your brand.
Let GIFs take the wheel – if there's a trending reaction GIF that's relevant to your marketing (without an obvious stretch), use it!
Do your research – know which show, movie, or event your GIF came from, and make sure it's appropriate to associate with your messaging, it's not appropriating culture for a laugh, and it's not mistakenly insensitive.
Choose quality – there are oodles of GIFs out there, so don't settle for grainy, glitchy, pixely, or tiny GIFs in your content.
Mind the copy – lots of GIFs have captions, but if there are too many fast-moving words or the text is too small, it will cause more annoyance than enjoyment.
Beware excess flash – there's nothing wrong with a little festivity, but too much flashing and pulsing on a short loop can cause headaches or even seizures.
Pace yourself – use GIFs as often as your primary audience will appreciate them.
How do I add a GIF to my content?
Once you've picked the perfect GIFs for your visual storytelling, it's time to add them to your content.
The most common ways to use GIFs are:
Upload a .gif file directly to your content or platform
Create a post or tweet within a social app and copy/paste a GIF's URL
Create a post or tweet within a social app, and add a GIF from the iOS or Android keyboard options
Access the built-in Giphy libraries for Facebook (posts, Stories, Reels), Instagram (Stories, Reels), Twitter (tweets), and TikTok (add to videos) while creating content
Embed a GIF into a webpage using its embed code
Schedule a GIF post by linking the URL or uploading the file to your social media scheduling tool
How can I make a branded GIF?
Here are three ways to make a GIF for your marketing, all of which are completely doable with free, basic apps and no design skills – I promise.
1. Upload a Clip to a GIF Platform
The quickest and easiest way to make a GIF for us non-designer types is to upload an existing video clip to any one of the many GIF platforms. They want your content, so they make the process straightforward.
I'll use Giphy as an example. Create an account, then click 'upload'.
You can then upload an existing GIF file, an MP4 or MOV video, or you can upload video URLs from YouTube, Vimeo, and other video platforms.
I uploaded a two-second video of my cat that I took with my phone. Easy-peasy. Then it asks me if I want to trim the video. It's only two seconds, so that's a no.
Finally, I choose the privacy settings and tags before completing the upload.
It's so simple that you can make a GIF in under 30 seconds – which happens to be the maximum length of a GIF clip on Giphy. As long as it's set to 'public', you can then link that GIF into marketing content.
When it comes to making screen recordings for upload, I like the Awesome Screenshot browser extension or TechSmith Capture, but I recommend using QuickTime if you want the ability to highlight the mouse.
2. Convert a Video Straight to GIF
You may have noticed that GIF platforms don't always cooperate when you try to right click or tap to save them on your phone or computer. If you need the GIFs you create from your videos to be an uploadable file, rather than an embed link, you can do that using free online file conversion tools. Examples include Adobe Express, which I used to make the hilarious GIF below, Ezgif.com, or Handbrake.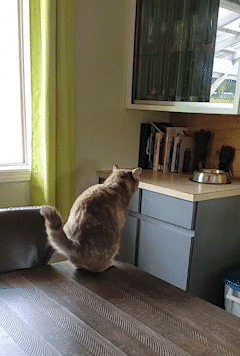 These sites will convert various video file types into GIFs – and GIFs into video files. The latter is important for Instagram posts, because you can't upload GIF files to the platform, only MP4s and MOVs. (You can add GIFs to Stories and Reels from Instagram's library.)
3. Stitch and Edit Photos or Videos
If you have a little more time and are comfortable with basic photo editing apps, it's surprisingly easy to edit photos and videos into a GIF, too.
My favourite SUPER user-friendly tool is YouCut. I use it on my phone, but there's also a desktop version.
Using YouCut, I stitched together three photos of my cat – she needed redemption after the previous GIF I shared. I chose the 'Fade W' transition between images, and set the duration for each image to be on screen. All of that took under two minutes.
Then I uploaded the video file to Ezgif.com, saw that it was way too big for a blog post, and used their editor to speed it up, crop it, resize the dimensions, and compress it before converting to GIF:
You can see how this would work for animating product photos, UGC photos, reviews, demos… so many potential marketing purposes! In all of these easy editing apps you can add text, visual effects, stickers, and other cool options.
What to know about GIF SEO.
As with any other type of media file, SEO is relevant to GIFs – if you want it to be.
I recommend making sure you've covered basic image optimization for any GIF uploaded to your website, including editing the filename to match the topic of the page. This contributes to your on-page SEO.
This is especially important if you took the time to make your own GIFs and want more people to see them. Keywords in the filename and strong alt text will help your image turn up in Google image searches. And we all want to make Google happy.
And then there's GIF engine optimization, which is about optimizing any GIFs that you upload to a GIF search engine like Giphy or Tenor. Adding the right tags can help your branded GIFs get discovered and shared.
What to know about GIFs and copyright law.
On a final and more serious note, there's the legal aspect of using GIFs.
While no one has yet been sued over a GIF, there is weight to the debate over whether using GIFs in marketing material amounts to copyright infringement. The content could be considered stolen from the source (such as a movie or TV show clip), or from the person who created the GIF.
The majority of pop culture GIFs are generally covered under fair use, because they don't undermine the original work. If anything, they make people want to re-watch or go into a YouTube spiral.
But just because someone uploads a GIF to Giphy, doesn't mean they don't want credit for their creative work.
I recommend doing a little reading up on copyright law, creating your own GIFs for digital ads (those would definitely be considered commercial use), and citing the source of any third-party GIFs you use in marketing content.
You can also stick to searches for GIFs that have creative commons or commercial licensing:
These GIFs will contain clear details on how they can be used. Unfortunately, this does severely limit your search results.
But with their tremendous potential to improve your content marketing, visual storytelling, and brand reputation, GIFs are worth considering for almost every type of business and organization.
Whether your GIFs are branded or borrowed, helpful or hilarious, your audience will appreciate the extra level of connection.