Why do B2B companies have websites? We want to showcase our services and expertise, so that people choose us over the competition! Whether it's revenue or recruitment, our websites can be our most powerful sales and marketing tools. If you want to increase website conversions, you need to have the right content on the right pages.
We have over a decade of experience in designing B2B websites, and I'm going to share Forge and Smith's best tips for conversion-driving content. It all comes down to four key pages.
B2B website goals
Website goals should align with your business goals – and every website should have at least one clear goal. Page layouts, imagery, copy, and CTA buttons are all influenced by the ultimate goal of all that content. If your website doesn't have a goal, it's going to be a super confusing experience for visitors!
When we design a website for a client, conversions are considered at every step. Our first deliverable is always a sitemap. It illustrates the structure of the website, and also a high-level plan for what messaging and content a visitor will encounter as they scroll down each page – and where they'll be directed next.
Here are the most common website goals we've seen for B2B companies:
Book a demo or trial
Get a quote
Fill out a contact form
Click to call, email, or get driving directions
Provide an email address in exchange for gated content
Fill out a job application
View specific mid-funnel content
But it's a rare B2B customer who heads directly from search results, email, or social media to a conversion. People seeking product or service on behalf of their company are doing research. Before they complete one of those goals they'll take exploratory actions, like reading a case study, learning about your company history and culture, or looking for deeper information about your work.
That's where strategic web design comes into play – to make sure potential customers discover that content, and are guided on the next step toward conversion.
How to increase website conversions, page by page
If you have a case studies or projects section on your website, you're already on the right path. Case studies are killer conversion-driving content! Testimonials, reviews, and custom contact forms are also obviously great for conversions – so we won't waste your time preaching about something you already know.
If you want to drive more conversions on your website, there are four key pages that can get the job done. These pages often get the least care and attention during content planning and population, but have the most potential to move a B2B website visitor closer to your goals.
It's all about your About Page
The most under-utilized website page we see is the About Page. This poor page is on almost every B2B business website, but it's treated as a place to dump more promotional language about services – or to copy and paste the same company description that appears on LinkedIn.
There are two primary audiences visiting your About Page. One is there to learn more about your company and its culture before applying for a job. The other is to learn more about your story and values before deciding if you're the kind of business they want to hire or partner with.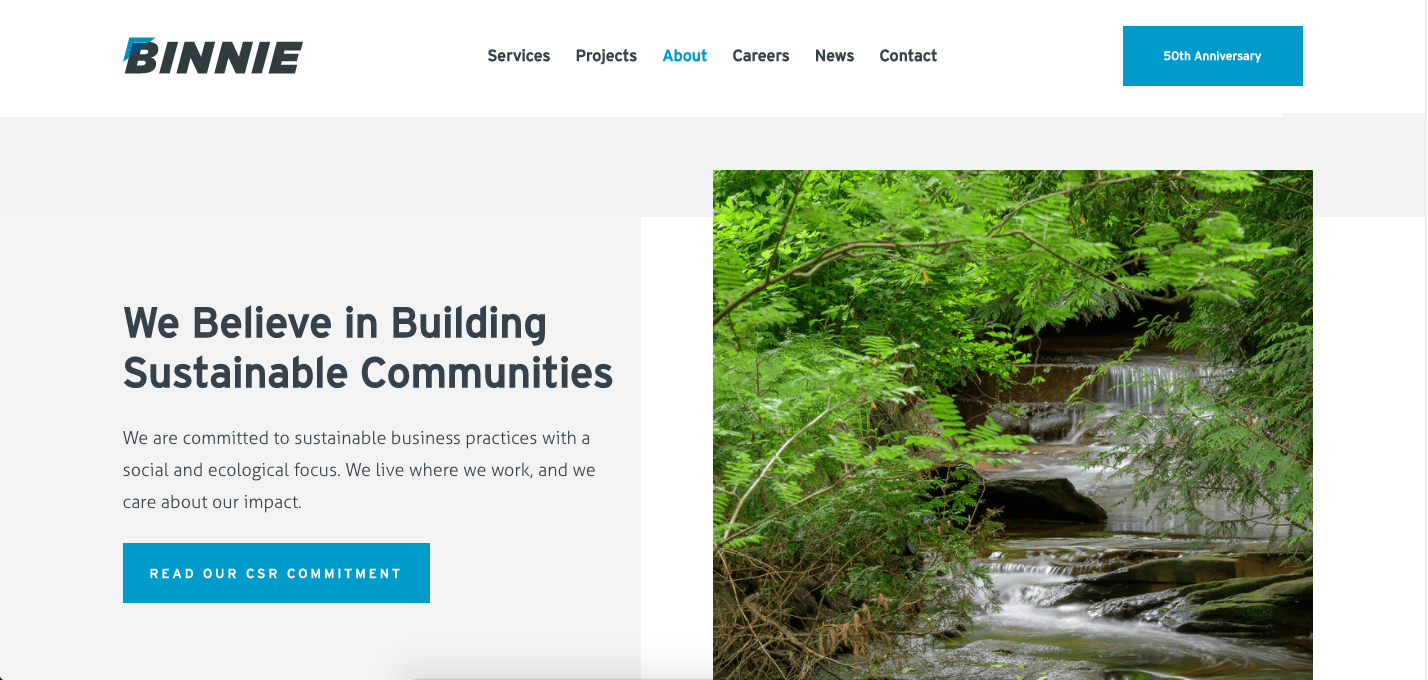 Source: binnie.comBoth of those audiences are clearly in a stage before conversion! People want to work with people they like, and your About Page is the only place they can get to know you enough to decide if they should book that first meeting. If your About Page says nothing about your business, it's more likely to drive an exit than to assist with conversions.
Tips to drive conversions from your About Page:
Use the first blocks of content, such as the page banner and introduction, to establish your expertise and passion for what you do
Tell your company story – humanize the business by sharing when and why it was founded, how you've grown, and where you're headed
Highlight key information that your target audience would care about – company culture, community involvement, environmental responsibility, approach to customer service
Use authentic photography and video to let visitors see the people they would be working with if they chose your services or applied for a job
Include callout blocks with an engaging image, headline, and teaser copy pointing to the next mid-funnel step: Team or Careers pages for recruitment, and Why Us or Process pages to establish further trustworthiness and authority
Your About Page is a great opportunity to drive traffic to your high-converting content, so give it the love it deserves.
Not a writer? Not a problem! Check out How to Write Awesome Website Content.
Leave no further questions with FAQs
B2C customers aren't the only ones with tons of questions! Remember that your website is the only place a customer can find answers outside your business hours. FAQs give you more credibility by providing a valuable resource for both current and prospective customers.
Another benefit to FAQ content is that it's great for SEO. If a potential customer types a question into a search engine, and you have content that poses that same question and answers it – you've increased the chance of bringing them to your site.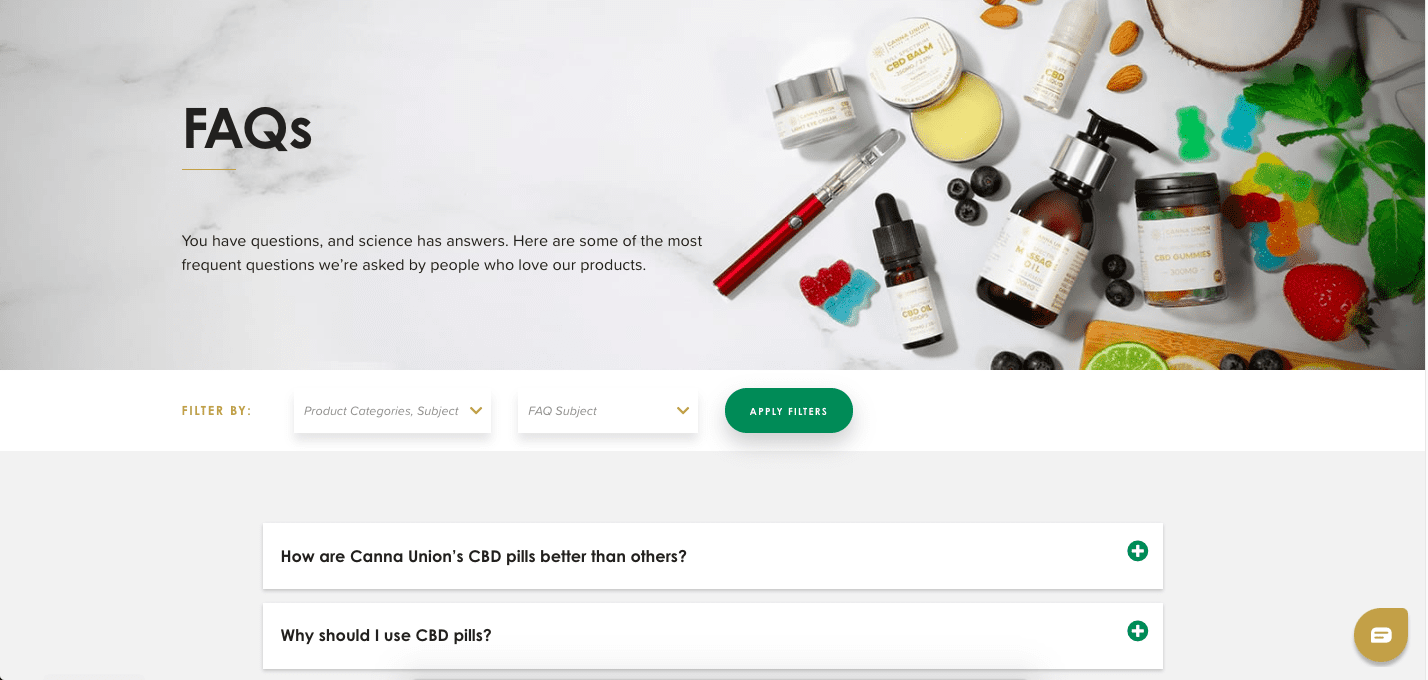 Source: cannaunion.comAn existing customer reading your FAQs is looking for help. A potential customer, on the other hand, is curious about your product or service. They're poking around to understand it better, without having to get on a call that might become pushy. If you want to increase your website conversions, give them gentle guidance to other mid-funnel pages where they can learn more.
Tips to drive conversions from your FAQs Page:
Identify the best questions by checking with your sales team, the person who leads pitch meetings, your IT or tech support department, contact form queries, comments and reviews on social media, or data from your site's 'search' tool
Break up longer FAQ pages with topic category headings and an accordion-style design that expands and collapses single answers, reducing scrolling
To serve existing customers, include a callout block pointing to additional places for help: your Contact Page, resources or troubleshooting guides, or a support chat
To help potential customers, include a callout block with an engaging image, headline, and teaser copy pointing to the next mid-funnel step: your Process Page or Book a Demo/Trial
Win them over with a 'Why Us' Page
In our first meeting with any client, one of the first questions we ask is what makes them different. That message should resonate through the content on every page of your website. But if your differentiator is often the main reason customers choose you, why not give it its own page?

Source: storyals.comA 'Why Us' Page is the place to position your company, showcase your competitive edge, and build trust. If someone is visiting your Why Us Page, they're interested in working with you or buying from you – but they likely have a few options and are trying to narrow it down. This is your chance to stand out.
Tips to drive conversions from your Why Us Page:
It may be about you, but make it about them too – start by recognizing their pain point(s), and why your company wants to help
Back up your claims to greatness with examples, such as how long you've been in business, how much you've grown, company recognitions or awards
Don't just say that you're great – demonstrate it by showing examples, such as a content block for 'who we've worked with' business logos, testimonials, and reviews
Include a callout block with an engaging image, headline, and teaser copy pointing to the next mid-funnel step: your Process Page or case studies
Craft an enticing Contact callout (not just the links in your header and footer menus) encouraging a direct move to conversion, such as booking a demo or setting up a call for more information
Be persuasive with a Process Page
It's easy to put glowing descriptions of your services and capabilities on your website. Anyone can do that. But an often-missed opportunity to demonstrate credibility and increase conversions is having a Process Page.
Whether you call it 'Process', 'How We Work', or 'Approach', this page gives potential customers the chance to see exactly what it's like to work with you. It might be a timeline illustrating the typical stages of a project, or a breakdown of the unique approach to problem-solving that's behind your service.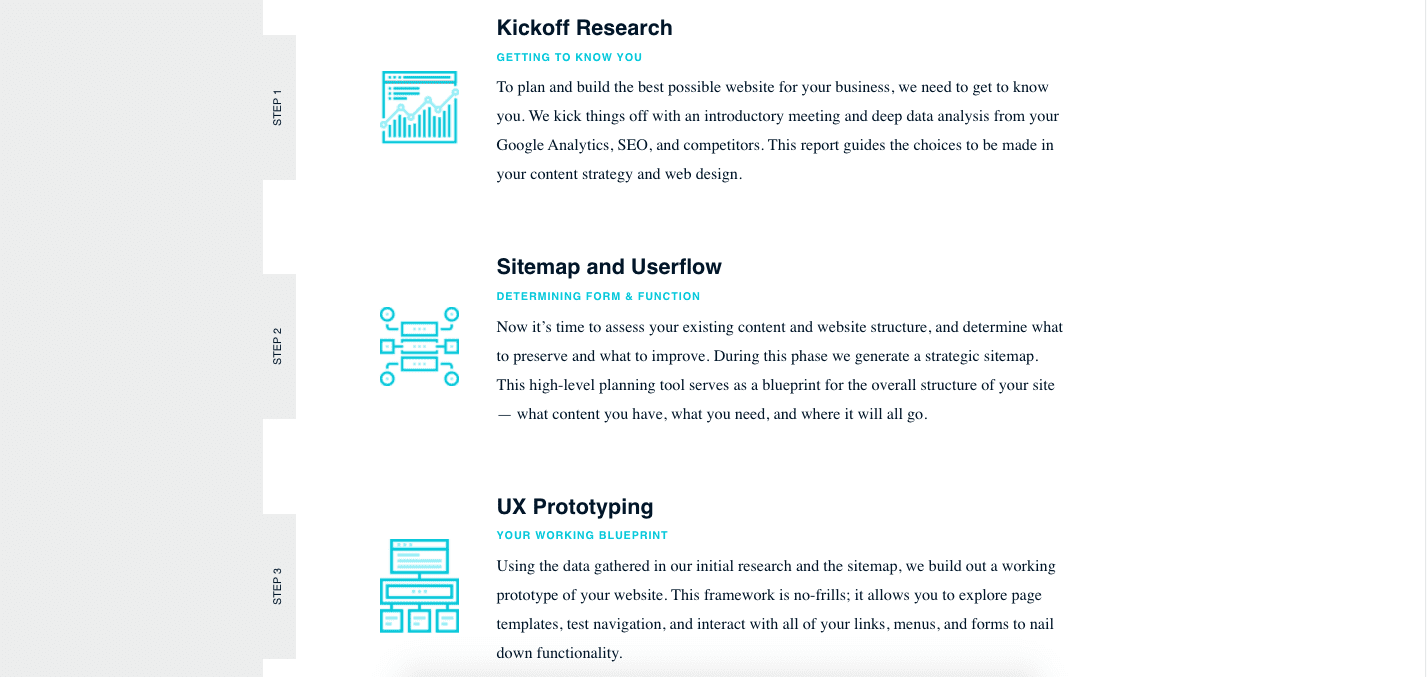 Source: forgeandsmith.comThis content boosts your trustworthiness by offering transparency, and it shows website visitors that you've had enough experience to develop a repeatable process. If someone is visiting your Process Page, they're looking for proof of your expertise and for further differentiators. They're close to converting – you just need to nudge them in the right direction.
Tips to drive conversions from your Process Page:
Use clear language that helps someone outside your industry understand your approach and realize your expertise – avoid jargon and overly technical phrasing that makes the content confusing and, as a result, pointless
You don't have to give away your 'secret sauce', but do divulge enough details to help someone researching your business picture how their project or service would run in your hands
Like your About Page, is another opportunity to humanize your business – tap into your company's personality and story to better showcase your uniqueness
Include a callout block with an engaging image, headline, and teaser copy pointing to the next mid-funnel step: your Why Us Page or case studies
Craft an enticing Contact callout (not just the links in your header and footer menus) encouraging a direct move to conversion, such as booking a demo or setting up a call for more information
The best way to increase website conversions comes down to understanding your customers. If you know who they are, what they need, and which stage they're at when viewing each page – and even each part of your pages – it will be much easier to deliver the right content in the right place. If you need a hand, reach out! Forge and Smith was named among the Best Website Design Companies For Small Business Of 2020.