Are you looking for the best social media network for your business? When it comes to B2B marketing, LinkedIn is the most popular social media network for B2B promotion.
According to a recent study by the Sales Benchmark Index, 95% of B2B marketers rank LinkedIn as the number-one social network that provides them with the most valuable business insights. In addition, 56% of them don't believe that Facebook and Twitter can be effective for B2B marketing.
Yet many marketers still aren't totally sure how to use LinkedIn as an effective B2B sales tool, and convince their colleagues that it's worth the time and effort.
Why should you invest in B2B LinkedIn Marketing?
Here are three great reasons to consider using LinkedIn for B2B promotion:
LinkedIn is an Excellent Platform for B2B Growth
LinkedIn is the most popular social media platform for professional networking. It has over 756 million members, 60% of whom are active every month
According to the Social Media Marketing Industry report, 81% of B2B marketers use LinkedIn and 73% of them plan on increasing organic activities on the platform. Why? It gives B2B marketers a great opportunity to promote your brand with content, sponsored updates, ads, and more.
B2B Buyers are Active on LinkedIn
B2B buyers are also typical humans who use social media networks for product discovery, so it makes sense that LinkedIn is a go-to resource for B2B research and discovery. In fact, 84% of B2B buyers have used LinkedIn to make purchase decisions – which means this platform is right for B2B promotion.
LinkedIn has Features for B2B Promotion.
LinkedIn is a social network where most of the users are businesspeople. It's a place where members can create or join groups with like-minded individuals.
What is more, LinkedIn has specific features like paid ads, files, articles, polls, and more that help B2B companies reach out to their potential clients, deliver their brand message, and even encourage people to make B2B purchase decisions.
7 LinkedIn B2B marketing ideas to try right now
Don't settle for simply having a company page on LinkedIn. Here's how to maximize its value to your business, while creating value for potential leads.
1. Tell More About Your B2B Company
With the growing number of B2B solutions on the market, it's important to tell your potential customers more about your company to raise brand awareness and increase brand trust. Thus, the number-one idea is to create a business profile on LinkedIn where you can include all of the important details about your B2B company.
Unfortunately, most company pages are often shallow, with only minimal information about the company. You can do so much more with it to drive more traffic to your website! The company or business page has three parts that you can leverage to put more information out there.
The first part is the company's header image, which should be catchy and attractive. A compelling header will grab the attention of visitors seeking more information, and thus get them to continue reading.
Another part is the company's description. Linkedin limits the visible part of your description to two lines, so you need to maximize the words you choose to put first. If the first two lines of your description are catchy enough, the user will most definitely click to read more about your company.
The last part is the 'recent updates' section. You should make this section as clickable and conversion-focused as possible, because this is where prospects can learn more about you if they don't go to your website. You should regularly share updates and other information such as links to infographics, to build trust and authority.
Need an example? Take a look at Hubspot's company profile. It has all the right information to spark interest in its products, and to acquire new customers: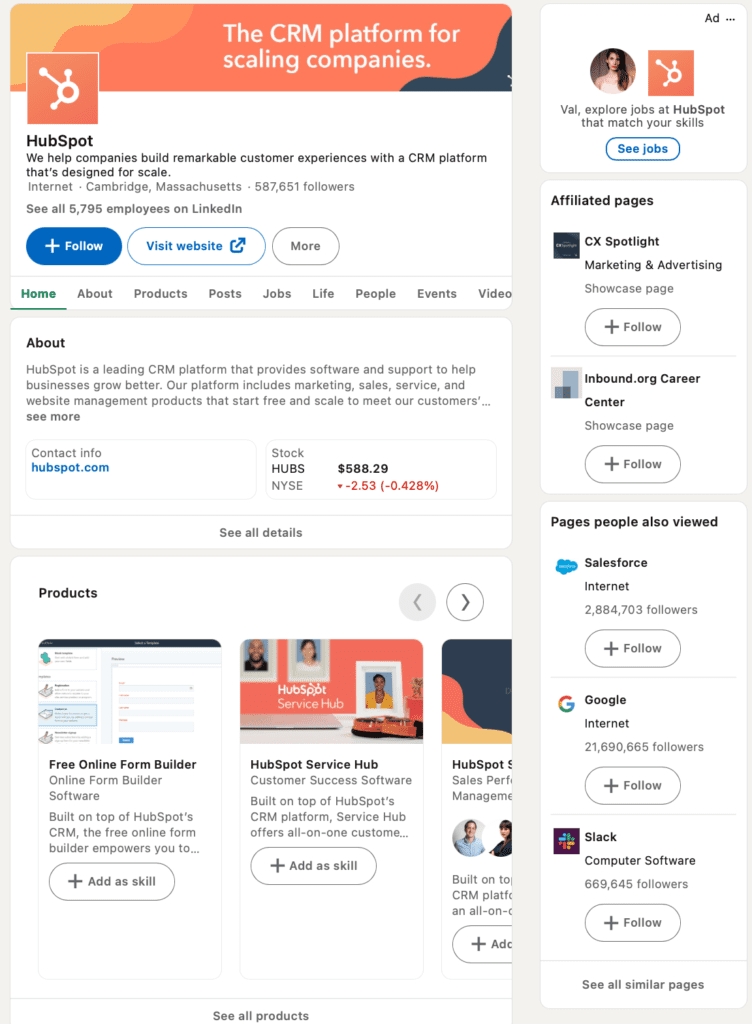 2. Humanize Your B2B Company
LinkedIn B2B marketing is similar to B2C marketing in some ways. People prefer to buy from brands that feel human, so good B2B marketing communication involves creating a balance between professionalism and humanizing your business.
Remember: in selling B2B solutions, you are still dealing with real people – they just happen to represent businesses. Humanizing your brand will make it easy for others to relate to your services in a personal way. Friendly communication rather than stiff formality can make your company stand out among the competition.
Check out how Affirm uses this tactic in action. The company invites its CEO to share the company's achievements and goals, which helps to increase brand loyalty and trust: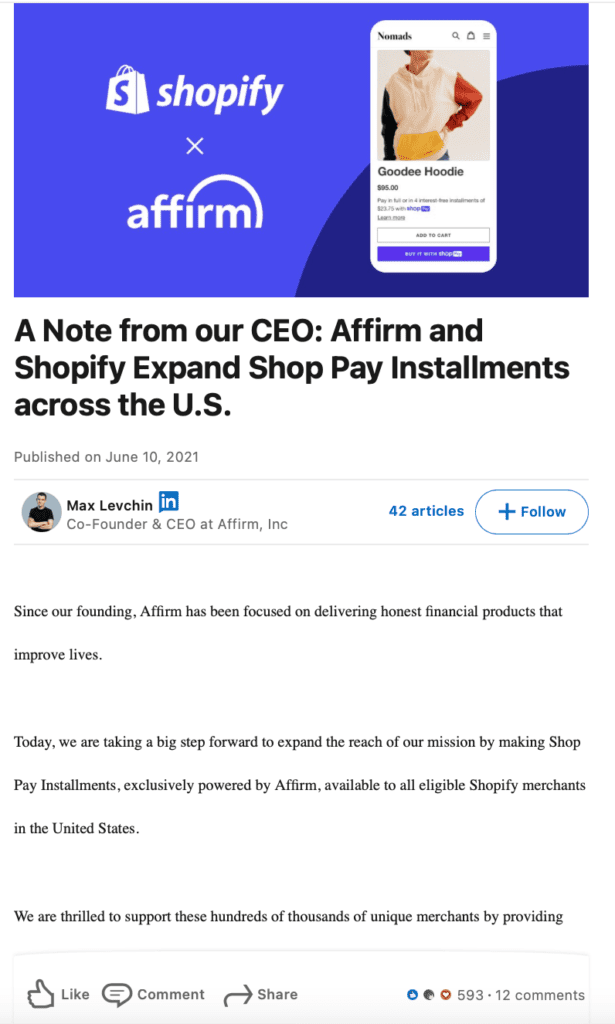 Here are a few more suggestions on how to humanize your brand and create an emotional response in people reading your LinkedIn content:
Incorporate humour in the professional setup
Share customer testimonials
Create personalized communication
Showcase the people behind your brand
3. Use LinkedIn Video Marketing
LinkedIn video marketing has proven to be effective in shaking up the marketing industry when it comes to impressions. Users watch video content three times more than they engage with static content, and company page videos are five times more effective in generating engagements, according to LinkedIn.
Video is a great way to express your company's personality beyond a logo. It's authentic and it allows the customer to get to know, like, and trust your brand. Rather than a focus on ROI, successful LinkedIn video marketing is about demonstrating the value of your brand to the potential client.
For example, you can organize a live webinar for training, like Softlanding did. Not only can you provide viewers with useful information on your products and services, but you can also keep your audience engaged in real time, and therefore drive more engagement.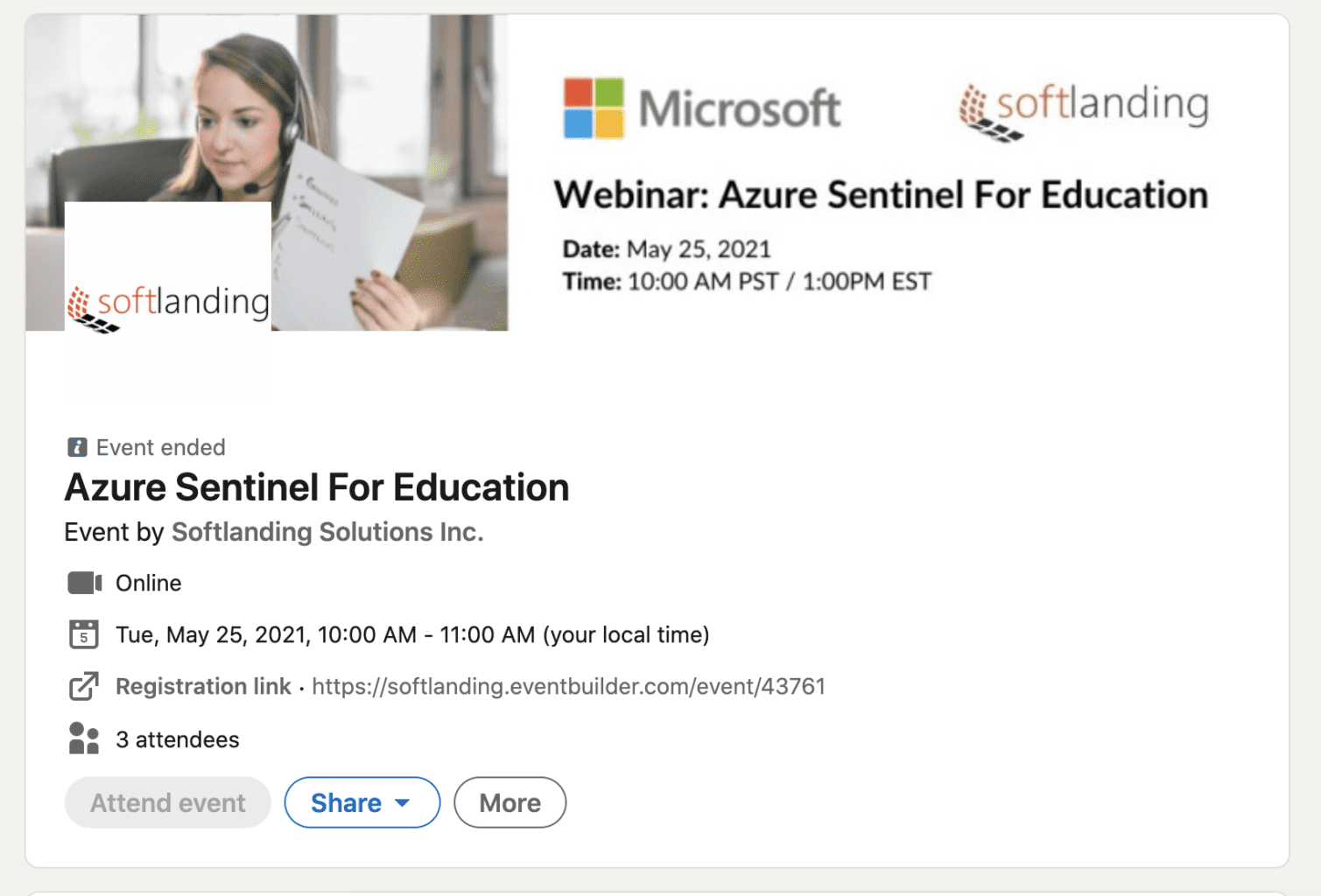 Check out other actionable LinkedIn video marketing tips that can help you create engaging videos for your profile:
Use the first few seconds to get the users excited for the rest of the content. If you make the first 10 seconds enjoyable, users will definitely watch the entire video.
Keep your videos short while still addressing brand awareness. The most-watched videos are often less than 15 seconds, but there is no harm in making it 30 seconds. Aside from engaging visuals, record audio to help people absorb the idea of your video.
Optimize the silent and closed caption feature. It allows you to give your viewers an opportunity to watch the video without sound. It's helpful if the video actors excel in facial expression and body language, and the detailed script for those with hearing impairments should be easy to read.
Leverage your video ending by calling the users to action. You can also provide links to action destinations, for ease and convenience.
4. Promote Niche Events and Podcasts
Making B2B sales can become easier once you are an established business on LinkedIn, so you won't have to spend as much time convincing people that you have what it takes.
Hosting niche events and podcasts can further help popularize your brand in B2B marketing. Why? B2B buyers are interested in free, helpful events that can help their businesses grow.
Promoting unique events is a great LinkedIn marketing tactic to show your niche expertise, and spark interest in your company. Let people experience how authoritative you are on topics that matter to their companies. You can create events to provide users with more information, just like in the example below: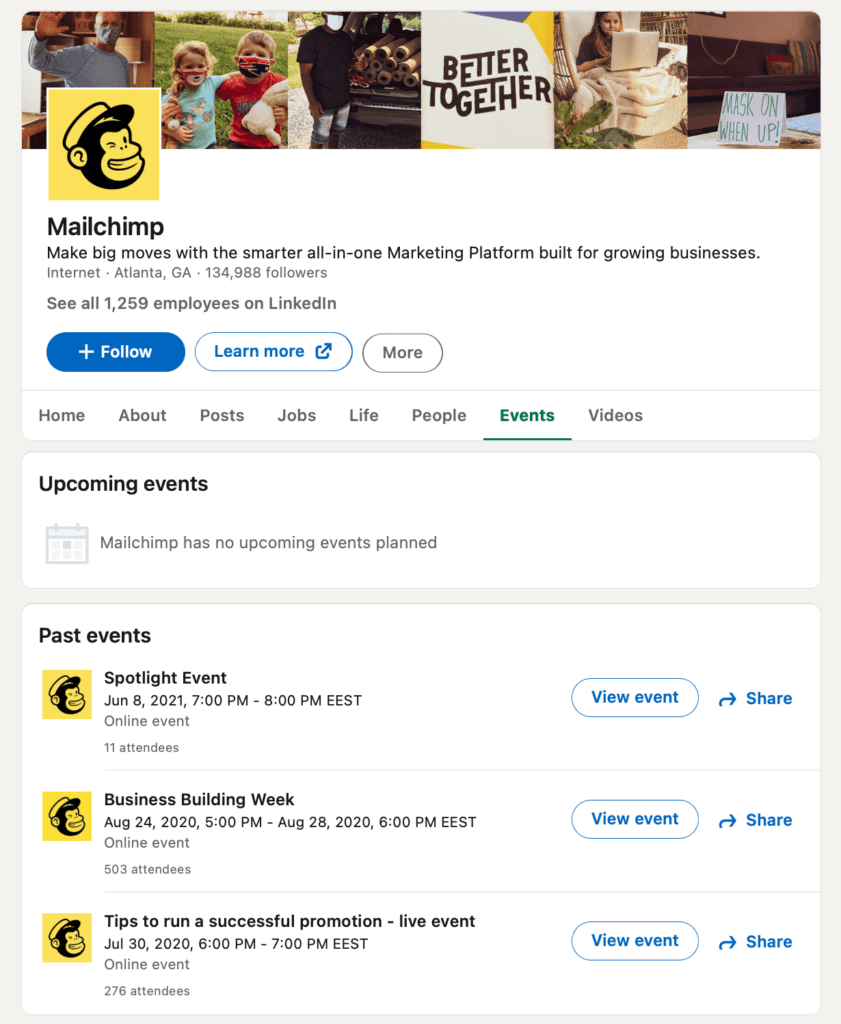 Living in the era of online education, when more and more people focus on self-growth, the number of podcast listeners is rapidly growing. B2B podcasts will drive traffic to your profile and even your website.
There are two types of podcasts: audio-only and video podcasts. Just like blog posts, to get more engagement you want to focus your podcast recordings on specific niche topics that your customers care about.
B2B podcasts have several benefits, including increasing brand awareness, connecting your brand to ideal customers, generating leads for your business, building a community around your brand, and promoting your products and services.
As mentioned, B2B buyers are interested in content that helps them improve their business and grow revenue. New trends are constantly emerging, so your company must stay current to prove your niche expertise.
The best way to do this is to share industry reports and trends on your profile. Check out how Accenture did it: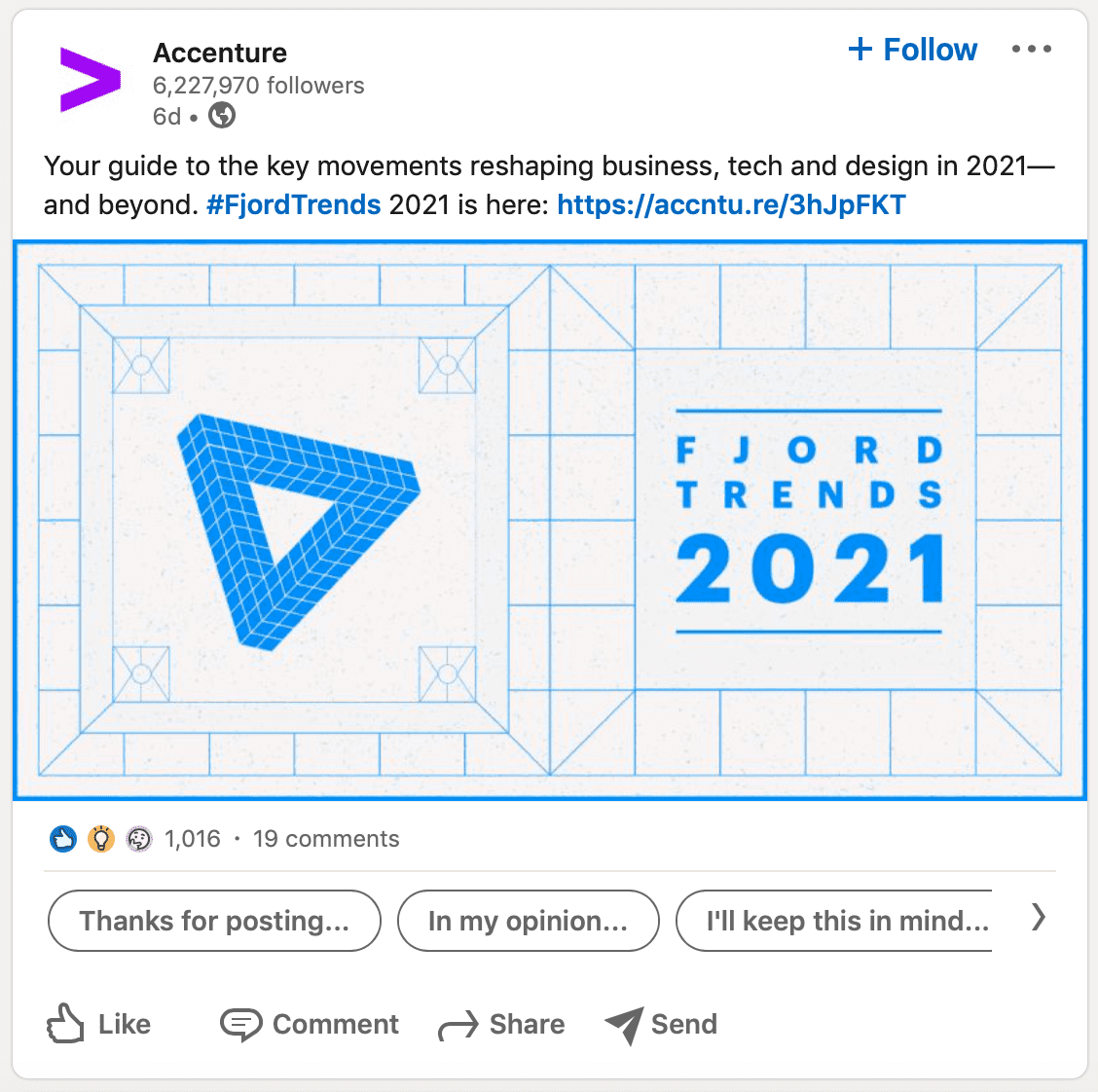 What is more, LinkedIn has features for B2B marketing like lead generation ads, which involve attracting and converting people interested in your brand. Lead generation ad statistics enable your brand to learn how other marketers use the process to acquire and convert more prospects into active customers.
6. Hire New Employees In-App
LinkedIn is a professional network for hiring, so looking for new employees in-app can bring many benefits. Not only can you save time spent wrangling applications from multiple job sites, but you can also show your B2B clients that your company is growing – which also increases brand trust.
For example, you can write about job openings in the headline: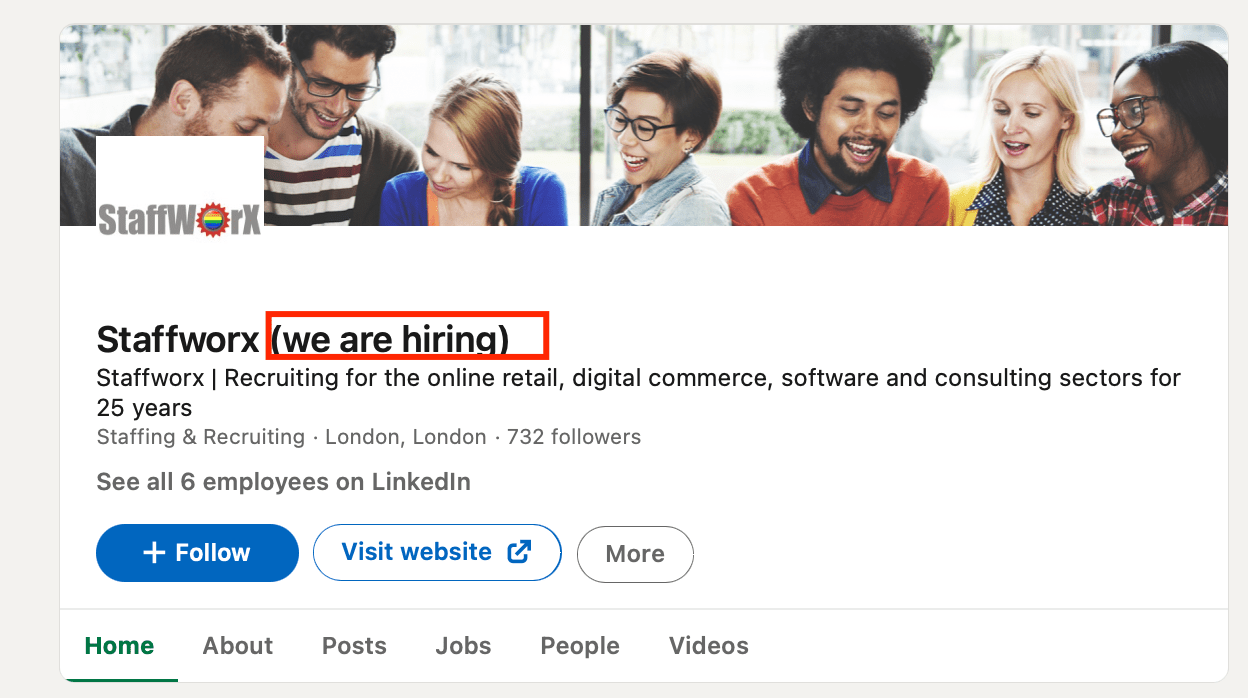 By posting jobs to LinkedIn, you can ensure that potential hires have all the qualities you need. To take it one step further, you might publish an eBook on your company's views and values to make sure that you attract like-minded people.
7. Run LinkedIn Ad Campaigns
Want to reach a wider audience of potential clients on LinkedIn? Whether you want to increase brand awareness, promote your product or service, or drive B2B sales, LinkedIn Ads are a smart choice.
LinkedIn offers a great variety of ad posts with granular targeting using details found in a person's LinkedIn profile. This means you can ensure your ad is only shown to people in a specific industry, and in the role that would be in charge of procuring your service or buying your product.
And with multiple ad types, every B2B company can find the right solution: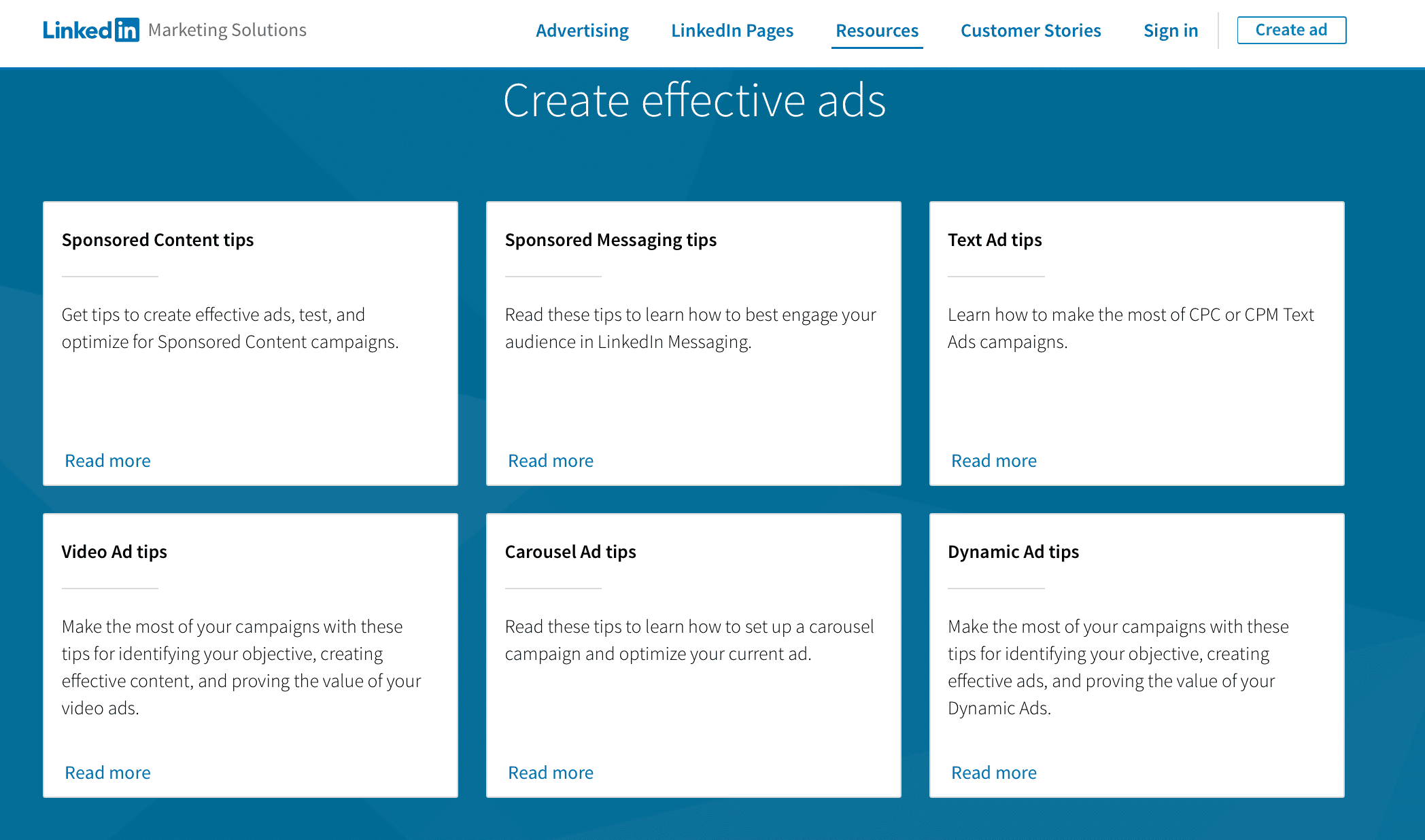 What is more, LinkedIn Ads can help you find your B2B buyers during the discovery phase, and work with them during all stages of the customer journey. Since LinkedIn Ads have great insights to help businesses analyze data, there's a lot of value to be had.
For example, if you want to bring your business to the next level and retarget engaged clients on other digital advertising channels, you can also incorporate a demand side platform to increase ad recall, and convert viewers into customers on other communication channels they use.
As a B2B marketer or B2B business owner, you've likely heard plenty about the importance of LinkedIn for B2B promotion. It can be challenging at first to start implementing LinkedIn marketing in your strategy, but the payoff is huge.
If you are ready to establish a LinkedIn presence, you can try any of the LinkedIn B2B marketing ideas shared in this post, and see how much it impacts your leads and sales. There's no time like the present to start using LinkedIn for B2B promotion.