When you think Pinterest, you might think wedding planning, beauty inspiration and fashion aspirations.
You're not wrong, but Pinterest is so much more than that. It's a network that can drive traffic to your website, create lead generation and enhance brand recognition.
That's right — I'm talking about benefits a B2B company can reap from a Pinterest presence. In fact, I'd go so far as to say you'd be remiss not to include Pinterest marketing in your overall social media marketing strategy.
If you're unfamiliar with Pinterest as a network, the audience it attracts, and how different aspects of Pinterest (such as boards, comments, etc.) work, I suggest this quick read: How to Use Pinterest for Business for Beginners (+ Pictures).
If you already have a handle on Pinterest and how it works, let's jump right into the ways your B2B company can use it.
Pinterest for business: B2B tips and tricks
A business Pinterest account offers a variety of excellent perks: you can showcase current content in a new way, you can reveal your brand's personality, you can optimize for SEO, and you can interact with current and potential customers.
It is a highly visual social network, which is often why B2B company's balk at using it. While B2B is not inherently visual, let your marketing creativity run wild here. I am convinced there are visuals that you can use related to your product and services. There are also ways to include pictures of employees and customers.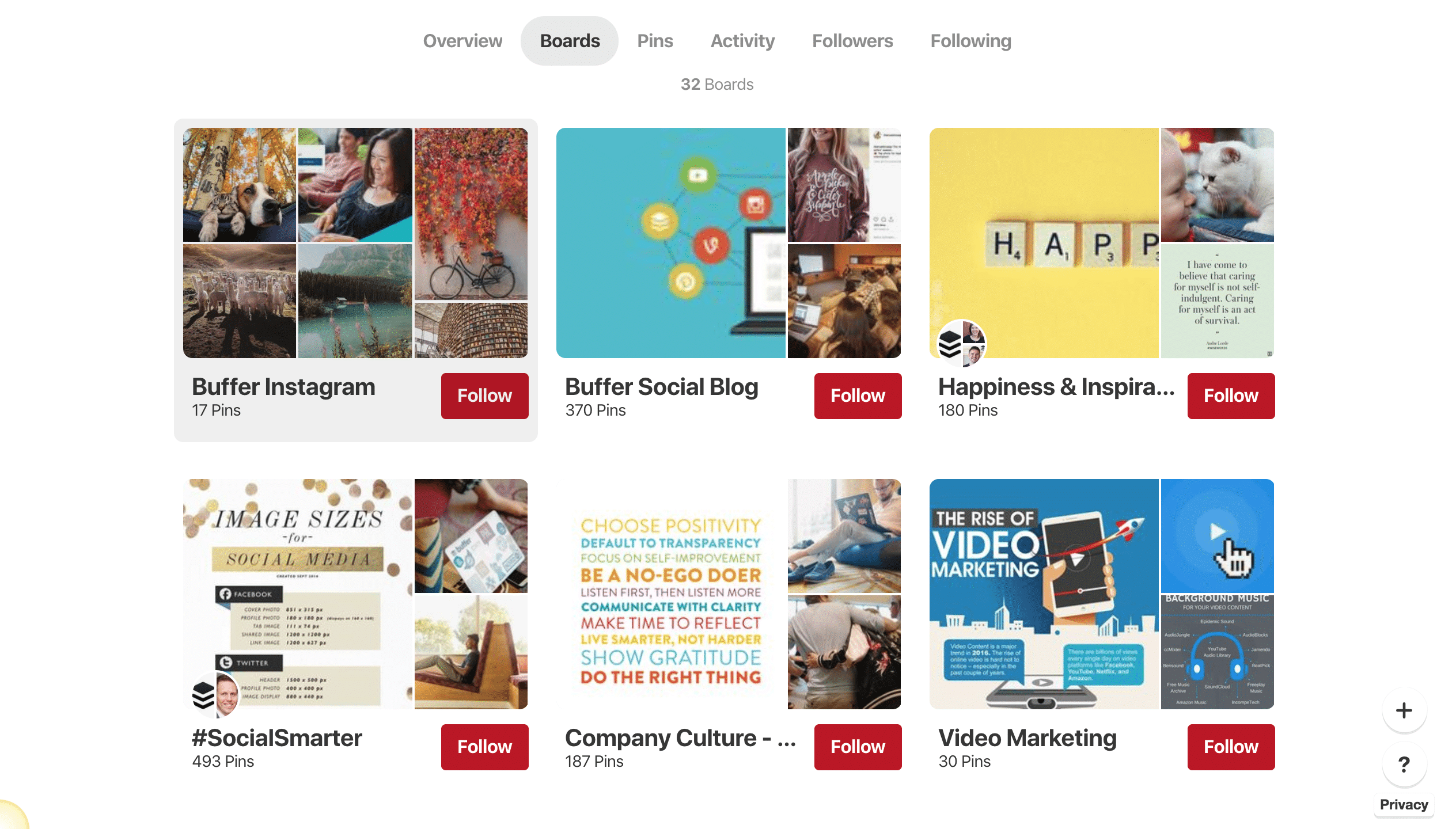 If you don't believe me, here are nine different ways you can use Pinterest — visuals and all.
1. Advertise blog posts
Most likely you already have content up on your website. Equally likely, all of those blog posts have images associated with them — if they don't, they should. For these reasons, blog posts are easy pickings for pinning.
Create a board specifically for thought leadership/blog posts and have all of the related pins live there. Make sure the picture is clear, enticing, and looks good as a pin. If it isn't, go back to the blog and switch out the picture for something that is. The text of the pin should include whatever keyword you used when building the blog post, and include a link back to the post itself.
2. Inform with infographics
Infographics are exceedingly popular in content marketing right now because they are easily digestible, visual bites of data. That essentially describes a pin as well, making infographics the perfect material for Pinterest. Create your infographics board and start sharing company and industry data.
3. Flaunt your work
Create a portfolio board. If you're in a creative industry, such as interior design, copywriting, architecture, or advertising (to name a few), this is easy and essential. Your work is inherently visual.
Even if you offer products or services that are not as visual, there are ways to show off your successes. You can create pins for case studies, with the visual being a jaw-dropping statistic or an image representing what happened — a handshake symbolizing a sale, for example. Again, include a link to the extensive, written case study available on your website.
4. Showcase company culture
Have a little fun with it! Prospects want to know what kind of people they are signing up to work with, and this is a good way to promote your brand.
There are many different ways this can be done. You can create a "day in the life" board exposing what it's like to work at your company. You can have a pin for each executive with a small biography or fun fact as the text. You can pin photos of employees volunteering at a local food bank or playing kickball in a league.
A board dedicated to events is one way to promote any upcoming industry activities you are attending or hosting. It also offers an opportunity to share photos of how fun and educational your past events were, which may make people more inclined to register for future ones.
6. Interact with customers
There are many ways you can interact with both current and potential customers. You can encourage customers to send in pictures of themselves using your product or service, and then create a pin out of that. You can add it to a board filled with customer testimony. Another option would be to highlight one customer each month.
As for future customers, one innocent way to interact with them is by following their Pinterest boards and re-pinning or liking their content. Sharing is caring. This could inspire them to follow you back in the moment and then see your content later on.
7. Inspire and entertain with quotes
Yet another way to shine with your brand's personality, quotes are easy ways to connect with an audience you might otherwise not reach. If someone really loves the quotes you pin, they may end up checking out your company as a whole. It's a good way to let everyone know what kind of company you are and what you stand for — even if it's humorous quotes.
8. Offer tips and tricks
A board your customers and prospects would definitely find useful is one full of industry tips and tricks. These could be quick hit offerings, or pins about your ebooks and whitepapers. To really spike interest, the images could be of information that is usually behind a paywall. It gives people the feeling they're getting a sneak peek!
Use your other social media accounts to promote your pins. This might feel like overkill but how many of your Twitter followers, for example, follow you on Pinterest? Probably not all of them. Doing this ensures you get your pins in front of as many eyes as possible and help build your Pinterest following.
Don't forget, even though Pinterest is a visual platform, the text you include with pins is extremely important. Similar to Instagram for businesses, a caption should include a link back to your website and/or a call-to-action encouraging people to continue interacting with your company. Pinterest is highly optimized for search on Google and within Pinterest itself. You might want to consider setting your boards up so they are keywords you'd like to rank for.
Once you have these boards set up and in motion, it's time to measure success. Use analytics to see what boards, images and text is working better than others. That information can help your Pinterest marketing strategy evolve going forward.
Happy pinning!